You have so many great ideas about how to advance your company. Events to organize, ways to engage your audience through social media, products to promote to maximize revenue, emails to send out to address your audience—the list goes on.
Cool! But…it's all just so…overwhelming…and you don't have time to do it all. Is it going to be sleep or success? Actually, you don't have to choose!
Too Much to Do, Too Little Time
You are faced with launching a new product—perhaps a new inflatable hippo for your swimming pool (potentially the hit of this summer!). How on Earth are you going to execute such a mammoth task? You're lost. You're overwhelmed. You don't know where to start. Just thinking about the tracking involved leaves you with dark circles under your eyes, and you wake up in the middle of the night because the launch, the tracking, the numbers are all haunting you. There's really no need to lose sleep over this, though. Take a deep breath and read on.
Now would seem an appropriate time to present a magical solution to cure your insomnia and get your to-do list under control. I'm not a magician, but I will get pretty close. The trick is to stay organized and utilize the tools at hand.
You can easily keep everything related to a particular online marketing activity in one place by creating a campaign. Here are just a few ways in which Campaigns in Kentico 10 helps you save time that you can reinvest into something else.
One Box with Many Tools
Imagine the online marketing equivalent of a Swiss Army Knife. Everything you need in one place, neatly organized and accessible. That's Campaigns for you. With Campaigns, you won't waste time navigating through several applications. No searching because it's all there, ready to be put to use.
Now, back to our product launch scenario… Let's go through everything you need to do: create a landing page for your new hippo float, write the promo emails, track conversions and traffic sources… Did I mention you need to hit a certain number of pre-orders to feel good about the launch? No problem! You can set all of this up directly within the Campaigns application. If you've already created content you want to add to your new campaign, you can.
Start by filling in your campaign details. You can then add campaign content inventory items and continue your way down the list. The Campaigns application makes it really easy to include everything you need.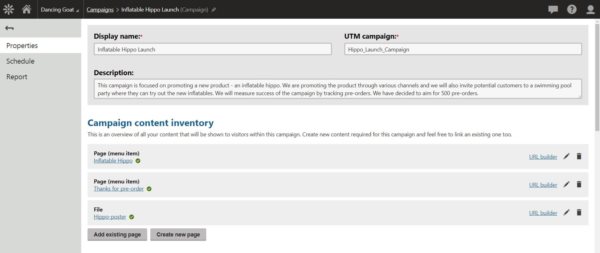 Find out how to put all your content together.
At a Glance
In our digital age, not engaging in online marketing activities is no longer an option. Since participation is a must, so is setting up ways to measure success. It doesn't ultimately matter what your goal is, as long as you're able to assess your results.
Campaigns allows you to set up one primary target to track, such as receiving 600 pre-orders for your new inflatable product. Driving this down to one primary target will allow you to evaluate the performance of your campaign quickly. You can still set up tracking of other conversions, but ultimately having just one number to consider will help you promptly decide if the campaign was a triumph or not.
You can choose your target from the list of conversions you've added to your campaign.

Setting the campaign target is simple—have a look here.
Ready, Steady…
Once you launch your product, there will be so much to do, even if everything goes smoothly. Best case scenario: There will be meetings to attend, reports to review, emails to respond to, and phone calls to take. Failing to plan is planning to fail, but by doing everything you can ahead of time, you can avoid a gray hair or two.
For example, you know you'll need to send several emails throughout your campaign to push out information. You'll be informing potential customers about your new inflatable, describing its potential to your partners and informing everyone about a pool party where they can relax, floating on hippos.
All of this can be set up within your campaign before you launch it, scheduled to be sent out or just waiting for you to send it out manually. Preparing campaign content well before your launch will help you to be more effective and react faster to unexpected situations.
For this campaign, for example, you've prepared three emails in advance.

Check out how to add and create emails within your campaign.
Stay on Track
How much time do you spend trying to analyze your visitors' behavior once they've landed on your website? Be honest. Is it a lot? Is it not enough? Are you able to analyze the data you're collecting and use it to drive positive change?
There is no reason any of this needs to be difficult. Campaigns allows you to track multiple conversions. Taking advantage of this, you can set up a campaign journey with checkpoints. You'll be able to see if your visitors are following the path that directs them to make those pre-orders you need. By looking out for major drop-offs in the journey, you can instantly identify obstacles that need to be addressed.
In this scenario, you want to see how many of those who come to your landing page also fill out the pre-order form and how many of these then download the poster on your Thank You page (to measure interest).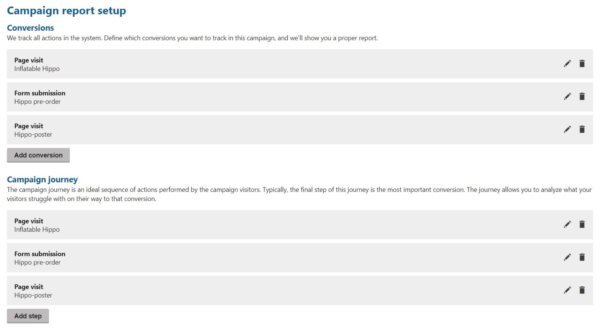 You can create a campaign journey in just a few easy steps.
Wait… Where Did You Say You Come From?
It's lovely to see all those visitors come to your new inflatable toy landing page. But what did you learn? Do you know where these visitors saw your message? Do you know which call to action appealed to them? How about which channels were the most effective in bringing people over? No?
Luckily, with Campaigns, you can easily track sources of traffic by setting up UTM parameters. This way, each visit to your landing page will be traced back to its source. Now you'll know which of your marketing efforts paid off and which ones could use some improvement. As soon as you understand which channels bring you the best results, you'll be able to redirect resources effectively.
You can create links for your social media as you need them. This one is to be used on your Twitter.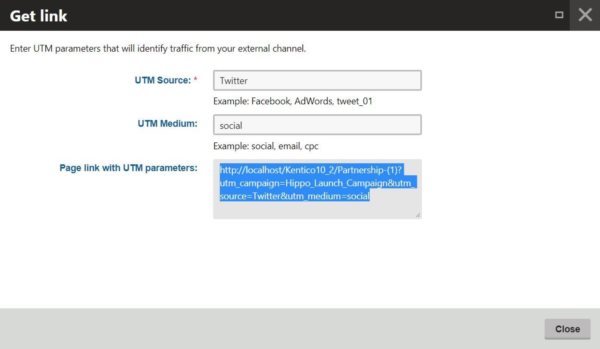 You can easily generate links with UTM parameters when you need them.
Don't Set Your Campaign Free
So you've sent out a few emails and posted a link or two on social media. Ufff, you're done. There is nothing else you can do. Your marketing activities now lead their own lives, and if things don't work out, well, you'll just have to start over and do it all again… No! Thank goodness we have Campaigns to help.
Following the statistics while your campaign is running allows you to react smoothly and adjust to the situation. What you see could be good. For example, traffic to your new landing page is through the roof, and you haven't even posted anything on social media yet! But what if the stats reveal something terrifying!? You are going to miss your 600 pre-orders target by a wide margin because no one opens your emails. There's time to react. You can add emails to your campaign, redirect efforts to sources that bring better results, or improve your landing page. Reacting before it's too late will save you a lot of energy that you would otherwise spend on crying.
You can see that you've already hit 80% of your target.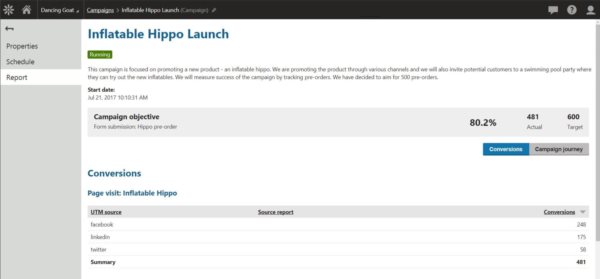 But only 16% of visitors who come to your landing page submit the pre-order form. Maybe it's time to improve your landing page!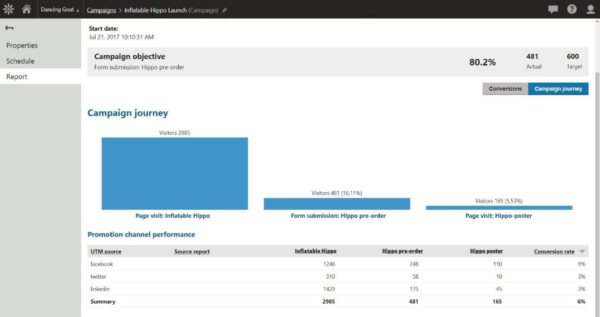 Keep an eye on your campaign's performance by visiting the Report tab.
Congratulations, You Saved the Day!
Let's have a look at what happened here. In the beginning, you were drowning. Faced with a critical new product launch, you had little time or energy at your disposal. And then you discovered Campaigns in Kentico 10: the magic tool that helped you stay afloat!
By keeping everything related to your product promotion in one place, Campaigns enabled you to stay organized and focused on your goal. You prepared as many emails as you could in advance, and you set up conversions and campaign journeys to learn more about your website visitors' behaviors. By setting up UTM parameters, you gained valuable insights into how your audience interacts with several media. Setting one clear target made it easy to intervene when you saw that your campaign was not performing to your expectations.
The best part is it does not end here. You'll be able to draw on this knowledge and functionality with all your future campaigns. Your campaign will always be there for you to revisit, with all its content and performance statistics included. Whenever you need a reference point for your next campaign, you can go back to it to be even more effective!
You can finally stop counting how many hours of sleep you need in order to retain sanity. Campaigns will save you time that you can use for something else.
Have you used Campaigns in Kentico 10? Tell us about it!