We live through so many digital experiences every day, and so many of them are seamlessly interconnected without us realizing it. When you check your emails in the morning, you might receive an automated reminder that your news subscription is ending—which you totally forgot about, but will now do something about. At lunch, you might find an interesting video about bees that you want to send to your mom in a text, to your colleague in Slack, and your friend on WhatsApp—which you can do, because those sharing integrations are there. After dinner, you check Netflix to find something to watch, and some true crime docuseries is at the top of your page—which is exactly what you were in the mood for!
These experiences we live through and interact with are so elegantly seamless and personalized, and that is what consumers are looking for across all their interactions. And as these instinctive desires for personalization, automation, and digitization have grown, so has the product that can deliver on these desires.
Gartner, the leading research and advisory company, says DXPs are an "integrated set of core technologies that support the composition, management, delivery and optimization of contextualized digital experiences." DXPs should emphasize "interoperability and cross-channel continuity across the entire customer journey".
That sounds like a big ask of just one platform. But when you break it down, it simply means that one platform will help turn a visitor into a customer. Let's take a look at Kentico Xperience's journey to become such a platform.
From humble beginnings
Kentico Xperience has come a long way from its humble roots as a CMS in 2004. For years, the product thrived as an easy-to-use, content management system that was one of the first fully .NET commercial CMSs. It had a dedicated following for being so user friendly and powerful. In 2011, customer experience management was added to the solution, extending the product and pushing the boundaries of what was expected from your typical CMS.
Then, just three short years later, Kentico unveiled Kentico 8—a huge update for the product and indeed the company.
"Digital marketing today requires a unifying brand identity and faster level of responsiveness to the ever-changing needs of customers, wherever they might be," said CEO Petr Palas back in 2014. Not only was Kentico a CMS, but it launched major integrated marketing solutions that changed the name of the game. Users could now unify their marketing efforts all in one place, which elevated Kentico from a CMS to something more—web content management (WCM).
For four years in a row (2016, 2017, 2018, and 2019), Kentico was named a Challenger in Gartner's Magic Quadrant for WCM—an accomplishment, to be sure. And while the product was strong, we felt there were still "ever-changing needs of customers" that we wanted to meet. A lot can change in tech in five years, and these past five saw a major evolution in this market.
Gartner predicts that "95% of technology buyers will select WCM as part of a well-defined digital experience strategy, prioritizing agility and interoperability" by 2021. WCM is one part of a larger strategy. And that is why Gartner also sees the WCM market shrinking. At the start of the year, they announced the retirement of their WCM Magic Quadrant, citing that "client demands have been shifting from WCM to the broader scope of DXP". This could be why they have been publishing an industry report on the DXP market in recent years. Back in 2018, and more recently in 2020, Kentico was recognized as a Niche player in Gartner's Magic Quadrant for DXP.
So here we are in 2020—an interesting time by any measure, and certainly an interesting time for DXP. Where does Xperience fit into all this now?
A new vision with a new map
We started our journey as a CMS, offering customers the best content management experience. But over the years, "working with content" took on a whole new meaning. These days, content is not exclusively website copy—it's ads, social media, graphics, apps, products, videos... The list could go on.
So while we continue to be fully obsessed with providing our customers with the best way to work with content, we know that that requires more than just content management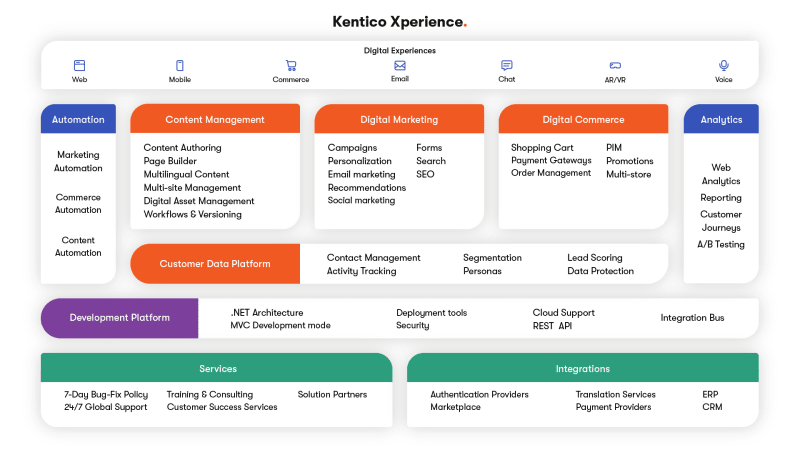 With our recent rebrand came a reimagining of our solution. Whether you are working with commerce, chats, AR/VR, or emails, Xperience will help you create the best digital experiences for your customers.
Our three key pillars—Content Management, Digital Marketing, and Digital Commerce—are the hallmarks of Xperience, and they stand at the core of a DXP. They help deliver and manage digital initiatives across various channels, ensuring a seamless, unified experience between your content, online store, and marketing efforts.
Shared among these pillars is the Customer Data Platform, which helps you with Lead Scoring, Personas, Contact Management, and more. These days, nearly everyone's online. 86% of consumers have changed their behavior due to COVID-19, and 31% of global consumers have increased their online consumption. If people must be online, they will want a good experience. A whopping 84% of customers believe the experience provided by a company is as important as its product or service, so it is decidedly worth your time to understand your customers. With the Customer Data Platform, you're never without context and a 360-degree view of your customer.
The wings of our core are Automation and Analytics. Automation helps take the manual labor out of certain processes—like reminding a customer about abandoned shopping cart, or following up after someone downloaded something—which will free up your time for more important endeavors. According to Epsilon, automated emails have a 65.7% higher open rate than business-as-usual emails. As they say, "personalized timing is just as important as personalized content."
Meanwhile, Analytics gives you data so that you can back up your decisions. While you're getting better CTRs with your automated emails, you can even try running A/B tests—and not just for the subject lines. 69% of CMOs say marketing analytics are a priority for their future marketing plans. And when you take into account that 80% of consumers are likelier to do business with a company that utilizes personalization, you might start prioritizing analytics yourself.
Of course, all of this rests upon our Development Platform—with the MVC development model and the latest ASP.NET technology, you can create modern digital experiences at speed. It might be interesting to note that 84% of companies that improve their customer experience increase their revenue. Start with the right foundation.
If that isn't enough, you can integrate Xperience with all your systems, ensuring your tech stack is seamlessly coordinated. All of that is backed by market-leading support and comprehensive services.
The journey forward
With all of this in one digital experience platform, you really can create stunning digital experiences faster. At the end of the day, consumers want to have great experiences when they interact with companies, and those companies want to deliver those experiences.
Take a look at what some of our users think about Xperience:


What do you think? We'd love to hear your thoughts. Does Xperience deliver a DXP with advanced capabilities and ease of use? Tell us! If you're one of the first 20 verified reviews, you'll get a $25 gift card for your effort.