Searching for excellent customer experience
Providing a plethora of activities for a wide range of users, Driestar suffered from a very complex content structure making it hard for users to find exactly what they needed on the website. To remedy this, Driestar worked with the digital agency Aviva Solutions and decided to create individual activity-centered websites with separate strategic goals.
The Driestar hogeschool was a starting point for the development of a new, component-based design system to improve the overall customer experience by helping users to achieve diverse goals and gain better visibility on provided services while keeping the brand identity consistent across the whole portfolio.
Formerly, Driestar hogeschool was incorporated in the general Driestar educatief website with poor visibility, SEO, and multiple unclear and complex methods for finding a suitable course. The main goal of the newly created Driestar hogeschool website was to make it easy for potential new students to find relevant courses, compare them easily, and increase the number of students.
Future-proof solution based on a digital experience platform
Driestar evaluated a number of CMS solutions and chose Kentico Xperience due to its reliable full-featured digital experience platform with an easy-to-use interface and a clean architecture. Kentico Xperience made it possible for the Aviva Solutions digital agency to deliver a completely new website with a fresh design within budget in just twelve weeks—in time for the start of the new school term. It also provides the capability to develop and use more features in the future and the website will serve as a template for new websites within the Driestar organization.
The 'find your course' CTA was designed to be always accessible both on desktop and mobile devices, taking visitors to an overview of all available courses, making it quick and easy to find eligible courses for a specific user.
The new Kentico Xperience platform provides Driestar with Personalization, Segmentation, and Campaign Management capabilities and external components integrated by Aviva, such as Disqus widget. Although new technology and releases were used, neither Aviva nor Driestar experienced barriers or complexities within the project.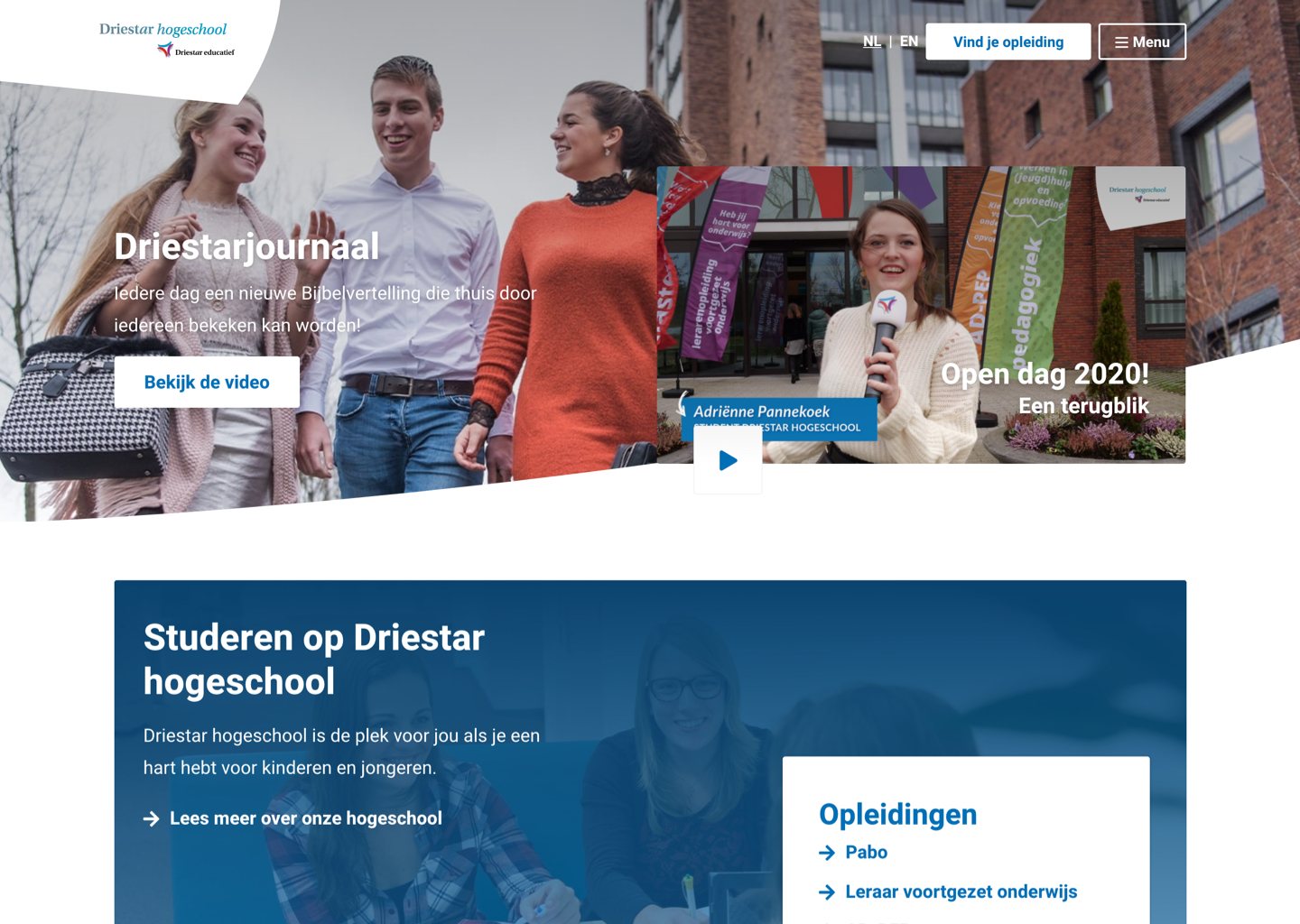 Results
By creating a new multi-site platform on Kentico Xperience, with Driestar hogeschool being the first website on this platform based on Aviva's reusable design and components, Driestar was able to decrease the budget for the development of the website by 60% and speed up the time to market.

By significantly increasing the visibility of the 'find your course' options and due to the new search capabilities, visitors are finding the courses they need much faster and easier. The new look and feel of the website produce more page views with longer time on pages confirming the overall improvement in user experience.
A comparison of the periods January–August 2019 and September 2019–May 2020 yielded the following results
increase in page views during the high season period.
increase in average time on pages
increase in monthly average pageviews
"Aviva tackles projects based on good practices that are fully established, coming in on time and on budget."
Kees Codée, Support Manager, Driestar educatief