MVC builds, integrations with fresh marketing platforms, and diverse verticals—from healthcare and finance to food industry. See how they achieved their goals, and what challenges have been overcome.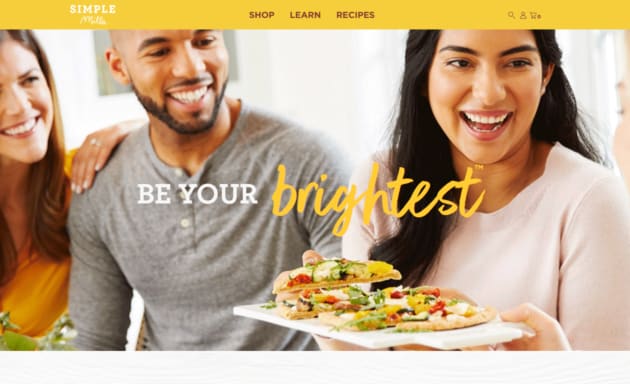 Simple Mills, an innovative whole-food snack alternatives company, initiated the project by the need for a total brand redesign and major UX changes to deliver optimal brand voice and engagement. Moreover, the solution is connected with Amazon and integrated with a store locator. Product Search and Filtering is enabled for three unique customer and product types: B2C retail, B2B wholesale, and Employee. Each product also showcases relevant dietary information, related products, and offers recipes. And, to improve the flexibility and impact of the sales process, the platform is integrated with, among others, Zendesk for customer support, TaxJar, Destini as Store Locator API, and Workable recruiting software.
Implemented by AlphaZeta Interactive, USA
Kentico Silver Partner
Insights for Professionals (IFP) are a brand of Inbox Insight. Inbox Insight are a content aggregator that amplify content globally to more than 3.5 million active IT, HR, Marketing and Business Management Professionals, for some of the world's most successful brands. The new platform had to allow the end-user to select what sectors and topics they were interested in to customize their experience, with the system showing them the content that matters most to them and also highlighting content that was trending with their peers in the same industry and role. i3 Digital utilized Kentico EMS to deliver personalized content for each individual visitor and subscriber, based on previous on-site behavior.
Implemented by
i3 Digital Ltd
, United Kingdom
Kentico Gold Partne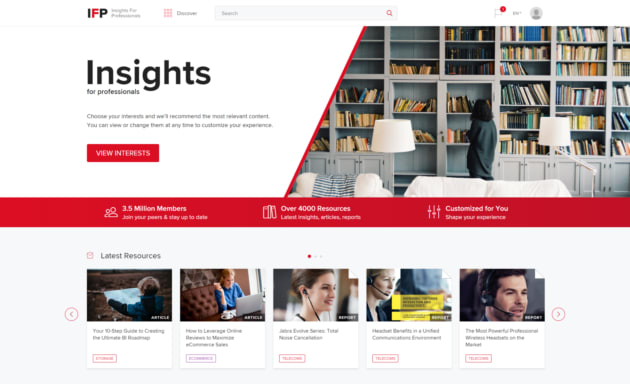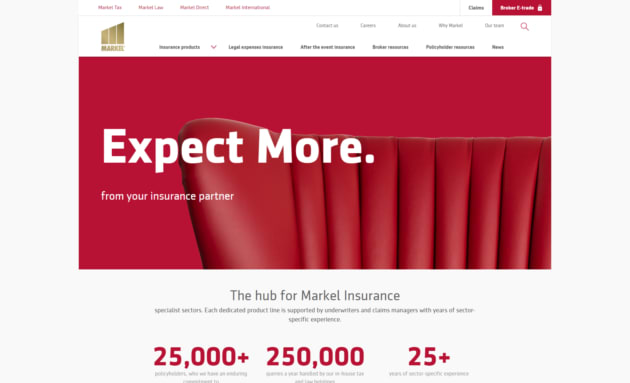 Markel Corporation is a US Fortune 500 insurance business that operates across 18 countries with 17,400 staff. As part of its expansion into Europe, Markel had made a number of strategic business acquisitions. So, the aim was clear—find a website platform that would provide an overarching consistent approach to the user interface design, navigation, structure, and information architecture used across all websites. The Kentico Form Builder was used extensively, enabling the client to create bespoke data capture forms specifically for use in conjunction with different types of CTA. After the launch, overall conversion rate increased by 21% and 23% of visitors then go to sign up on the "contact us" page.
Implemented by Quba, United Kingdom
Kentico Gold Partner
Round House Theatre needed a website that would better engage their growing and loyal ticket-buying audience, aiding their mission to captivate audiences with stories that inspire compassion, evoke emotions and demand conversation. The website integrates with Spektrix Ticketing System to help Round House offer a convenient and mobile-responsive ticket buying experience for users. Other goals included prominently displaying clear and consistent "calls to action" throughout, increasing the use of simple infographics and other visual elements (i.e., interactive tables, imagery, charts, videos, etc.) and developing an elegant and fully mobile-responsive website across all devices.

Implemented by A.K.A. New Media Inc., Canada
Kentico Gold Partner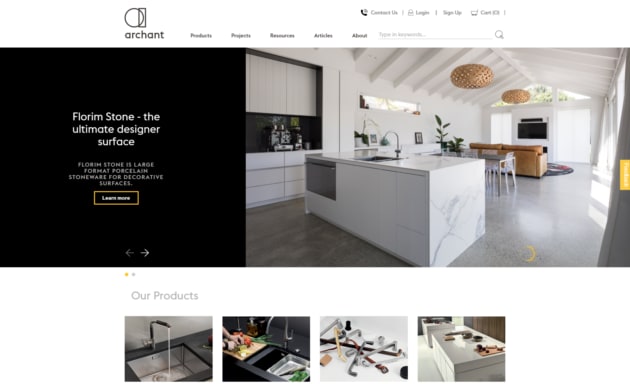 Archant see themselves as Architectural Merchants. Their aim is to showcase and create top-notch interior design. There were three main challenges that needed to be overcome: a limited budget for an e-commerce site, a fairly complex integration with NetSuite CRM and PIM capabilities, and customer-specific pricing. AKQA used three important features of Kentico to handle the key challenges. For the budget constraints, AKQA used Kentico out-of-the-box components from the Dancing Goat sample site. The second issue was solved by Kentico's Integration Bus. And, for the customer-specific pricing, Kentico's Customization capability changed the way prices were looked up for individual customers.
Implemented by
AKQA
, New Zealand
Kentico Gold Partner
Dubai Health Experience (DXH) is the prestigious brand conceived by the Dubai Health Authority to strengthen the health facilities in Dubai and also Dubai's position in health tourism. Nowadays, Dubai's healthcare sector is growing enormously and comprises both public and private institutions. The main aim of this project was to increase website traffic and subsequently convert visitors to leads. With the help of Kentico EMS functionalities, DXH is now able to track site visitors more accurately using Web Analytics and to personalize the website content and newsletters based on a lead scoring method.
Implemented by
Alsayegh Media
, United Arab Emirates
Kentico Bronze Partner
Lytx is a technology company that enables companies to monitor fleets of vehicles with a combination of video and data to improve safety, efficiency, and productivity by giving their clients a suite of cloud-connected dash cams, sensors, and services that help transform fleet safety and operations. Their content had to be flexible and restructurable on the page by the content editor. Kentico's flexibility of widgets allowed them to implement components of various complexity while maintaining consistency and desirable user experience. And, to enrich the user engagement even more, the website is integrated with video management platform Wistia, and with Überflip for experience personalization.
Implemented by
Wakefly, Inc.
, USA
Kentico Gold Partner
Nest Bank needed a brand new, intuitive website that would fulfill their business needs. The open-source solution they were using was no longer enough to meet changing customer and market demand. The goal of the project was to build a new, intuitive website for Nest Bank—a tool designed to help clients communicate with the bank and act as a virtual guide to their financial products. Nest Bank wanted to be able to change things on the website on their own and not to be dependent on a software company after solution delivery. The solution is integrated with a currency exchange rates service, Nest Bank's CRM, a map service, and a specialized service enabling the comparison of banking products.
Implemented by Unity Group, Poland
Kentico Silver Partner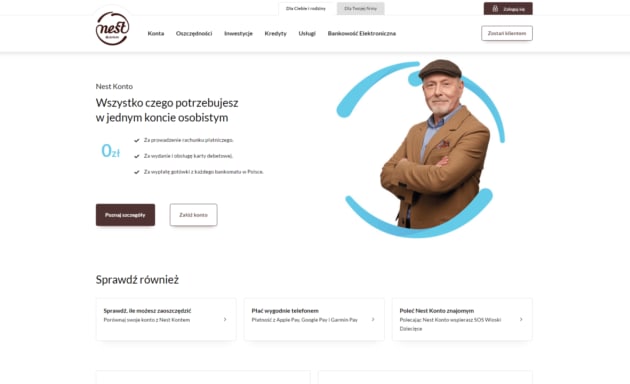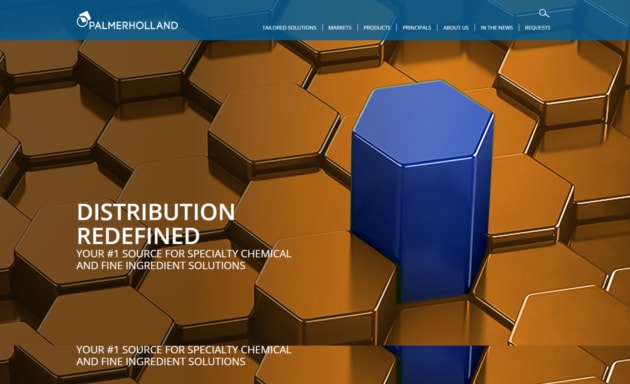 Palmer Holland is a chemical and ingredient distributor of raw materials headquartered in Cleveland, Ohio. Their prior site did not meet their evolving needs, nor did it provide the administrative capabilities they needed. Luckily, this changed after migration to Kentico. Page Templates, Web Parts, Forms, and Widgets afforded the marketing team the stability they needed to create new landing pages or product pages with speed and without developer dependence. In the words of Kevin Collins, Brand Strategist: "I have all the tools at my fingertips to edit my website so that it becomes more than just the digital nametag for our company; it is transformed into a trusted resource for all our visitors".
Implemented by
thunder::tech
, USA
Kentico Gold Partner
St Lukes Health wanted to redevelop its website to give current and potential members a valuable and intuitive experience. It was important that the St Lukes Health website supported its brand and matched customer care center experiences. The solution consists of Kentico E-commerce, HAMBS integration, and sophisticated e-communications functionality. Kentico EMS features such as Personalization enable location-based offers of healthcare cover. Users now find the right level of insurance to meet their needs. By integrating with the Hospital and Medical Benefits System (HAMBS) software via a SOAP API, automated up-to-date pricing for St Lukes Health packages can be provided.
Implemented by The Digital Embassy, Australia
Kentico Gold Partner