Can you imagine websites without dynamic content? Websites where every visitor receives the same online experience as everyone else? What a boring world that would be! That's why content personalization is such an important thing for every digital marketer. But does an MVC-powered Kentico 12 project offer an intuitive way for marketers to personalize content? Let's find out in this article.
On the first look, MVC web development may only seem to bring freedom and happiness to developers as they can easily keep up with the latest technologies and experiment with them. However, we made sure that Kentico 12 projects built on MVC are not only a great choice for technical guys but also exciting for marketers who are keen to unleash their creativity through targeted campaigns and personalized content.
In one of my earlier articles, I introduced our brand new MVC Page Builder, which is a perfect tool for adjusting page content in Kentico 12 for content editors and marketers.
The MVC Page Builder takes advantage of MVC widgets that can be of any type, shape and size, and can be easily dragged and dropped into any defined sections of the web page. The possibilities of widgets are endless, and it is entirely up to developers and marketers to cook up together a perfect mix of widgets that will cover any content design they would like to be able to create on their website.
OK, so designing content is straightforward. But what about content personalization? Is it easy to create as well?
The answer is a definite yes!
The MVC Page Builder allows you to personalize every MVC widget that is used inside it. Furthermore, the number of personalization variants is not limited at all, so any widget can have as many personalization variants as is necessary.
Having no limit on the number of personalization variants that can be defined per widget is great but what about the types of display conditions? Are they unlimited as well?
Once again, the answer is yes, they are!
Developers are not limited by any means and are allowed to prepare any kind of personalization condition types so that marketers can have it incredibly easy when selecting the right condition to define in which case a given personalization variant should be displayed.
So, what would be a typical personalization condition type used in Kentico 12?
One of the most frequently used personalization conditions are the ones based on either a contact belonging to a specific contact group or a contact belonging to a specific persona.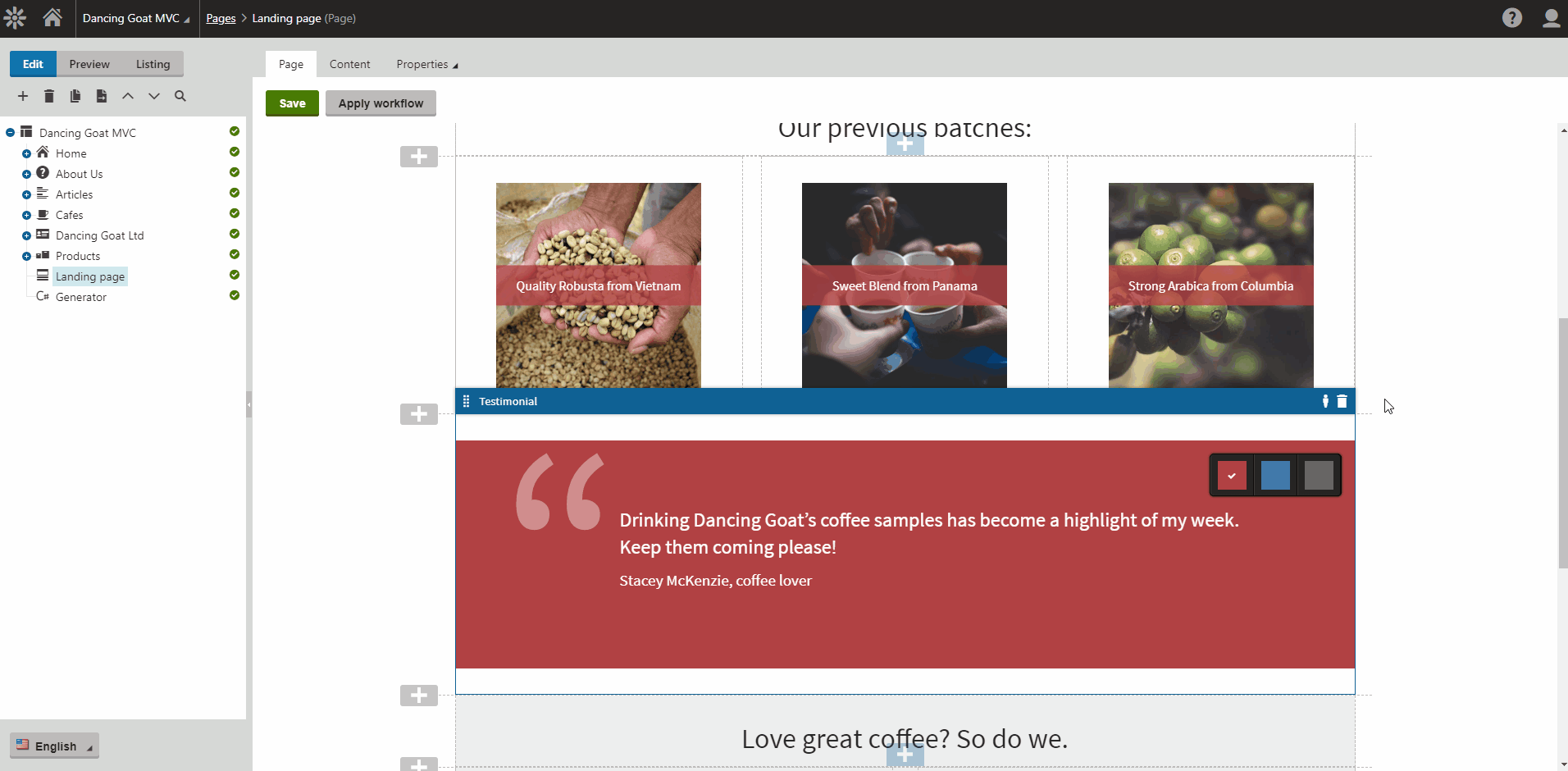 As condition types can take advantage of other parts of Kentico 12, such as Persona or Contact groups modules, selection of the particular persona or contact group becomes seamless.
But this is just the tip of the iceberg…
The same way in which developers can prepare a perfectly tailored selection of MVC widgets for marketers, they can also create an ideal set of condition types that marketers will need to use for content personalization.
So, even though the both already mentioned condition types (contact groups, personas) may be sufficient in a lot of cases, marketers may need many more display conditions to play with.
I am sure that there are many of the personalization condition types coming to your mind right now. But even if they are not, then here is some inspiration:
Current day of the week
Current date
Current time
Submitted a specific form in the past
Visited a specific page in the last X days
Subscribed to a specific newsletter
As you can imagine, there are endless variations and possibilities available on how the personalization variants can be leveraged and combined with your Kentico 12 MVC projects.
Sometimes, you may need to display something only on Friday, another time only during a specific festive period. Or you may want to drive all those who submitted a specific form to a specific page via dedicated banners. The possibilities are endless here.
We did our best to ensure that marketers can effortlessly create personalization variants of the MVC widgets, once defined by developers, and quickly adjust and personalize the website journey for their precious online visitors.
So, is there anything else that would fit nicely with the personalization variants of the MVC Widgets?
Yes, there is!
There is one additional feature that goes together with the personalized variants of the MVC widgets very well: Smart Forms.
In my previous blog article, I covered Kentico 12 Smart Forms, which are brilliant for gathering more information from your leads in a very friendly way. You can create long forms and select which form fields should be displayed first and which should be displayed only if the previous fields were already filled by a lead. These forms can be easily created in the MVC Form Builder and placed over various places of the website, and if set that way, are very compact.
As you can see, MVC is a perfect match for Kentico 12 projects as it brings freedom to both marketers and developers.
And if you cannot wait to see the latest Kentico 12 in action, watch the recording of our Kentico 12 webinar where our product guys take you through the all smart features!