Our two-day virtual Kentico Xperience Connection 2022 conference has come to a close and was once again a big hit across all three regions (APAC March 16-17, EMEA March 22-23, North America March 23-24). However, it's not too late to catch the latest insights, market trends, and product news from DXP experts.
A warm and hearty thank you to everyone who joined our sessions packed with valuable lessons, tips, and tricks delivered by a jaw-dropping line-up of market leaders and subject-matter experts including Gartner and G2!
With the theme of "The future of Xperience is now!", Kentico Xperience Connection 2022 delivered up-to-the-minute insights into the best ways of preparing for the future and how digital experience maturity is key to making the most of your digital experience platform (DXP) and achieving business growth and ROI.
Why this year's virtual DXP event rocked
We went live across all three regions! We broadcasted day one out of our headquarters in Brno, Czech Republic. With excitement in the air and the buzz of positivity from our incredible hosts and line up of engaging speakers, we kicked off with a look into the vision, goals, and general direction of Kentico Xperience, including our approach to cloud, artificial intelligence (AI), and Refreshes (among many others).

Then Sr Director Analyst of the global technology research and consulting company Gartner, Irina Guseva, took us on a deep-dive of upcoming DXP trends before we all got animated in the expert-led panel discussion on the major questions around digital experience maturity. On day two, our attendees chose between three tracks (product, business, and technology) to explore various topics including customer experience, artificial intelligence (AI), SaaS, content modeling, and tips for digital marketing, commerce, and development.

Market Research Analyst from G2, Priya Patel, delivered a keynote on how organizations are using DXPs to tackle business challenges and which features they are leveraging to propel themselves into the digital future based on data from real users.

And, it wasn't just the sessions that made it a great event. Over the course of APAC, EMEA and North America, attendees had the opportunity to get involved with a couple of contests. The photo contest running on Facebook, Twitter, and LinkedIn with the hashtag #kxconnection brought the virtual event into reality with people sharing their participation. Check out some of the awesome contributions:
Hanging with the folks from @KenticoXP enjoying #kxconnection on the big screen! @TeamBizStream pic.twitter.com/Gb7uHE8UHn

— Chris Hamm (@Misterhamm) March 23, 2022
#kxconnection pic.twitter.com/1XNUm4PkqZ

— Rocco Mazzeo (@alaskiblu) March 22, 2022
Attending @KenticoXP Xperience Connection conference online at 40,000 feet ✈️https://t.co/NSPJmmRPLG #kxconnection pic.twitter.com/jDpviHYAkq

— Andy Thompson (@andythompy) March 16, 2022
Checking Kentico Xperience Connection 2022 keynote#kxconnection pic.twitter.com/U46blFjRGZ

— Ricardo Ferraz (@aricardoferraz) March 22, 2022
Relive the Xperience
Digital experience maturity is an important topic and one that is resonating in the MarTech community. Being able to accurately calculate your company's ability to successfully adopt and efficiently leverage the technology and tools in your DXP is absolutely critical.

It's a topic that speaks to many companies who want to work magic with a sophisticated marketing approach and out-of-the-box tools, only to find they're simply not set up (in-house resources, skills, time) to leverage them or see ROI from them.

Each company is unique. Understanding where you're at in your digital experience maturity journey is essential in helping you work out where best to invest your resources and energy and to getting on the right path for enhanced maturity and growth.

That's why we want to share the expertise, secrets, tips and advice from our Kentico Xperience Connection 2022 mind hive with all our customers (both clients and partners); because your success is our success.

So head over to the Kentico Xperience Connection website to immerse yourself in the recordings of all the sessions, as mentioned below.
A heartfelt thank you
Before we jump into the full list of available sessions, we'd like to thank everyone who dedicated their time to join us and our sponsors for making Kentico Xperience Connection 2022 a big success.
Plus, it cannot be left unsaid – the event rocked not only because of the amazing attendees and sponsors but because of the people that made it happen. A huge thank you also goes to the Kentico Xperience team, production crew, MVPs and the entire community. Here's a short video that captures a few words to summarize the event. Check it out: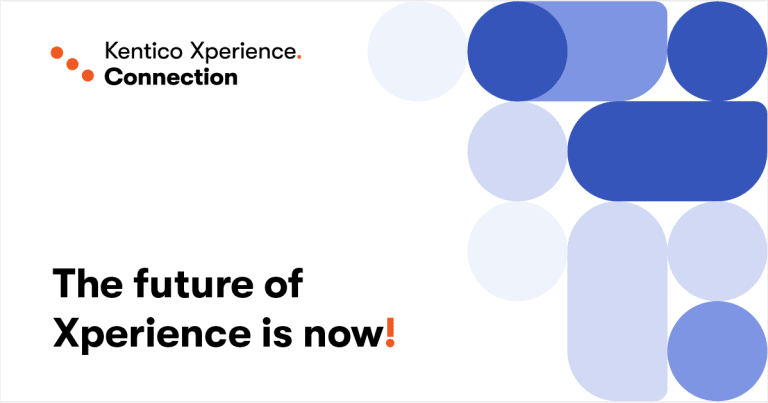 Kentico Xperience Connection 2022
Behind the scenes

And now, without further ado….

Kentico Xperience Connection 2022 - the encore
Day one: Join the digital experience journey
The future of Xperience is now, Dominik Pinter, Managing Director at Kentico Xperience
Product keynote: Plans and roadmap, Matej Stefanik, VP Product at Kentico Xperience
Xperience by Kentico in action, David Komarek, Lead Product Manager at Kentico Xperience
Introducing the Xperience Adopters Program, James Turner, Sales Enablement Director at Kentico Xperience
Panel discussion: Digital experience maturity Hosted by Jenda Perla, VP Marketing at Kentico Xperience, Dominik Pinter, Managing Director at Kentico Xperience was joined by;

APAC: Benni Lucas (Head of Marketing Technology at Resolution Digital) and Adam Griffith (Managing Director at Luminary)
EMEA: Jan Havel (Chief Strategy Officer at ACTUM Digital), Delfin Vassallo (Marketing Director at Uponor) and Jan Řezáč (CEO at House of Řezáč)
North America: Wes McChristian (Global Kentico Xperience Practice Director at Americaneagle.com), Arleen Goldberg (Director of Ecommerce at SHI), Dave Conder (Chief Technology Officer at BlueModus), and Eugene Paden (Chief Technology Officer at Ray Business Technologies)


Day 2: How to create exceptional digital experiences
Track 1:
Unlock the power of AI and Machine Learning with Kentico Xperience 13
David Slavik, Product Strategist at Kentico Xperience
Migration: Supporting the migration path from Kentico Xperience 13 to Xperience by Kentico
James Turner, Sales Enablement Director at Kentico Xperience
Where is Xperience by Kentico heading?
David Komarek, Lead Product Manager at Kentico Xperience
Cloud first, cloud for all: say hello to the new Xperience Managed Cloud Service
Debbie Tuček, Senior Product Manager at Kentico Xperience
Live Q&A with the Kentico Xperience Product Team
Track 2:
Keynote by G2: The future of DXPs from the eyes of the customer
Priya Patel, Market Research Analyst at G2
Two essential qualities of a headless content model
Mike Wills, Vice President of Technology at Bluemodus
A look at ROI
Jake Kula, DXP Lead at Revium
How automation can support new employee onboarding
Jeroen Fürst, Software Architect at TrueLime
Customer success packages for partners - Learn how you can the best Kentico Xperience
Ondrej Noak, Customer Success Manager at Kentico Xperience
Implementing online marketing features in Kentico Xperience
Ondrej Noak, Customer Success Manager at Kentico Xperience and Lukas Bajer, Training Specialist at Kentico Xperience
Track 3:
Headless e-commerce with Kentico Xperience
Dmitry Bastron, Solutions architect at UNRVLD
High availability with Azure for Kentico Xperience websites
Brian McKeiver, Partner & Senior Developer at BizStream
Upgrading your Xperience
Andy Thompson, CTO at Luminary
Don't reinvent the wheel: useful tools and systems to help speed up your development
Trevor Fayas, Senior Software Engineer at Heartland Business Systems
Modeling missing data: Robust data access with Kentico Xperience
Sean G. Wright, Chief Solutions Architect at WiredViews

Watch the recordings now!

It's time to get excited about the year ahead
If you're anything like us, you're already looking forward to the next Kentico Xperience Connection, which will no doubt be just as big a hit, what with all the exciting and ambitious things we have planned.
But before we meet again – and hopefully in person next time – we hope you're as excited as we are for what's to come. Stay tuned for even more information on Xperience by Kentico, our managed cloud service, the Xperience Adopters Program, and our future roadmap.
In the meantime, don't forget to give us your feedback on Kentico Xperience. Your views help us shape our product. Plus, you'll get a US $25 gift card for your time: write a review.