At the end of our last chapter about personalization, we established that the right technology was crucial to enabling you to craft personalized experiences. So, let's explore your two main considerations now.
What is a content management system?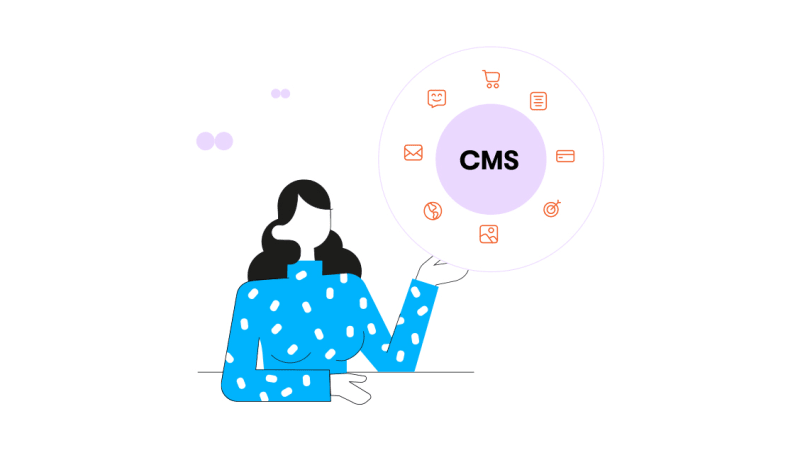 A content management system (CMS) is a software platform that allows users to create, manage, and publish digital content, typically for websites. A CMS provides an interface for users to create and edit content without requiring knowledge of coding or technical skills.
With a CMS, users can manage content such as text, images, videos, and other multimedia files. The content is stored in a database, and the CMS provides tools for organizing, categorizing, and retrieving the content as needed.
A CMS typically includes features such as:
Content creation and editing tools
Content publishing workflows
User and permissions management
Template and theme management for controlling the look and feel of the website
Search and retrieval capabilities
Analytics and reporting features
CMSs are widely used by businesses, organizations, and individuals to create and manage websites, blogs, and other digital content.

What is a digital experience platform?
A digital experience platform (DXP) is a software solution that allows businesses to create, manage, deliver and optimize digital experiences across multiple channels and touchpoints, such as websites, mobile apps, social media, and email. It provides a set of tools and functionalities to help businesses deliver personalized and engaging digital experiences to their customers.
DXPs typically have the following features:
Content management
Personalization
Customer relationship management (CRM)
Analytics and insights
Marketing automation
Multichannel delivery
Integration capabilities
A DXP aims to unify and streamline the management of digital experiences, enabling businesses to provide consistent and cohesive experiences across all channels and touchpoints, while also improving efficiency, agility, and time to market.

How do they compare?
While both content management systems and digital experience platforms are designed to manage digital content, there are some key differences between the two.
CMSs are primarily focused on content management and publishing and are typically aimed at organizations that have simpler digital presence.
DXPs, on the other hand, are more comprehensive platforms that encompass a range of digital experience management tools. They are designed to provide a seamless, omnichannel customer experience across multiple touchpoints, such as websites, mobile apps, social media, and other digital channels. DXPs are often used by organizations with more complex digital needs.

List of essential customer experience DXP features

Over and above content management capabilities, DXPs bring a host of additional capabilities that support the delivery of an exceptional customer experience, including:
Marketing automation: By automating repetitive marketing tasks, such as email campaigns, social media posts, and lead management, marketing automation helps streamline marketing processes, increase efficiency, and improve the effectiveness of campaigns.
Email marketing: Used for a variety of purposes, such as promoting products or services, building brand awareness, and driving website traffic, email marketing is an essential part of the marketing effort. DXPs tend to present their email marketing tools in easy-to-use interfaces with low-code, no-code tools that empower non-technical users to manage email campaigns themselves.
A/B testing: Also known as split testing, A/B testing is a method of comparing two versions of a marketing asset, such as a website landing page or email campaign, to determine which version performs better. It involves randomly dividing a target audience into two groups and presenting each group with a different version of the asset. The version that generates the most conversions or engagement is typically considered the winner and used for future campaigns.
Lead scoring: Lead scoring is the process of assigning a numerical score to each lead based on their level of engagement and likelihood of becoming a customer. It typically involves analyzing a lead's behavior and demographic data, such as website activity, email opens and clicks, and job title.
Personalization: Personalization is the process of tailoring experiences and content to the specific needs, preferences, and behaviors of individual users or groups. It aims to increase engagement, satisfaction, and loyalty by providing relevant and meaningful interactions across various channels and touchpoints.
Integrations: This integration capability of DXPs makes them the central hub for an organization's digital ecosystem and allows them to connect with other systems and data sources for a seamless data flow that helps you design better customer experiences.
DXPs, therefore, offer a more comprehensive set of digital experience management tools than CMSs, enabling you to automate repetitive tasks, target the right audience, and optimize marketing campaigns for better results.
What are some key benefits of a DXP over a CMS?
The above set of features brings a wealth of benefits to companies looking to level up their marketing and improve the customer experience.
Omnichannel experience: DXPs allow businesses to provide a seamless, consistent customer experience across multiple channels, such as websites, mobile apps, social media, and other digital touchpoints. This is achieved through seamless integrations with other marketing and customer experience technologies.
73% of consumers prefer to shop through multiple channels.
Personalization: DXPs enable businesses to personalize content and experiences for individual customers, based on their preferences, behavior, and other data. This is done using data analytics, artificial intelligence (AI), and machine learning (ML) algorithms, which can analyze copious amounts of customer data to deliver relevant, personalized content and experiences.
42% of customers feel let down by impersonalized content.
Marketing automation: DXPs provide advanced marketing automation features, such as email marketing, lead generation, and social media marketing, to help businesses reach and engage their target audiences more effectively. These features are often integrated with other marketing and sales technologies, such as CRM and e-commerce.
72% of successful companies use marketing automation.
Analytics and insights: DXPs provide robust analytics and reporting capabilities, allowing businesses to track customer behavior and engagement across multiple channels. This data can be used to optimize marketing campaigns, improve customer experience, and drive business growth.
62% of retailers report having a competitive advantage due to data analytics and information.
These marketing concepts are important components of a successful marketing strategy, as they allow businesses to provide a more personalized, omnichannel customer experience that can help drive business growth and improve customer loyalty.

Level up your digital marketing

So, while both content management systems (CMSs) and digital experience platforms (DXPs) are designed to manage digital content, CMSs are primarily focused on content management and publishing, while DXPs encompass a range of digital experience management tools that enable businesses to automate repetitive tasks, target the right audience, and optimize marketing campaigns for better results—perfect for companies looking to level up their marketing and improve the customer experience.
The right digital experience platform will be future proof, designed to travel with (even propel) the organization along its digital maturity journey, and will provide exactly the tools they're able to leverage today, plus the ability to scale and extend in the future.