Increase conversion rates with A/B testing
Improve your user engagement, reduce bounce rates, and increase conversions by identifying and leveraging the best performing content. A/B test your pages or emails with just a few clicks to see what truly attracts visitors' interaction and refine your content to drive more website traffic. By running experiments, you'll generate valuable data, learn more about your visitors, and make the most out of your existing traffic with no additional expenses.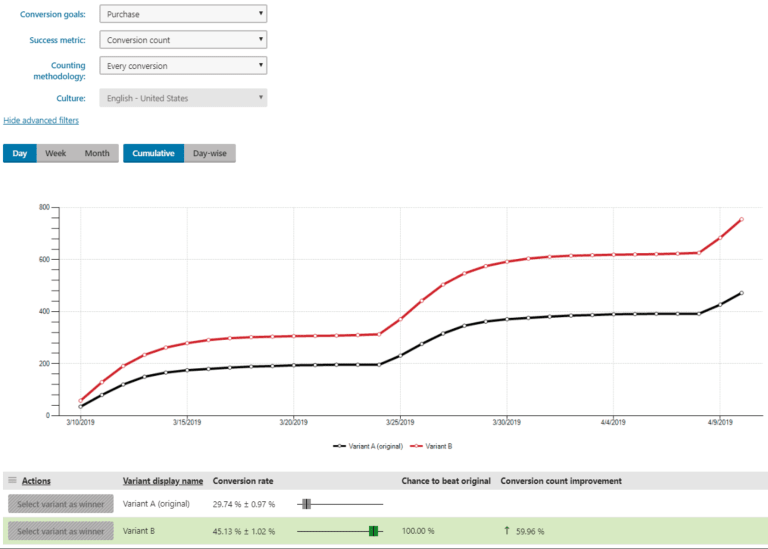 Leverage integrated A/B testing for your pages
Eliminate guesswork and display only high performing content to your website visitors that will boost interaction. With Kentico Xperience 13, you can easily set up and test variations of your web pages directly in your Page Builder to clearly identify the ones that work the best. Enjoy the comfort of knowing that the changes you're about to make to your content will bring you the desired outcome!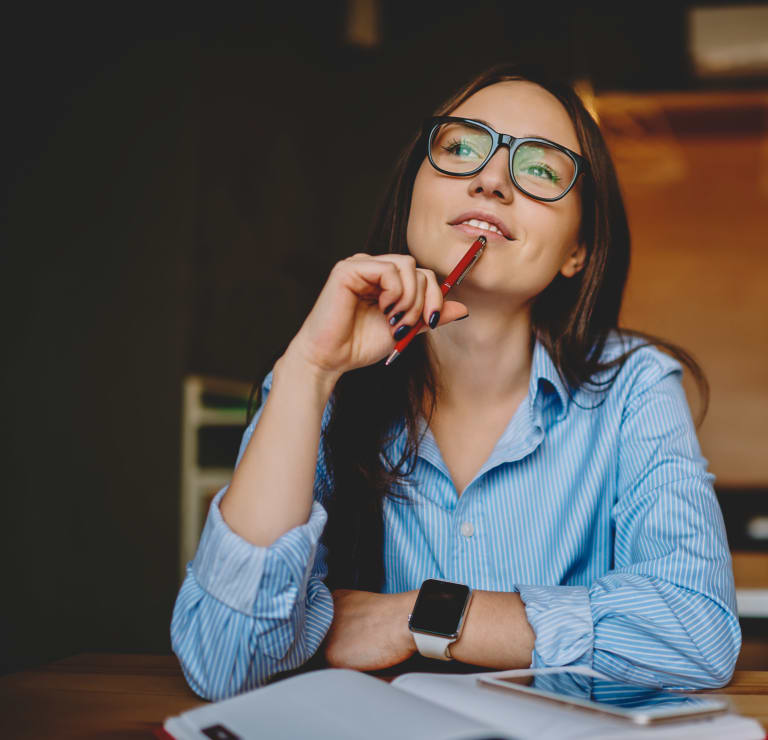 Get started with no technical skills
You don't need any technical skills to manage, analyze, and run the A/B tests! With just a few clicks, you can create as many variants of a page as you wish, adjust any item on them with ease, and start testing the variants promptly. The flexible settings allow you to zoom in on details, define and test all possible hypotheses, and get very specific results that will clearly point out which content performs better.
The intuitive system allows you to effortlessly test any hypotheses and easily set up your conditions:
Focus on specific elements of your web pages or marketing emails.
Define test metrics, including visitor segments, conversion goals, and traffic sources.
Target specific personas, segments of your audience, or Contact Groups.
Run the tests in different cultures, regions, or language variants.
Assign specific conversion values to the tested conversions and easily reflect over which tests were the most successful or cost-efficient and why.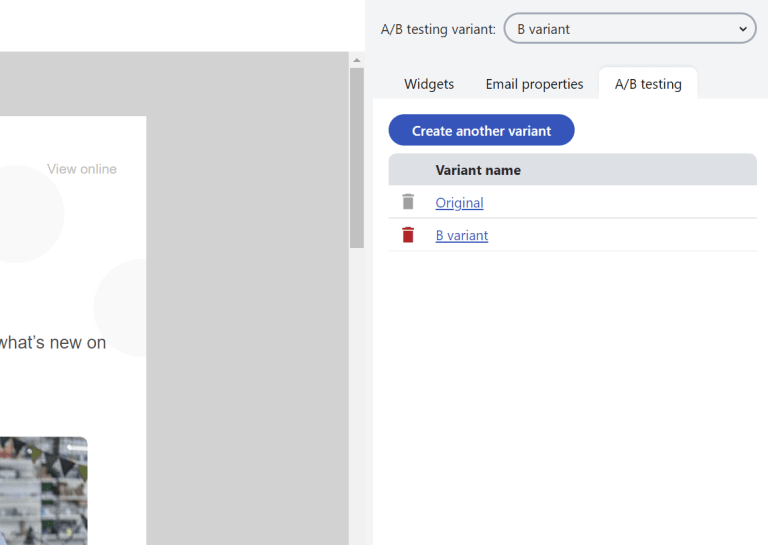 Increase your open rates by A/B testing emails and newsletters
Test your emails in the Email Builder and see which one is more attractive for your target audience. Testing various subject lines, preheaders, personalized email content, and other aspects will help you build winning email campaigns, increase click-through-rates, open rates, and conversions.
Let the system automatically send each variant of the email at times you easily set up.
Stay on top of the best performing version and sending times with comprehensive statistics.
Choose the winning variant manually or automatically based on open rate or click-through-rate.
Prevent making mistakes and get notified by the system in case of any inconsistencies.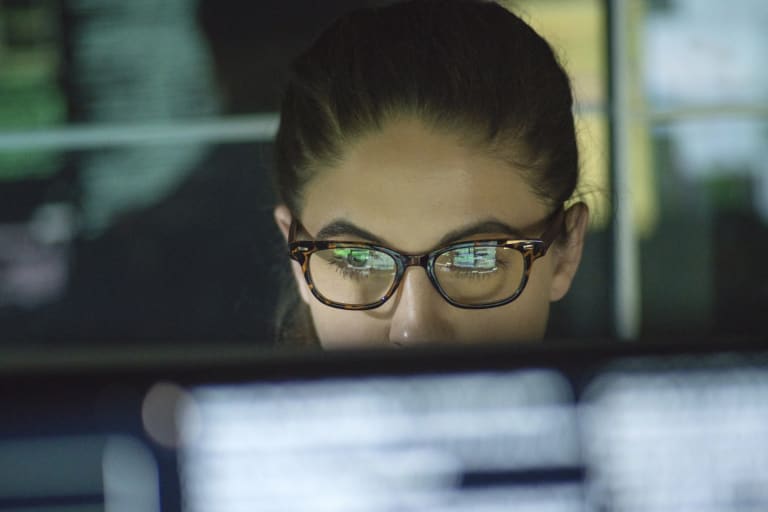 Analyze real-time reports and statistics
Track the impact of your tests on user behavior with real-time reports. See a complete overview of each variant's performance, number of people exposed to them, the active testing time, pages visited, and more. With the clearly structured reports, you can easily filter the data to see the concrete defined conversions, comparison of the individual variants, chance to become the original, rate improvement, and beyond.
How to set up an A/B test on your website in Kentico Xperience 13
Watch our step-by-step guide to setting up an A/B test. This functionality allows you to create two versions of a single page, test which one brings more conversions, and refine your content based on the results.
Creating A/B tests
Discover everything you ever wanted to know about creating A/B tests and how you can put it into practice!
Try Kentico
Beat the competition and start delivering results with the only digital experience platform that combines advanced capabilities, a short time to value, and ease of use.
How to optimize emails with A/B testing in Kentico Xperience 13
Polish your emails to perfection with A/B testing. This video shows you how to create alternative email variants, test them on a chosen number of recipients and send the winner to the rest. Functionality in Kentico Xperience 13 can help you improve your email engagement rates.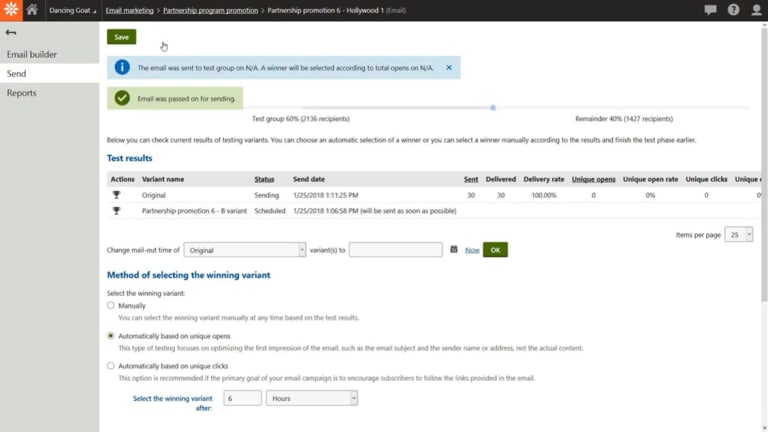 How to A/B test emails
Discover everything you ever wanted to know about email A/B testing and how you can put it into practice!