In the ever-evolving landscape of digital marketing, the ability to effectively reach and engage audiences across various platforms and digital channels is paramount. As there has been loads of buzz on multichannel and omnichannel topics, it is essential to understand what they actually are and how you can manage them. Join us on a journey to explore the critical role these channels play in crafting seamless, multichannel experiences for today's tech-savvy audiences.
What are marketing communication channels?
Marketing communication channels, by definition, encompass the various avenues and methods through which companies and organizations communicate their marketing messages to their target audience.
In this article, we categorize channels into two main types: offline marketing communication channels and digital marketing communication channels. Only digital channels can be orchestrated by a digital experience platform (DXP) or content management system (CMS).
Here are examples of the most common marketing communication channels:
Digital marketing channels:
Websites
Microsites and landing pages
Mobile applications
Web applications
Online chats
Distributed content
Etc.
Offline marketing channels:
Print
Television
Radio
Cold calling
Direct mail
Display boards
Etc.
In the context of a digital experience platform (DXP), a channel serves as a means for distributing content to a defined, public-facing destination (such as one of your digital marketing channels) and potentially tracking engagement with it. In some cases, you may also seek to receive data, such as through form submissions or question responses.

Multichannel refers to a situation when a business uses more than one communication medium (so called channel) to interact with a customer. Typically, their management is siloed and not integral. The purpose of multichannel content delivery is to reach your customers in the right place, at the right time, on the device they are currently using. Marketers must consider how to provide the best experience on any device they might potentially target.
The traditional approach – with the 'head' on
Traditional Content Management Systems (CMSs) — which often later evolve into Digital Experience Platforms (DXPs) — allow users to manage and deliver content primarily on their web channels, including websites, microsites, and landing pages, along with their mobile versions (responsiveness). DXPs often include email marketing capabilities, thus covering the email channel as well.

When we refer to the traditional approach, we mean that content presentation on the front end (the web pages displayed to visitors) is 'coupled' with the back-end application (the DXP or CMS where the content is managed). In practice, this means that you can manage the website content as well as its visual presentation from within your DXP or CMS.

This is both a benefit and a drawback. The benefit lies in the fact that the front-end visual layer is fully controlled from within the DXP or CMS application, allowing page layout and design to be managed using visual page builders, widgets, and drag-and-drop templates, without the need for assistance from scarce web developers. This leads to significant time and resource savings.

However, the downside is that the front end is hardwired (coupled) to the back end, and some design rules and programming frameworks are fixed and unchangeable. This becomes an issue when businesses aim to provide different front-end experiences from within one DXP content repository, either across various websites (perhaps different brands or frameworks) or across their website and other digital channels (e.g., mobile applications).
The headless approach – decoupled means decapitated
If you need to manage other channels, such as native mobile applications, web applications, social media channels, messaging platforms, or email from your digital experience platform, you will need to 'decouple' your front end from your back end. This is necessary because they will likely use different programming frameworks for content presentation.

This is where the concept of a headless DXP comes into play. It is designed to deliver content to the presentation front end via a headless API. The front-end presentation consists of applications developed to consume structured content received via the API, regardless of the programming framework used in the back end.
This separation of front end from back end enables you to deliver various new digital experiences without limitations imposed by the backend DXP. This is how headless enables you to distribute multichannel content from within one platform, allowing you to interact with your audience regardless of the application or device they are using.
However, the drawback is that the presentation application needs to be developed separately and usually from scratch, incurring extra engineering resources and costs.
Even though multichannel headless delivery is more complex, we as marketers should strive to ensure the user experience is seamless and consistent no matter when, where, or how the user interacts with it. This moves us from mere multichannel communication towards multiexperience delivery; where each message is device and situation relevant.
Hybrid headless – to head or not to head
As we've seen, a headless approach enables businesses to deliver content across multiple channels from within one platform, while a traditional approach (with the 'head' on) primarily supports communication via web-based channels.
Hybrid headless offers the best of both worlds, combining the advantages of the approaches described above.
In the past, businesses kept their marketing content within the specific channels they were using. When marketers wanted to run a campaign, they often had to copy campaign assets (text, media, and more) from the website to their other channels, such as email or social media.
With the rise of modern digital experience platforms, marketers can now conveniently manage multichannel content orchestration from a single point. This approach not only significantly saves resources but also eliminates the need for redundant copying and pasting of content.
Furthermore, content updates are controlled from one central location, reducing the likelihood of mistakes and preventing content from becoming outdated or suffering from messaging inconsistencies. It also allows for cost savings through the consolidation of digital marketing tools under a single DXP umbrella.
The ability to use multichannel communication enables businesses to reach their audience wherever they are. However, for many, the website remains their primary digital channel, often alongside email. Their challenge is to get their website up and running quickly while retaining the flexibility and freedom to add other digital channels as their digital maturity grows.
For such businesses, the hybrid headless DXP is an ideal fit. It provides the tools and features known from traditional DXPs, while offering the option to add headless channels either immediately or in the future. This approach reduces the complexity of managing multiple channels using various tools.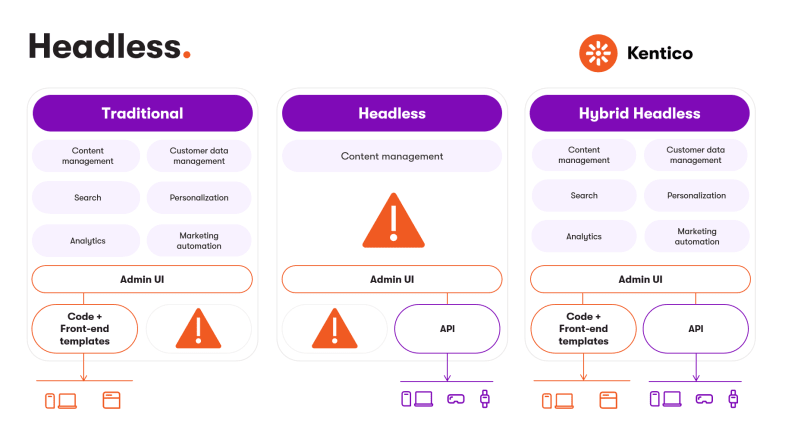 What is a channel in Xperience by Kentico – the hybrid headless DXP?
At Kentico, we understand that a channel can encompass various platforms, including the main website, regional sites, various brand-specific sites, campaign microsites or landing pages, social media platforms, emails, and distributed content like content snippets presented on third-party partner websites.
Xperience by Kentico organizes content hierarchically into two categories: 'Channel Types' and 'Channels':
Channel type
Channel examples

Website

Content is displayed through the DXP's native front end

Main website
Microsite
Landing page
Blog
Portals
Webpage application

Email

Email is built using a templating engine within the DXP

Headless

Content is delivered via a headless API to be presented on the front-end applications

Native mobile applications
Progressive web applications
Campaign sites (different frontend)

Social media platforms

Distributed content (non-owned media)


Our Xperience by Kentico hybrid headless DXP natively supports content delivery across multiple channels. For website channel delivery, Xperience by Kentico uses .NET Core MVC, while for headless delivery, it utilizes GraphQL. In the Kentico Content Hub, you can repurpose and reuse various parts of your content (which we call Content Items) across any channel, giving you great flexibility and control over your content, and providing extraordinary efficiency to your content editors and marketers.
To deliver your digital projects quickly to the market, Xperience by Kentico also supports the traditional web development approach using page builders, widgets, and drag-and-drop templates for a smooth and efficient authoring experience. This allows you to launch your website rapidly while retaining the headless flexibility to experiment with new digital channels and deliver innovative customer experiences when you are ready.