Now that we've all caught our breath after the whirlwind that was Kentico Connection 2023, it's time for a wistful look back at the DXP event of the year. Taking in Brno, Nashville, and Sydney, the event brought together a diverse range of experts and thought leaders to delve into the power of Xperience by Kentico, the current state of the market, the future of DXPs, and the mutual success found in strong partnerships.
There were insightful presentations, deep-dive discussions, and peer-to-peer networking opportunities. Attendees rubbed shoulders with names they've followed since high school as well as leaders and top experts from Kentico. Everyone was part of the conversation in shaping the future of digital marketing.
In his review of the event, Matthew Garrepy, Chief Critic at CMSCritic.com wrote, "The content was stellar, the speakers top-notch, and the location was music to everyone's ears."
That's right, it wasn't all hard work. Attendees were invited to let their hair down at the networking events and to connect with like-minded souls, potential collaborators, and industry peers.
Xperience by Kentico: One year revolutionizing digital experiences
Of course, Xperience by Kentico took center stage at Kentico Connection 2023 as it celebrated its first full year on the market. In that short time, Kentico's groundbreaking composable hybrid headless digital experience platform has already revolutionized the way businesses approach digital presence and customer engagement thanks to its focus on multichannel delivery, marketing team productivity, the benefits of Software as a Service (SaaS), and the importance of tech-stack consolidation.
Some of the first customers of our new hybrid-headless platform include Mainz05, Greater Miami Convention and Visitors Bureau, The Parking Spot, Mouser Electronics, and Globe Life.
In his opening keynote, Kentico CEO, Dominik Pinter, highlighted the astonishing 7000% growth in MarTech solutions since 2011 and how Xperience by Kentico distinguishes itself as a single-vendor composable hybrid headless DXP that consolidates stacks, centralizes governance, and provides a path away from complexity. The platform is designed to simplify content management, enhance multichannel capabilities, and improve overall efficiency.
Celebrating Kentico's thriving partnerships and growth
Dominik also spotlighted Kentico's commitment to its partners, emphasizing the pivotal role that partners play in Kentico's success, and us in theirs. Over the past year, Kentico has achieved a 42% growth in Annual Recurring Revenue (ARR) and maintained a position on the Gartner Magic Quadrant for Digital Experience Platforms (DXPs). These achievements can be largely attributed to the strong partnerships that Kentico has fostered over the years and go to prove its ability to deliver tangible value to its partners and their clients.
In fact, many partners took an active role in the event, sharing their own valuable insights through engaging sessions and by joining captive panel discussions about the enduring importance of the website, the future of multichannel, and the role of each in executing digital experience strategies.
Dominik also introduced our new Chief Revenue Officer (CRO), Bill Cunningham, whose strong focus on SaaS and strategic partnerships will support us in building upon the success of Xperience by Kentico.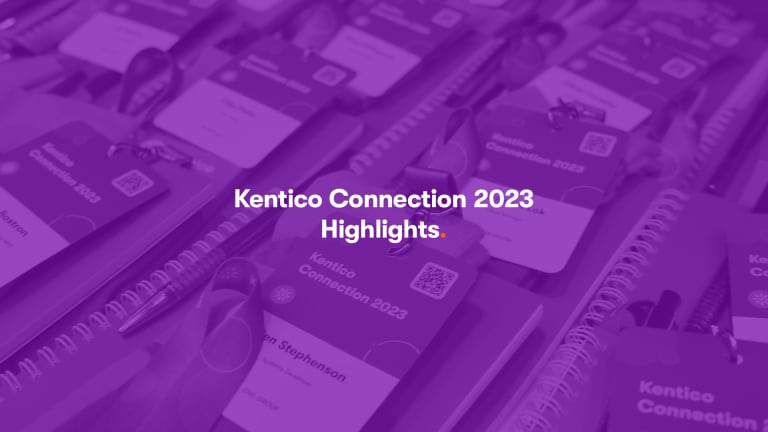 Thank you to all who attended
Watch a recap of Kentico Connection 2023 in 30 seconds.
Kentico Connection: Scott Brinker's glimpse into the future
One of the highlights of the event was keynote speaker, Scott Brinker, Editor at chiefmartec.com. He shared the 2023 Marketing Technology Landscape Supergraphic, which he created with Frans Riemersma, Founder of Martech Tribe (also a guest keynote speaker).
Brinker highlighted the complexities within MarTech and the challenges companies face when integrating new technologies and keeping up with ever-advancing expectations for personalized multichannel customer experiences across devices. He also discussed the inevitable march of AI, and that over half of companies are already using AI for content personalization.
"Listening to Scott Brinker is like getting a digital download from the future," said Matthew Garrepy.
Leading the charge with consolidation, SaaS, and AI
Another favorite was Kentico Director of Product, Debbie Tucek's deep dive into Xperience by Kentico in which she shed light on the platform's future, emphasizing the consolidation of content and channels to combat complexity as well as the strong focus on the platform's multichannel architecture and multilingual capabilities that provide marketers with greater control.
As a single-vendor DXP (one that provides a unified platform that encompasses fundamental capabilities, making it easy to deploy and integrate additional tools as needed), Xperience by Kentico simplifies operations, streamlines tech stacks, increases productivity, and improves ROI by offering a user-friendly and maintainable platform.
As noted by CMSWire, who also attended the event, "As a single vendor DXP, users have access to all the foundational capabilities they need in one place, including features like personalization and multichannel support. The flexibility this provides allows customers to respond to market changes faster and rely on a more flexible marketing strategy."
Debbie explained why we believe so strongly in making headless a feature, rather than a platform-wide obligation, and how our hybrid headless approach brings the best of both worlds: combining the ease of managing content you get with a traditional DXP with the ease of embracing new channels and tools. She also talked about our new SaaS offering, how it works, and the clear business benefits to partners and customers alike.
Her unveiling of the first built-in AI features in Xperience by Kentico took the room by storm. It simplifies email content creation with generative AI that suggests subject lines and body content based on existing material, enabling AI-powered content reusability across various channels, while allowing for customizations and brand tone.
Industry stars and Kentico experts in one room
The agenda was studded with industry names. Frans Riemersma, Founder of Martech Tribe, discussed Martech trends and the role of company maturity in facing them. Tim Walters, Founder of Zero Theory, explored how in the era of "beg data" – where collection of personal data requires consent – trust becomes more important than CX.
There was a strong partnership focus, with both Roel Kuik, Kentico Practice Lead at Aviva Solutions and Wesley McChristian, Kentico Practice Director at Americaneagle.com, talking about the importance of building strategic relationships and achieving business value through customer-partner trust and intimacy. Tony Svanascini, CEO of Americaneagle.com also zoned in on the dynamic nature of the DXP landscape, the significance of trust, and the pivotal role agencies play as advisors.
Our own Chris Hajjar, Solution Engineer, explained how to migrate current projects to Xperience by Kentico in a matter of days rather than weeks, while Lukas Bajer, Lead Training Specialist, and Tim McDermott, Channel Growth Manager, presented a fantastic demo of the platform, showing off the latest features in the new KBank demo environment.
Martin Jonáš, Presales Architect at ACTUM Digital and Martin Doležal, Sales Director at ACTUM Digital talked about how their team consolidated a global solution for one of their clients with the Xperience by Kentico approach, while Dave Conder, Founder and CTO at BlueModus shared his team's experience in redesigning their own site on the platform, noting its rapid development, rich content modeling, unified UI, and faster upgrades.
Shaping the future of digital experience and marketing
Kentico Connection 2023 was a resounding success, offering a poignant glimpse into the future of digital experience and marketing technology. The combination of thought-provoking keynote speakers, enlightening sessions, and hands-on product best practices and demonstrations provided attendees with career-changing knowledge and inspired new possibilities. The collaborative backbone of the event underscores our commitment to partner empowerment and continuous improvement driven by the real needs of our customers.
As we look back at Kentico Connection 2023, it's clear that the event is not only a stage for professional development but also an opportunity to forge connections, exchange ideas, and revel in the synergy of the digital realm. And with Xperience by Kentico as its star, how could it be anything but revolutionary?
Explore our Kentico Connection highlights page to learn more!