Welcome to the first in a short series of articles taking a look at Kentico Email Marketing! In this first article, you'll learn how to automate newsletters to not only get rid of most of the manual work but also make sure your subscribers are still interested in what you're sharing. It's a win-win for everyone.
As daily users of Kentico, we thought we'd share a few scenarios, tips, and tweaks that we use and that will help you leverage Kentico. Plus, it'll help you grow your business opportunities even more! Each article will provide you with all the resources you'll need to replicate the given scenarios.
But do remember: In digital marketing, there is no silver bullet. Feel free to upload and inspect the sample proof-of-concept scenarios, found at the end of these articles, in your trial environment. Customize them to fit your needs, use them for inspiration, and develop your own unique set that will work for your customers.
With that in mind, let's get started!
Automated Newsletters
Newsletters are a great way to keep your contacts updated and interested in your business. Kentico Newsletters allow you to send marketing emails to recipients who have subscribed, for example, to receive monthly updates about promotions, upcoming events, and other happenings.
So let's say you have a great newsletter series prepared. It promotes a custom-tailored offer that fits to a specific segment of your contacts, and it will consist of just a few emails. Let's go over some basic rules:
Since the newsletters are linked, and they should be read in order, you want to make sure your contacts read one email before you send them the next one.
You don't want to spam those who are no longer interested and don't open your newsletter.
If, for example, you know that weekdays give you the best open rate, you don't want to send your newsletters during weekends.
Too complicated? Too much manual work? Not at all! You can set up all these rules with Kentico Marketing Automation!
Marketing Automation to the Rescue
Once you've prepared all your newsletters, all you need to do is automate the process of sending the emails and free yourself for more creative endeavors.
In Kentico, each automation process needs a starting point, or a trigger, which can be set off either manually or automatically. Default automatic triggers include activities like New contact is created, Contact achieves a certain score in lead scoring, or Contact performs a particular activity on your website (e.g., downloads a whitepaper). We'll use the last one in the following scenario.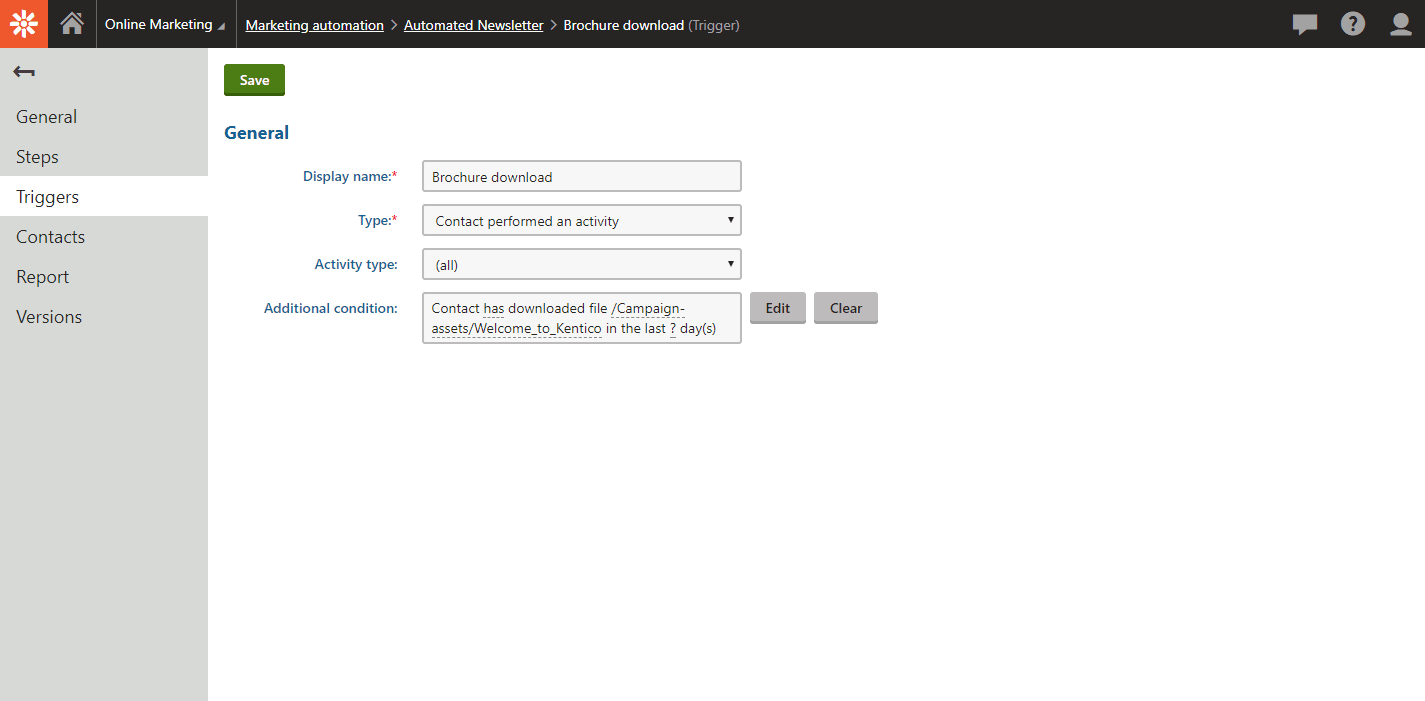 Automate Your Emails
With the Kentico Automation Process Designer, you can add virtually any steps you need, from basic ones such as a Condition or Wait step, to something like making a contact Change contact group. You can even use it to Log custom activities. But for the perfect newsletter automation, you'll only need a few of these steps. Your new process will begin with Start and Finished steps that are part of every marketing automation process.
Give Them a Moment
Your customer has downloaded a whitepaper. You'll want to give them some time to go over it and not spam them further with follow-up emails. Add a Wait step and send them the next email in a day or two. And after sending this email, add another Wait step to make sure your contacts have enough time to read through it. And keep going throughout your process.
Sending important business-related emails on a weekday might improve your open rates, and your process can take care of that too. Just add a Condition step that checks the day of the week and sends the email only on weekdays. Nice, right?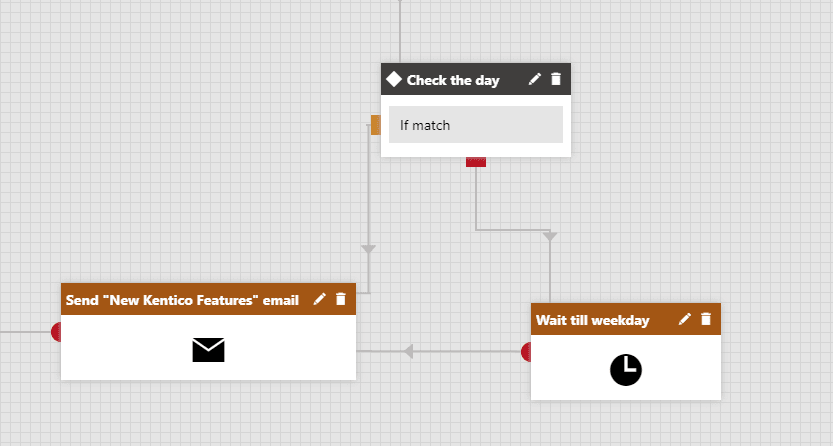 Don't Overdo It!
Nobody likes getting emails they're not interested in. Let's adjust the flow of your emails. To make sure your contacts are not swamped with emails they're not fully interested in, you can check whether your contacts have opened any of the previous emails. If they have, they are evidently interested in your communications, and you should keep them in the process. But if they haven't open any emails, it's likely they won't open the next ones, either. In this case, it might be smart to finish the automation for these contacts.
After sending two emails, add another Condition step to check whether the emails were opened. Just to make sure you're not missing on some inactive contacts, you can give them some more time to open the emails with another Wait step, and only then you can finish the process for them.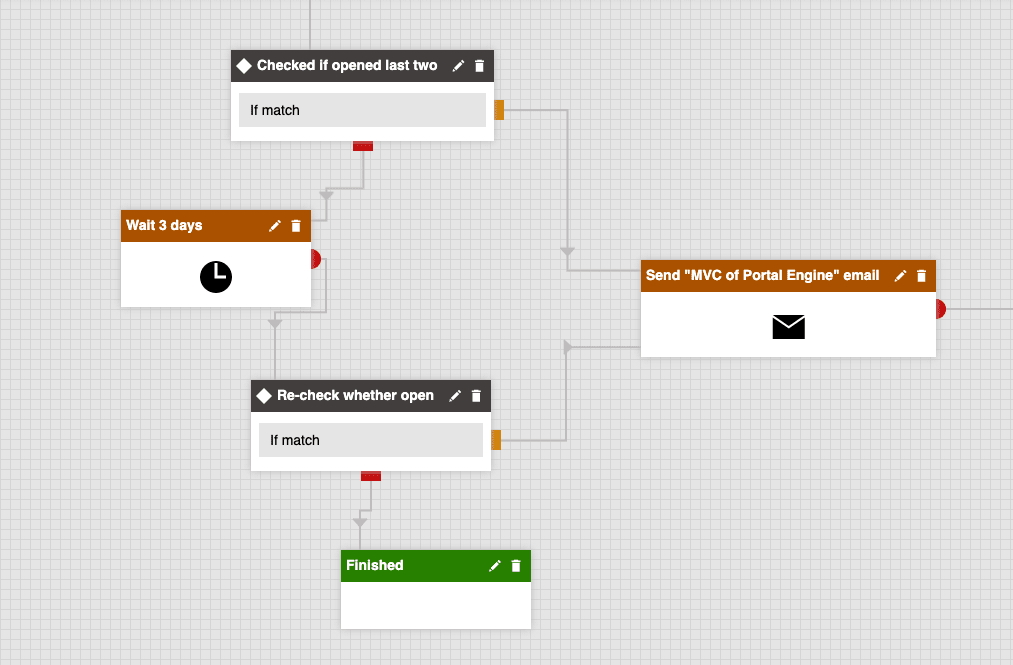 Now you can be confident that the contacts left in your marketing automation process are really interested in your emails, and you can continue with your newsletters.
Finish with a "Thank You" Note
After you send all your newsletters, you can either finish the process for everybody or add an extra check to see who opened and clicked links in all your emails. To help your relationship with your contacts, you can thank your recipients in an extra email and send them something like, for example, a discount voucher or private webinar invite. You can also add these contacts to a specific contact group that your sales team could work with, among many other things you can think up.
Kentico provides you with all the tools — use them to your advantage.

Hands-On: Add an Existing Marketing Automation
So now you know how to make the most of Kentico Marketing Automation when planning newsletters. You can customize your process in any way you need, add steps that fit your business, and target your contacts in the best way possible. If you'd like, you can use the same process we used and adjust it so that both you and your contacts benefit.
Do you want to try the process we've discussed in this article?
Sign up for a trial version of Kentico.
Go to the Sites application and use the Import sites or objects button.
Use the default values in the Wizard and import the whole marketing automation into your trial website (and make sure DancingGoatMvc is selected in step 2).
In the Marketing Automation application, check the structure of the automation, and feel free to experiment with anything you like.
In our next article, we'll take a look at how you can improve your marketing campaign emails using A/B testing and personalization.