We're already one month into 2022 but there are still things we can learn from 2021. Check out the top six content marketing trends and challenges you need to watch in 2022.
Last year really put companies through their paces, forcing them to adapt quickly to a fast-changing world. Digital transformation went from an advantage to a necessity basically overnight and marketing teams were forced to change their content plans to appeal to audiences whose lives had been completely transformed. All while working in reduced or remote teams.
A recent survey found that while confidence in content marketing is high, marketers are struggling to produce enough content, reach the right audience, and define and measure the success of their efforts.

Despite our hopes of seeing an end to the pandemic in the coming year, some of the trends for 2021 have proved successful for many brands and we expect to see them continue.
Content marketing trends and challenges of 2022
1. Challenge: Increasing creative output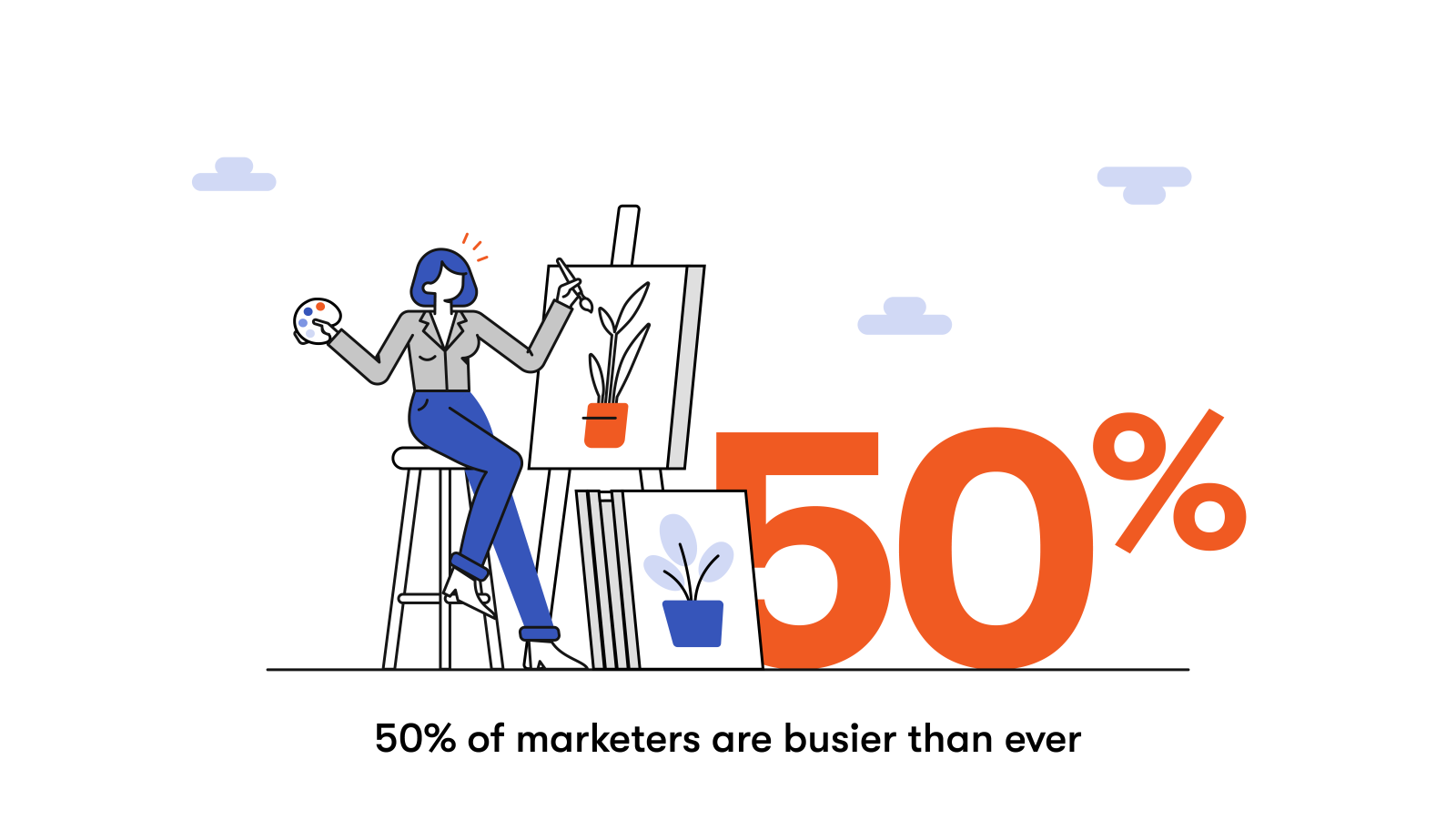 Interestingly, despite putting a spanner in the works of pretty much everything, the global pandemic has created a lot more work for creative content teams, with over 50% saying they're busier than ever following the peak of the crisis in March 2020. 55% of marketing agencies say their main priority, therefore, is to increase creative output and project bandwidth.

However, 70% of B2B content marketers struggle to keep up with the quality and quantity of their output. Design and visual content is the biggest challenge for 23.7% of content marketers while 52% of marketing teams are struggling with delays caused by up to five revisions before a piece is considered final. 54% attribute delays to having more projects than their team can handle.

One would think this challenge would fuel a trend toward increasing outsourcing of work to creative talent, but the numbers say otherwise…
2. Trend: Moving from outsourced to in-house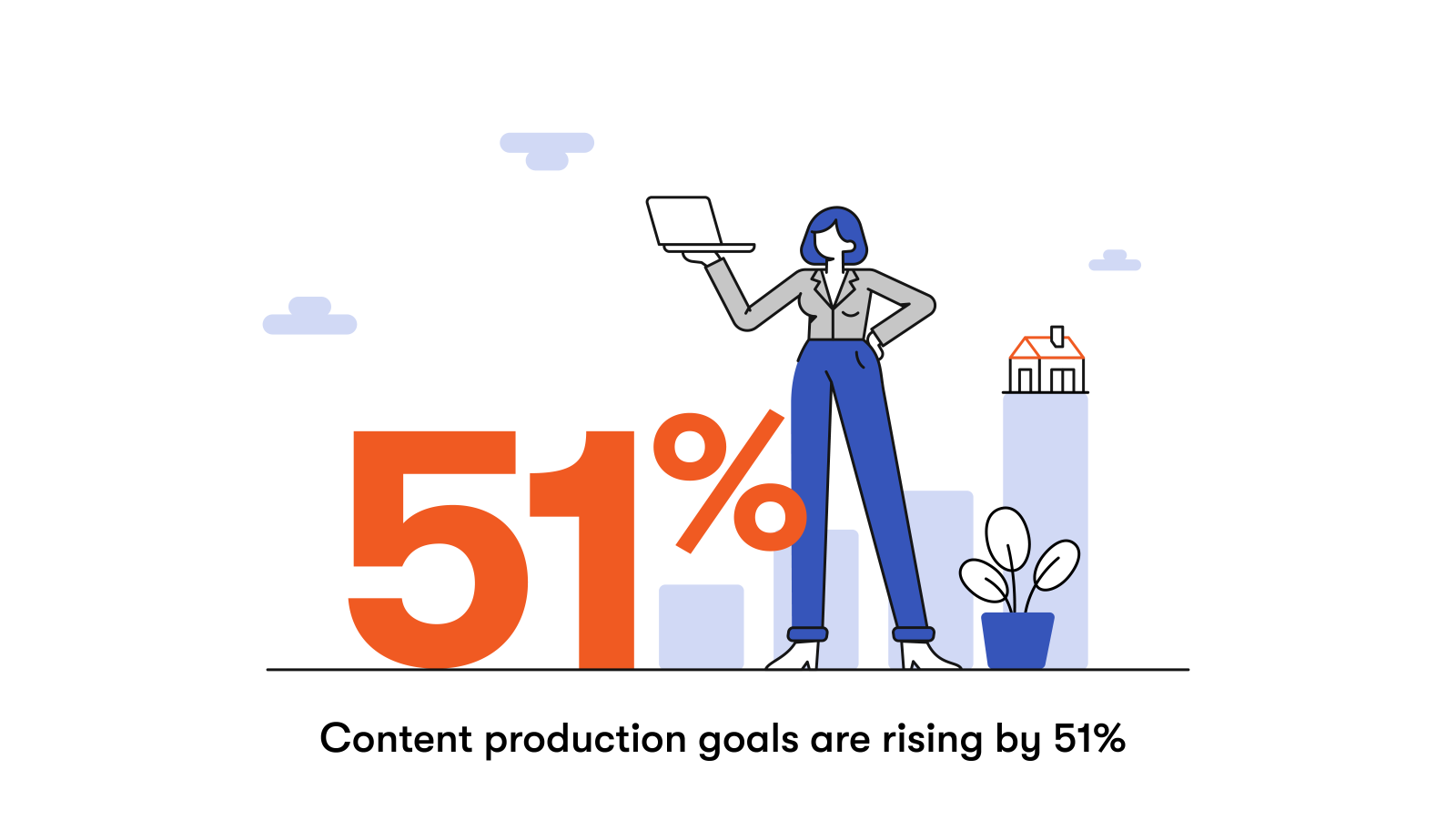 It's true that the proven success of content marketing saw 51% of companies working to increase their content production through outsourcing in 2021. But the challenge has been in ensuring their product, brand and message are well understood and expressed by talent not inside the company.

For this reason, in-house writers are preferable to 24% of companies, but are frequently either too expensive, too busy, or nonexistent.

Of the 95% of businesses that worked with third-party partners in 2020, more than one-third are starting to focus their creative output in-house. And we expect to see this trend continue into 2022 as companies grow their own creative teams in order to have greater control over their content.
3. Trend: Video-first strategy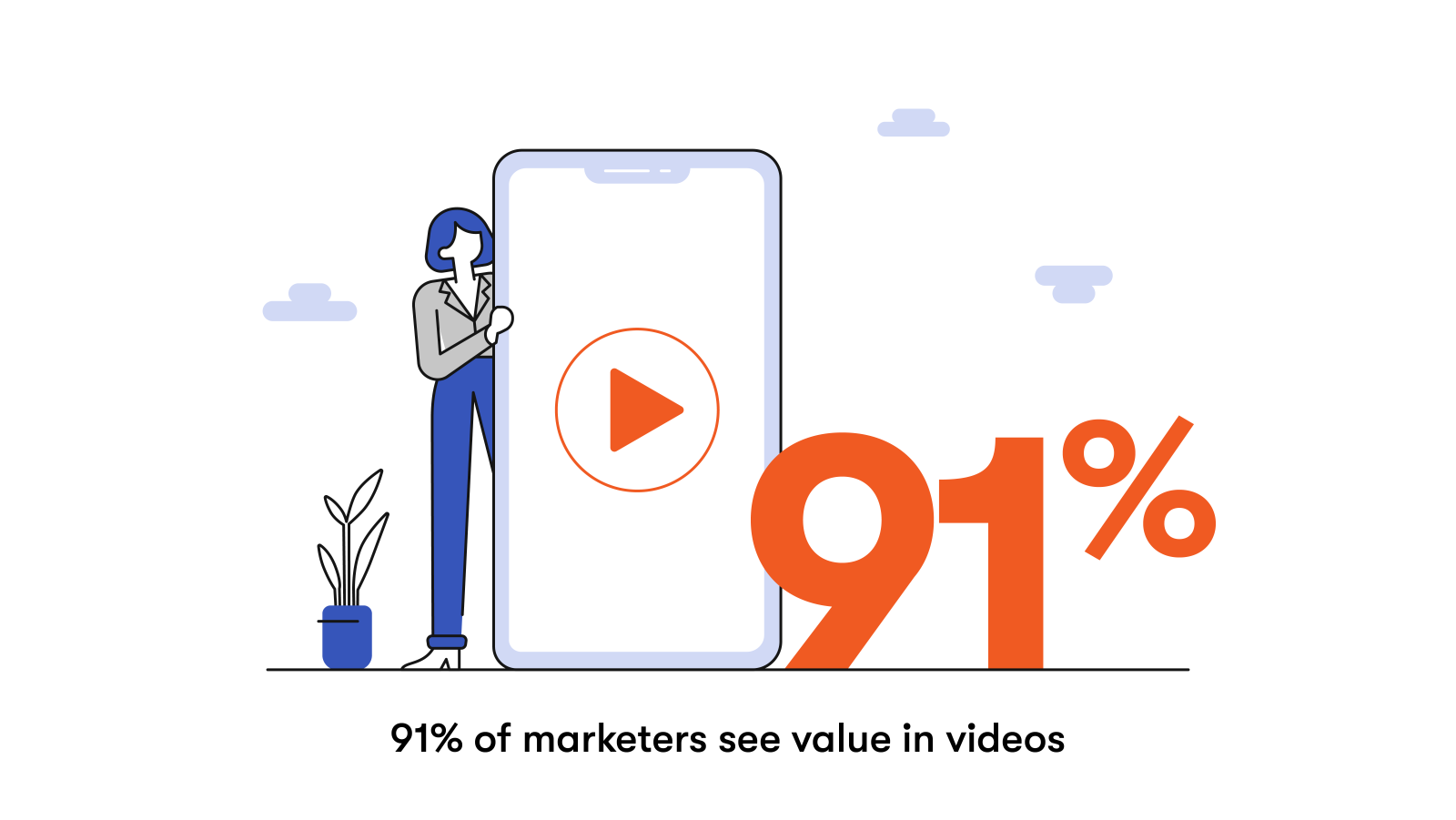 59% of marketers already use video in content marketing strategies and up to 76% consider it their most effective content format, with a quarter saying it's their biggest yielder of ROI. So it's little wonder that 69% of marketers expect it to be their top content marketing-related area of investment for 2022, with many embracing a video-first approach.

New technologies and platforms that make video easier and faster to produce will fuel its popularity in 2022. We expect marketers to focus on creating more interactive, immersive, and live videos, and on providing captions to reach the 92% of consumers who watch videos without sound. Retailers are likely to invest in shoppable videos (short clips that allow audiences to purchase products directly) and a less-polished video finish is likely to grow in popularity thanks to its more authentic appeal.

Short-form videos will also continue to impress, with 91% of marketers believing video is more important for brands now thanks to the coronavirus pandemic. Instagram Reels receive 22% more engagement than regular video content and could even give TikTok a run for its money in 2022.
4. Challenge: Unable to measure ROI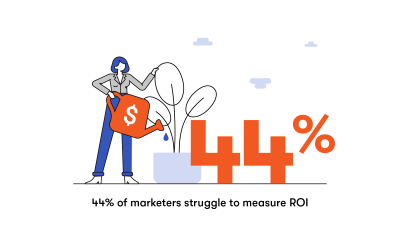 Being able to measure ROI provides quantifiable confirmation that a content strategy is increasing revenue for a company. And while 68% of B2B marketers are confident in their approach to content marketing, only 8% of marketers said they are always able to attribute ROI to their content plan and a mere 4% actually measure their ROI over a six-month period or longer. Only 43% of marketers have defined KPIs and most measure the success of their content marketing through sales numbers.

Needless to say, being able to measure ROI of their efforts is a top priority for 44% of marketers. But it is a complex and time-consuming process. Those struggling to do without the tools to automate the process will not only struggle, but will find themselves falling behind those who are able to identify their best performing and key converting content.
5. Trend: Optimizing content for voice and image search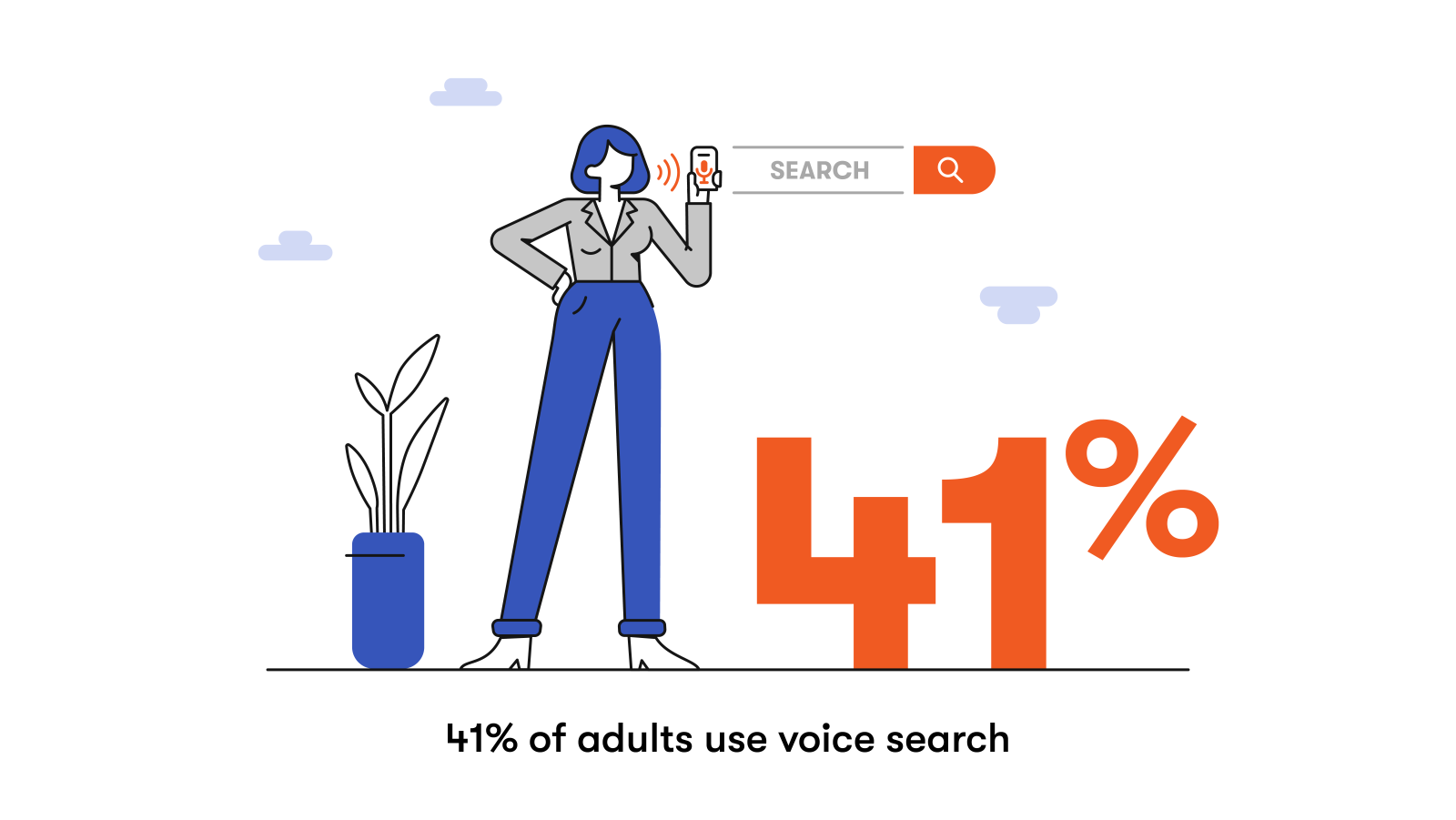 One trend fueled by young consumers is voice search, with voice capabilities like those of Siri, Alexa, and Google Assistant, expected to gain in popularity with increasing adoption. During 2022, the voice shopping industry is projected to reach $40 billion, and it is probable that there will be 8.4 billion voice devices globally by 2024.

Marketers should prepare for this shift and adjust their SEO to reflect more natural language. (For example "best blender" in a word search might become "Hey Google, what blenders are the best?" in voice search.)

Meanwhile, another search trend set to continue is visual search. Pinterest, Amazon, and Google all offer visual recognition technology that enables you to search by image alone. Expected to grow well into 2025, it is also likely to become a $40-billion industry.
6. Trend: Account-based marketing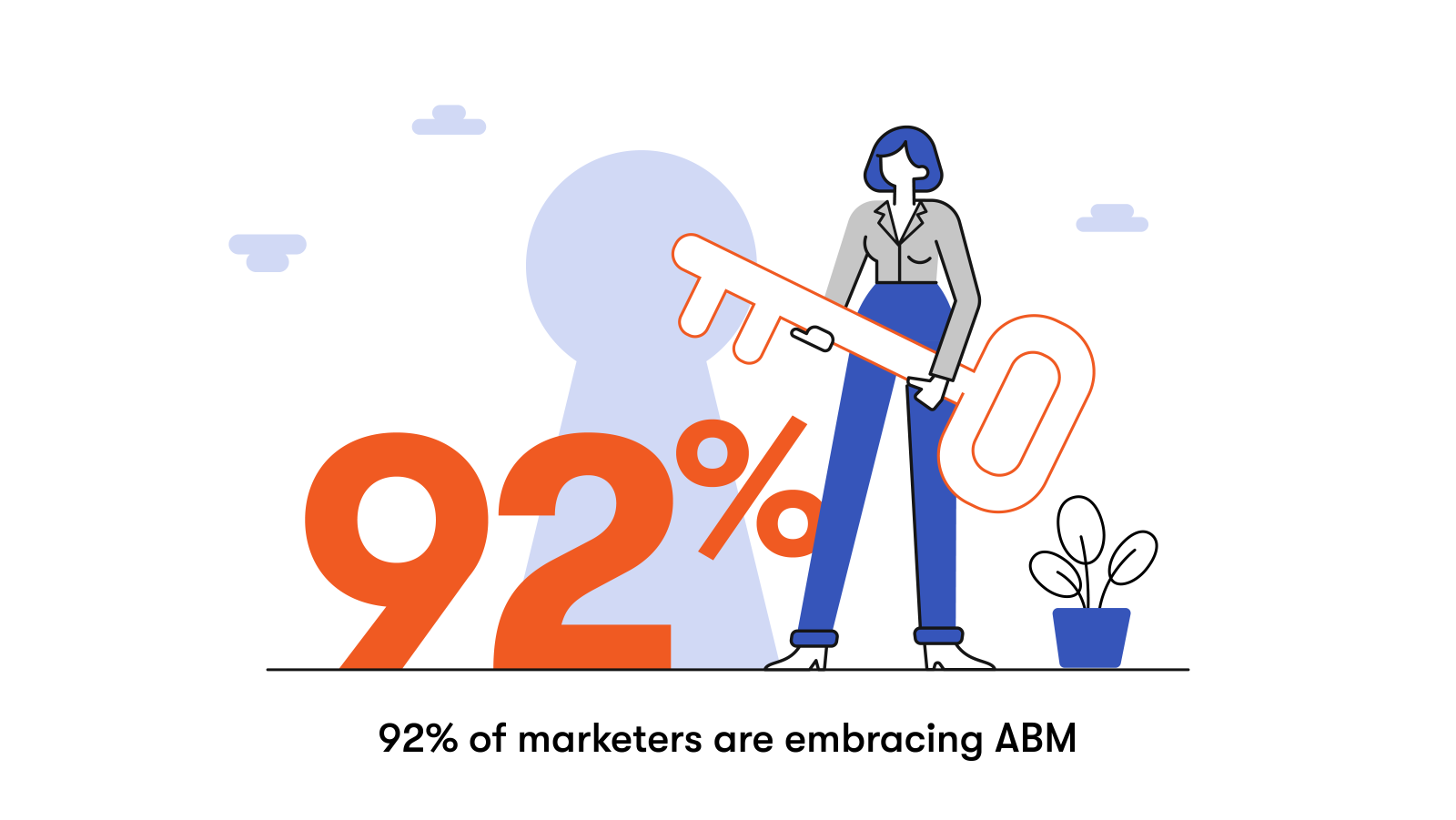 Account-based marketing (ABM) is a strategy where you identify high-value prospects and customers and create targeted buying experiences especially for them.
By aiming your content so precisely at your best-fit high-value accounts and personalizing their journey through heavily tailored communications, content, and campaigns—marketers are able to promote long-term business growth while boosting in ROI and customer loyalty.

This strategy also helps you weed out less-valuable clients early on and save a lot of marketing time and money spent on the "wrong" clients.

92% of B2B marketers now have an ABM program in place and we expect this valuable trend to continue for some time.
Other trends to watch out for
We expect to see a greater emphasis placed on understanding consumer intent, storytelling, hyper-personalization and interactive content, as well as virtual and augmented reality.

2022 will see more artificial intelligence (AI) used in data analysis, pattern recognition, chatbot capabilities, digital ad buying, buyer persona composite creations, hyper-personalization, and even the creation of optimized posts! This sector is expected to grow to $142 billion by 2024.

We will see even more branded audio content as 80% of marketers plan to invest the same or more of their budget into audio content in the coming year.
The future of content marketing
The digital landscape is shifting fast and it can be hard to keep up with the latest trends and technologies. But each shift presents a new opportunity. A new way of connecting with your audience on a more and more personal level.
It is essential your team is supported by the tools that enable you to deliver the kind of astonishingly good customer experience you're dreaming of. A first step in securing a winning content marketing strategy is to figure out your level of digital experience maturity. Once you know what your level of digital maturity is, you can then identify whether you're equipped with the right tools and technology to support your content.

Not sure how to calculate your level of digital experience maturity? Read the article that explains how best to calculate digital experience maturity and why it matters.