So far in this series, we've explored the importance of digital transformation, what digital maturity is, why understanding your digital experience maturity is crucial, and how you can leverage customer data to create meaningful personalized experiences while also protecting customer privacy.
All of this is great... if your marketing team actually has the time to create those meaningful personalized experiences...
Common challenges of the content marketer
The role of a content marketer is to create and distribute valuable, relevant, and consistent content that attracts and retains a clearly defined audience and ultimately drives profitable customer action.
Content marketing involves creating a variety of content types, such as blog posts, videos, social media posts, infographics, and more, that educate and engage the target audience, build trust, and establish thought leadership in a particular industry or niche, with the ultimate objective of driving conversions, increasing brand awareness, and growing the customer base.
However, content marketers face various challenges that can make it difficult to create effective content and achieve their goals.
Here are some common challenges:
Not enough time: In today's breakneck marketing environment, content needs to reach customers at the speed of now if it is to be relevant. However, marketers often struggle with balancing multiple projects and priorities, leaving them with limited time to create effective campaigns.
Clunky workflows: Outdated or inefficient workflows can slow down the marketing process and make it difficult for teams to collaborate and execute projects effectively.
Disparate systems: Marketers often work with a variety of different software and systems that may not integrate well with each other, leading to data inconsistencies, workflow disruptions, and data silos. If marketers can't get a 360-degree view of their customer, they'll not be able to provide the best customer experience for them.
Multichannel delivery: With the rise of multiple communication channels, marketers must create campaigns that can effectively reach audiences on various platforms while maintaining consistency and relevance. Not only does each channel require a different content approach, but if systems are badly integrated, it can mean a lot of time-consuming, error-prone tasks that stop marketers getting on with more important things.
Lack of technical skills: Most platforms require some technical/ coding knowledge to create new pages, email campaigns, or forms, which can limit marketers' ability to create responsive, innovative campaigns as they must wait for help from the IT department.
High customer expectations: Customers now have higher expectations for personalized and relevant experiences. Regardless of how things have always been done, marketers have to keep up with these expectations or risk falling behind.
Constant stream of emerging technologies: The overwhelming pace of technological change means that marketers are having to continuously stay up to date with the latest trends and tools to remain competitive.
How do DXPs empower marketers?
Digital experience platforms (DXPs) empower marketers by providing them with the tools and capabilities they need to create and deliver personalized, engaging experiences to their customers quickly and efficiently.
Here are nine ways DXPs can empower marketers:
1. Centralized content management: With content being published across multiple platforms and channels, it can be challenging to keep track of it all and ensure that it is up to date and relevant. A DXP provides a centralized content management system, which makes it easier for marketers to manage and publish content across multiple channels. This saves time and resources and ensures consistency across all channels.
2. Omnichannel delivery: Different channels and formats require different types of content, which can be time-consuming and costly to produce. Due to their integration capabilities, enabling them to connect with various systems and data sources seamlessly, DXPs facilitate a smooth flow of data between systems, helping businesses to design and provide superior customer experiences across multiple channels.
3. Scaling content production: Merely maintaining a consistent publishing schedule can be challenging, especially when juggling multiple channels and platforms, let alone scaling it! As companies grow and expand their content marketing efforts, it can be challenging to scale content production while maintaining quality. DXPs bring efficiencies such as marketing automation, automated workflows, and reusable content that help marketers get more done in less time and to scale their efforts across their growing touchpoints and customer base.
4. Content personalization: No longer a nice-to-have, a personalized experience is what customers want, even in the B2B market. Marketers often struggle with providing personalized experiences to customers due to the need to collect and analyze large amounts of data. DXPs bring all data from all touchpoints into one place, enabling a 360-degree view of the customer and allowing marketers to personalize content based on customer data, preferences, and behaviors. This helps marketers deliver targeted messages that resonate with their customers and increase engagement.
5. Collaboration with other teams: Content administrators need to work closely with other teams, such as product marketing, sales, and customer service, to ensure that content is aligned with overall business goals and strategies. It's important that they have workflows that ensure all content goes through the appropriate approvals before publishing. DXPs not only provide these capabilities, but good ones make sure they're easy to create within drag and drop interfaces so they can be up and supporting the process in no time.
6. Integration with other systems: Marketers are already using multiple tools and systems for different aspects of their work, which can make it difficult to integrate data and processes. But they're also getting bogged down in trying to keep up with emerging technology and trends. A future-proof DXP comes with many of the key tools they need built in (requiring no integrations) and has been designed to ensure seamless extensibility to any system they may want now or in the future via APIs, even ready to integrate with systems not yet in existence!
7. Customer journey mapping: DXPs enable marketers to map out the customer journey and identify areas where they can improve the customer experience. This helps marketers optimize their campaigns and ensure that they are delivering the right message at the right time.
8. Analytics and insights: With the increasing amount of data available to marketers, managing and analyzing it effectively can be a challenge. DXPs provide marketers with robust analytics and reporting capabilities, which enable them to measure the effectiveness of their efforts and make data-driven decisions that optimize their campaigns and improve ROI. Content marketers must continually analyze and optimize their content strategies based on data and metrics to achieve their business objectives.
9. Data security: As marketers collect and use more data, there is a greater need to ensure that it is secure and used in compliance with privacy regulations. DXPs that provide built-in data privacy compliance will support the marketing team in ensuring they're storing customer data correctly and only contacting customers they should.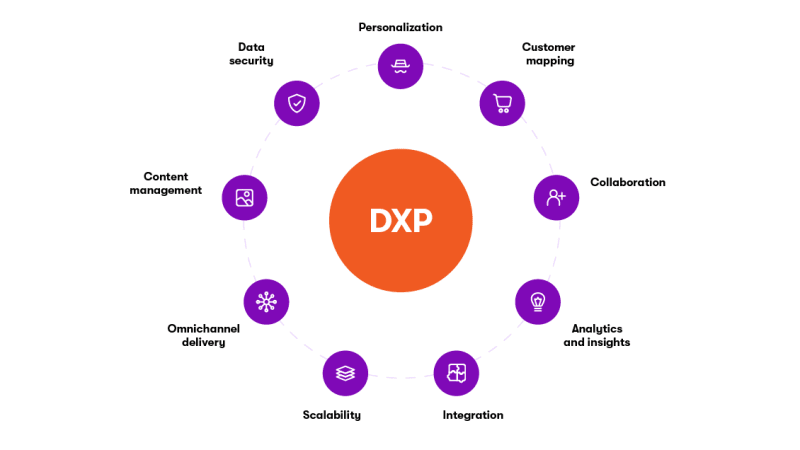 By empowering marketers with these tools and capabilities, DXPs enable them to create and deliver engaging, personalized experiences to their customers, which helps drive engagement, loyalty, and revenue.
Doing more in less time
The challenges content marketers face are many, but the right DXP will provide them with centralized content management, scalable content production, personalization capabilities, collaboration tools, excellent integration with other systems, collated analytics and insights, and built-in data compliance.
DXPs allow marketers to create and deliver personalized, engaging experiences to their customers by using data and automation, which saves time and resources while increasing consistency, effectiveness, and customer engagement. As the marketing environment continues to evolve, DXPs provide an all-in-one solution that helps marketers remain competitive and meet the expectations of their target audience.
Keeping to the theme of empowering marketers, our next chapter will explore low-code, no-code tools and how they're changing the game for both marketing and development teams.