Digital transformation is the process of using digital technologies to fundamentally change how organizations operate, deliver value to customers, and compete in the marketplace. It involves leveraging digital tools and platforms to streamline operations, enhance customer experiences, and drive innovation and growth.
By integrating digital technologies into all areas, including operations, customer service, marketing, and product development, businesses can create new ways of delivering value and engaging with customers.

The goal of digital transformation is to use the power of digital technology to create more efficient and effective processes, drive innovation, and enhance the overall customer experience. It is therefore essential if organizations wish to remain competitive and relevant in today's fast-paced and constantly evolving digital landscape.
What does digital transformation look like IRL?
Here are some good examples of companies adapting to changing consumer behavior and preferences by embracing digital technologies.

Intergiro, an all-in-one platform offering multi-currency bank accounts, card issuing, and card acquiring across Europe, designed a completely new way of banking and conducting business. "Embedded banking" is an automation of payroll systems, invoices, and reconciliation which integrates with apps for checkouts, wallets, and holding your cards.

Dutch InsurTech startup Kroodle interacts with its customers entirely through social media, allowing customers to file claims, attain quotes, and request services via a Facebook app. Meanwhile, Farmers Insurance has invested in Internet of Things (IoT) technology, employing drones to conduct risk and damage assessments, like roof inspections, and instantly transmit the data for much faster (and safer) assessment results.

Starbucks has transformed its operations with digital technology. Not only does the company enable its customers to order and pay for their coffee in advance through the Starbucks app (which has improved customer experience and helped Starbucks to increase efficiency and reduce wait times), but it has also implemented tools that make its baristas more efficient and able to customize drinks, further reducing customer waiting times while enhancing the quality of the coffee served.

91% of all businesses are engaged in some form of digital initiative. By embracing digital transformation, these companies are able to adapt to changing customer needs, improve efficiencies, and enhance the customer experience while staying competitive in a rapidly evolving marketplace.
How covid-19 accelerated digital transformation
The pandemic had a significant impact on digital transformation, accelerating the pace of adoption and pushing organizations to prioritize their digital strategies.

A McKinsey survey found that companies accelerated their digital transformation efforts by 3-4 years due to the pandemic.

Some of the reasons the pandemic accelerated digital transformation include:
Increase in remote working: With many employees forced to work from home due to lockdowns and social distancing measures, organizations had to quickly adopt digital tools and technologies to facilitate remote collaboration and communication.
Going virtual: With face-to-face interactions limited, organizations had to find new ways to deliver services digitally, such as telemedicine and virtual events.
Adopting agility: The pandemic has shown the importance of agility in the face of unexpected challenges, encouraging organizations to adopt more agile methodologies and practices to better respond to change.
Enforced ecommerce: With physical stores closed or limited in capacity, e-commerce saw a surge in demand, leading many organizations to invest in their online channels and digital customer experiences.
Overall, the pandemic accelerated digital transformation and forced organizations to reevaluate their digital strategies, leading to increased investment and a greater focus on digital customer experiences.
Four key benefits of digital transformation
Here are some of the key reasons digital transformation is so important for businesses today:
Better operational efficiency: With the right technologies, organizations can streamline their processes, automate tasks, and eradicate manual, time-consuming, and error-prone tasks, thereby dramatically improving efficiency, productivity, and cost savings.
Enhanced customer experience: Digital transformation enables organizations to offer better experiences to their customers, through online shopping, personalized customer journeys, and self-service options, which can lead to increased customer satisfaction and loyalty.
Faster innovation: Digital transformation encourages organizations to experiment with new technologies, such as new channels, artificial intelligence, machine learning, and the Internet of Things (IoT), which can help them develop new products and services, enter new markets, reach more customers, and stay ahead of the competition.
Data-driven insights: Thanks to better integrated technologies, digital transformation allows organizations to collect and analyze data from multiple sources. Not only can data around customer behavior, market trends, and business performance inform strategic decision-making, but individual customer data enables content to be tailored to each customer for a better customer experience.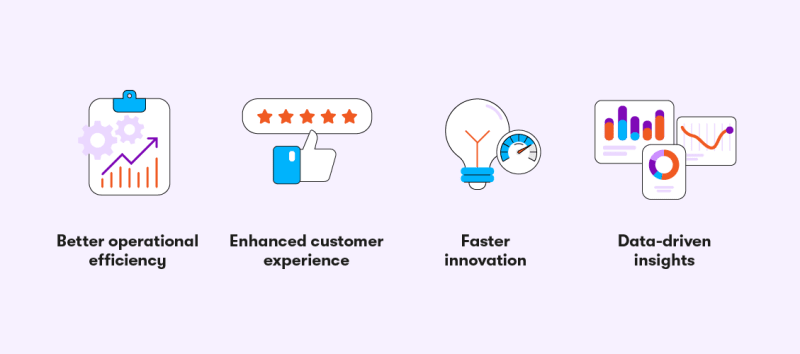 Why so many digital transformation efforts fail
A 2021 report by McKinsey & Company found that 70% of digital transformations fail and that even those that succeed often deliver less than their full potential (between 37% and 67% of the maximum achievable financial benefits).

Here are some of some key reasons digital transformations fail:
Lack of vision: It is essential you're able to define the goals and objectives of your digital transformation efforts and communicate them across the organization. According to McKinsey, on average, nearly 25% of value loss occurs during the target-setting phase, compromising a transformation's full potential before it even gets started.
No C-suite buy-in: The success of a digital transformation travels from the top down. It is imperative you get buy-in from senior leaders to ensure you have the necessary resources available and that the transformation aligns with the overall strategy of the organization.
Resistance to change: Digital transformation requires a cultural shift within an organization, and it's common for employees to resist change due to fear of the unknown or job insecurity. It is important to engage and enlist the help of employees at all levels of the organization and to get their buy-in and support. This includes learning from them during the planning phase and helping them adapt to the changes as they occur.
Lack of digital maturity understanding: You must be able to assess your current state—to understand where your organization stands in terms of technology, culture, and processes. This element is KEY to your digital transformation success.
No transformation roadmap: Without a roadmap that outlines the steps needed to achieve the digital transformation goals and objectives, you're less likely to correctly prioritize initiatives and identify dependencies.
Lack of digital skills: The pace of technological change can be overwhelming, and organizations often struggle to find (and afford) talent with the necessary digital skills to execute their transformation strategy.
Imprisoned by legacy systems: Legacy systems can be difficult to integrate with new digital technologies, and the cost of upgrading or replacing them can be prohibitively high.
Lack of data management: With the proliferation of data, organizations must have a solid data management strategy in place to effectively collect, store, and analyze data.
Vulnerable to cybersecurity: As organizations become more digitally connected, they become more vulnerable to cyber threats, and must have robust cybersecurity measures in place to protect against them.
Digital transformation is not a destination, but a journey. It is important to continuously measure the progress of your digital transformation effort and adjust course as needed.
This involves monitoring KPIs, evaluating the success of initiatives, and making changes as necessary to stay on track. To be successful, you need to embrace a culture of continuous improvement to ensure your organization remains agile and adaptable to changes in the market.
Leveraging the power of technology
Digital transformation is important to businesses because it enables them to adapt to changing customer needs, improve operational efficiencies, and stay competitive in a rapidly evolving digital landscape. It allows companies to leverage the power of technology to enhance the customer experience, optimize business processes, and drive growth and innovation.

However, getting it right is easier said than done and success is often the exception not the rule. So how can you ensure you're on the right path? Once you have a clear vision, how do you work out what steps to take to reach your objectives? What technologies will best support your goals? Which could get in the way of success? What is your team ready to manage now? How do you overcome the skills gap?

In our next chapter, we'll explore digital maturity and the importance of understanding yours.