In our last chapter, we explored the importance of understanding your digital experience maturity and how knowing where you're currently at and where you want to go, will set you up for success as you move along the path to maturity and to delivering exceptional industry-leading customer experiences. Let's explore what this really means and why it is so important.
What is customer experience and why does it matter?
Customer experience (CX) refers to the overall perception and impression a customer has of your brand. It is based on their interactions with you across all touchpoints and channels and is shaped by every interaction the customer has with you, from browsing your website, to interacting with customer service representatives, to purchasing a product or service, to receiving after-sales support.

It encompasses both functional and emotional aspects of the customer journey, including the quality of the product or service, the ease of use, the level of customer support, and the emotional connection and sense of satisfaction the customer feels.

Providing a positive CX is important for businesses because it can drive customer loyalty, increase revenue, and improve brand reputation. A positive CX can result in repeat business and word-of-mouth recommendations, while a negative CX can lead to customer churn, negative reviews, and damage to the organization's reputation.

74% of consumers are at least somewhat likely to buy based on experiences alone. So, it's no wonder that 76% of executives say improving CX is a high or critical priority.

The digital age has increased the importance of CX as customers have more opportunities to share their experiences with others and to choose from a wide range of options. This makes it even more critical for organizations to prioritize CX and invest in the digital capabilities necessary to deliver a seamless and engaging experience across all channels and touchpoints.
The benefits of delivering a great customer experience
Delivering a good customer experience can bring several benefits to a business, including:
Increased customer loyalty and retention: Customers are more likely to remain loyal to a brand if they have a positive experience, which can lead to repeat business and increased customer lifetime value.
Improved customer satisfaction: Customers are more likely to be satisfied with a business if they have a good experience, leading to positive word-of-mouth marketing and potentially more customers through referrals.
Increased revenue and profitability: Delivering a good customer experience can lead to increased sales and revenue, as well as improved profitability through cost savings from reduced customer churn and increased efficiency.
Competitive advantage: In today's competitive business landscape, a good customer experience can help differentiate a business from its competitors and attract new customers.
Better insights and understanding of customers: By focusing on the customer experience, businesses can gain a better understanding of their customers' needs, preferences, and behavior, which can inform product development and marketing strategies.
Improved brand reputation: A positive customer experience can enhance a business's brand reputation, leading to increased trust and credibility among customers and stakeholders.
Three companies doing great customer experience
There are many companies that are leading the way in customer experience, but here are some that excel:
As the world's largest online retailer, Amazon is known for its exceptional customer experience. With features like one-click ordering, personalized recommendations, and fast shipping, Amazon has made online shopping quick and convenient for its customers. Its user-friendly website and mobile app also make it easy for customers to find what they're looking for and complete their purchases. It is known for offering a seamless and personalized online shopping experience for its customers. Its platform features user-friendly interfaces, personalized product recommendations, fast shipping, and easy returns, all of which contribute to its success in providing a great online shopping experience.
Swedish furniture retailer, Ikea, is attentive to its customers and their needs. Through their mobile app, customers can conveniently browse the online catalog, check prices and product availability, and create shopping lists to navigate the stores. The introduction of the Ikea Place app utilizes augmented reality (AR) technology to allow users to visualize how products would fit in their rooms, enhancing the user experience and reducing the risk of mismatched purchases. Additionally, in response to customer feedback, Ikea has organized "pajama parties" in stores, providing a unique experiential retail opportunity with activities such as yoga, meditation, and breakfast in bed.
To ensure accurate and timely information, FedEx (recognized as the second most trusted American B2B company) consolidated their communication efforts into a single customer-focused newsletter, prioritizing relevance over frequency and enhancing customer satisfaction. By collaborating with external partners, including e-cCommerce shipping service providers, FedEx ensures a seamless shipping experience for online store owners and continuously seeks customer feedback to improve their practices. Furthermore, their commitment to social responsibility, exemplified through initiatives like the #fedexcares hashtag, demonstrates their dedication to making a positive impact and aligning with their mission, which ultimately contributes to meeting customer needs and fostering satisfaction.
These companies prioritize customer experience and have built their success on creating memorable and satisfying experiences for their customers.

Providing a good customer experience is an ongoing process that requires continuous improvement and innovation. Companies need to be willing to listen to customer feedback, analyze their performance, and make changes to improve the customer experience over time.
What factors are required to build a great customer experience?
Building a good customer experience requires a combination of three key factors:
A customer-centric mindset: A company needs to put the customer at the center of its operations and decision-making process. This involves understanding the customer's needs, preferences, and pain points, and tailoring its products and services accordingly.
Empowering technology: Marketers need the tools and capabilities that enable them to publish engaging content without the help of other teams. They need seamless and intuitive processes in order to create a seamless and intuitive experience for the customer.\
Great customer data: Great data is essential to providing a good customer experience because it allows companies to understand their customers' needs, preferences, and behaviors, and tailor their products, services, and interactions accordingly. It also enables companies to personalize the customer experience, providing tailored recommendations, offers, and support based on the customer's past behaviors and preferences.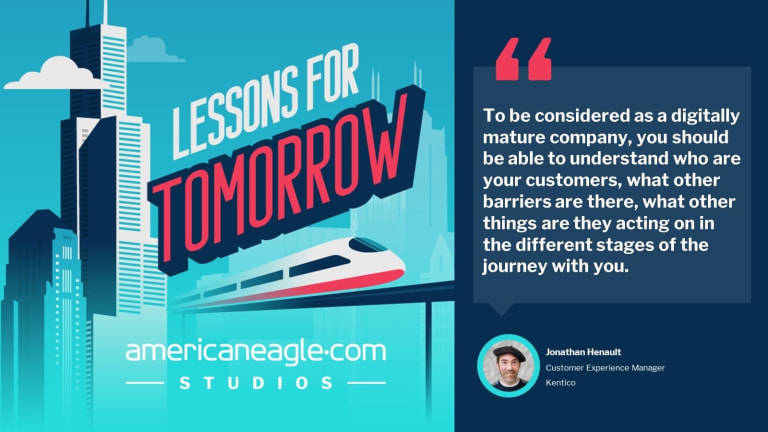 The stages of digital maturity with Kentico
The Lessons for Tomorrow podcast
Companies need to think CX from the inside out
A positive CX can drive customer loyalty and retention, bring better customer and market insights, boost your competitive advantage, improve brand reputation, and increase revenue and profitability. Delivering great customer experience requires a customer-centric mindset, the right technology, and great customer data.

So, where does this data come from and how can you use it to enhance the customer experience? Let's explore in our next chapter.