2020 was a turbulent year full of surprises and significant changes, exciting as well as arduous. Having taken a few deep breaths, here we are—stepping into 2021 with fresh minds and lots to look forward to. What's awaiting Kentico Xperience in the upcoming days, months, years? Let's discover together which direction the product strategy is headed off to and what else we'll come across on the product roadmap in the near future.
Kentico Xperience today
The beginning of 2020 carried with it a significant turn of events: a product division. Today, we're looking at Kentico Xperience—a digital experience platform that combines content management, digital marketing, and commerce into one fully integrated solution. Taking a glance into the future, the product vision remains defined clearly: modernize and accelerate.
Apart from the product division, other major decisions have been made in the past six months to secure a bright future for the product. Bringing Kentico Xperience to a new technology stack was what drove it all. What kind of decisions? Exaggerating aside, most of them are about to impact and tweak the future of Kentico Xperience for the upcoming 3 to 5 years, at least. If you're getting excited, that's where we want you to be! Let us fill you in.
Major game-changer in place
Kentico Xperience 12 (released in 2019) was the last version supporting Portal Engine, technology specific for Kentico. In Portal Engine, the user was able to create their project directly in the browser. The pre-prepared web parts, created by developers, enabled a simple drag and drop functionality inside the Pages app. Simply put, within a few clicks, your webpage was built.
However, this wasn't a sustainable solution. Considering modern technologies, these web parts were growing way too old way too fast, and it was getting all the more difficult to keep up with trends in building modern websites. Besides, the uniqueness of the development model presented a major obstacle as every new-coming developer had to learn to use Portal Engine first.
Therefore, the only way to write new projects in Kentico Xperience 13 (released at the end of October 2020) is by using .NET Core MVC instead. The MVC (Model View Controller) brings us closer to a more standardized and up-to-date development method. It offers a way to update and reuse the existing code, which suddenly makes keeping up more feasible.
For the time being, the administration for Kentico Xperience 13 is still in webforms. Utilizing .NET Core is, however, considered best practice for building all new projects, and will therefore be the only technology supported going forward.
Beyond the horizon
So, what's next on the agenda? The general goal for us is to provide all the right tools that will help you deliver your projects. Nothing redundant, nothing wasteful. Therefore, it's about time to unveil what comes after Kentico Xperience 13—meet Kentico Xperience, codename Odyssey!
First and foremost, you're looking at a product entirely rewritten to .NET Core. However, it's not just a simple interface rewrite, deployed as one big bang release. Neither is it a new, fancier nickname for Kentico Xperience 14. Odyssey stands for a rather continuous process. It's a journey of improving the product, where the changes are being delivered gradually—within short release cycles, over the course of a few years. It's a codename, used internally for the time being.
It is a natural path to a complete removal of versioning. No more huge and painful differences that you'd need to adapt to with difficulties. No more, incompatibility, or breaking changes. From now on, you'll always be up to date with the latest version, which will improve your overall performance.
Step by step to perfection
All the platform's original parts as you know them now (i.e., content management, digital marketing, digital commerce, customer data platform, analytics, automation, developers' platform, integrations, and services) will remain utilized. They will, however, get evaluated individually, and each will be subject to different levels of change.
Without a doubt, we can say that some of the current elements will get a complete one to one rewrite. This applies, for example, to the platform, authentication, user management, and license management. Other elements, such as content management–the Pages application and Page builder–that are adopted and heavily used in all projects, will get just a small optimization, mainly when it comes to improving the user experience.
Nevertheless, the areas looking to undergo the most significant changes are digital commerce and digital marketing. We're about to tackle them with an extensive amount of attention, as currently it's challenging to leverage them to their full potential.
Changes on the table
You might be wondering what the roadmap to get there looks like. The foreseeable future presents five focus points of improvement to start with:
Focus on the low code/no code approach to empower the business users, content editors, and digital marketers to accomplish their daily job without relying on a developer.
Boost automation by using artificial intelligence and machine learning. Content classification, automatic assignment of tags or categories, recommendation of appropriate pictures, automated sentiment analysis, personalization, and other features will get added to help you automate your workflow. No more repetitive tasks and unnecessary extra steps.
Cloud-first solution and SaaS (Software as a Service) offering to steer the focus to your project and its best performance only. Updates to the latest version, running on the optimal servers, maintenance, uptime, and many other aspects will be taken care of by us.
Faster release cycles to deliver value to real users much quicker. Instead of 12–18 months long release cycles, as we know them now, it will only take a few weeks to deliver new functionalities. That will even allow for an ongoing conversation with end clients and increase flexibility of the offered solution. We will call these smaller releases Refreshes.
Leveraging cutting-edge technology, i.e., Microsoft .NET Core, to secure the highest standard, adaptability, and usability of Kentico Xperience for your project.
Looking at our ambitions, one thing is clear: there's no other platform out there, written entirely in .NET Core and with fast release cycles while running as a SaaS. A successful implementation therefore makes Kentico Xperience the only one of its kind.
Roadmap to improvement
To avoid confusion, we will level the differences between new releases, hotfixes, and upgrades. From this moment onwards, we'll be welcoming Refreshes–a combination of new functionality and bugfixes.
Nevertheless, we're not jumping the gun with Odyssey. Before it's fully prepared to launch production projects, we're looking at improving the functionality within Kentico Xperience 13. The first Refresh is planned for the end of the first quarter 2021, focusing on .NET Core MVC Support, Search and Ease of Use. Approximately every three months after that, other Releases should be coming up.
In the meantime, work on Odyssey will continue alongside. We expect to release the first Refresh, serving Odyssey exclusively, by the end of 2021, and continue on a monthly basis.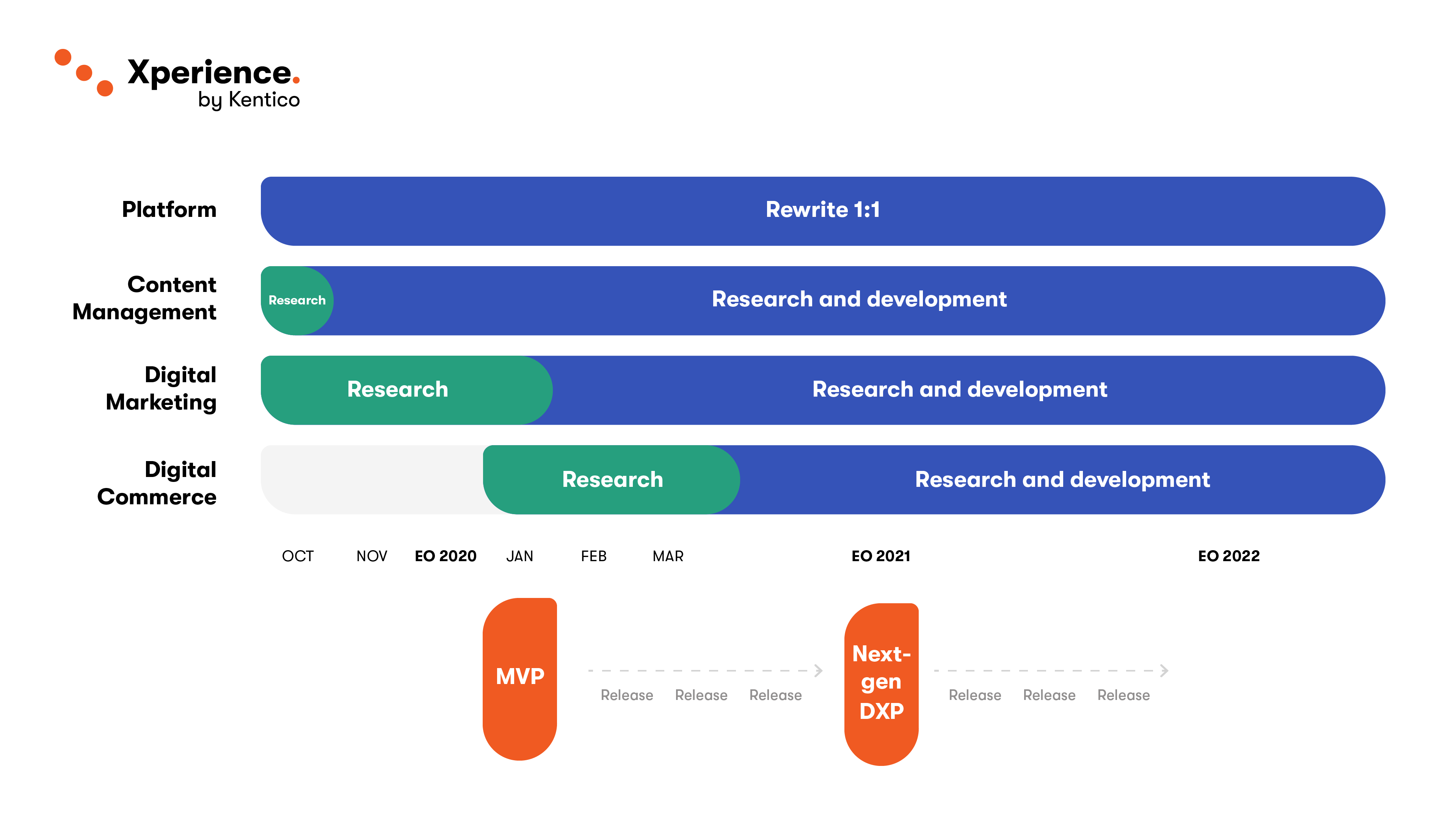 A cherry on the top of convenience
One more thing we'd like to reveal, going hand in hand with the major changes mentioned above is the subscription model. On a rather commercial note–the subscription model, introduced in January 2020, has become the default model for Kentico Xperience and substituted the perpetual license model for all newly closed deals.
Thanks to that, the product becomes autoscalable and opens its full functionality to everyone with an active subscription. Besides, given subscriptions can be put in operational expenses, as well as the entry cost being generally a lot lower, it allows for an easier procurement.
The future looks bright
Altogether, the future is stretching its arms to us, offering lots to look forward to. It has been a real whirlwind of a year, but we believe that the wind has picked up the right direction and will stir up improvements on all fronts. Improvements that will allow for more powerful projects to get built and supported on a stronger Kentico Xperience.
Make sure to stay tuned and to share your ideas and opinions with us! For more inspiration, watch the planned changes unveiled in the Keynote from Kentico Xperience Connections 2020.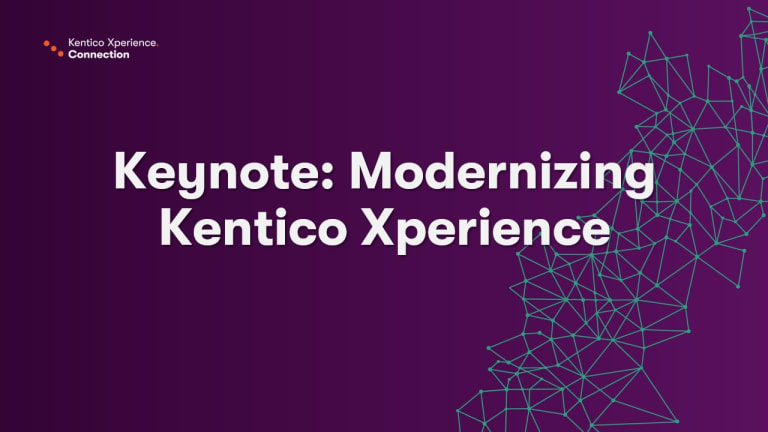 Keynote: Modernizing Kentico Xperience
Discover how we plan to modernize our much-loved product, Kentico Xperience, what will happen after the next release, and upcoming changes to our business model.