Offer flexible payment and shipping options
Make the process of paying up in your online store completely hassle-free! Let your customers choose their favorite payment method—using a card, PayPal, on delivery, or via a third-party payment service—in any chosen currency. Configure multiple shipping options effortlessly and leverage automated shipping cost and tax calculations to secure a perfectly seamless shopping experience that increases customer loyalty.
Connect payment gateways
Eliminate abandoned shopping carts by making the checkout process as smooth as possible. Seamless payment options are an essential part of it! With our API, you can easily integrate any kind of payment method and let your customers choose their favorite one—be it card, cash on delivery, or others. Add even more convenience by enabling payment gateways that utilize industry-standard encryption to effectively protect sensitive data and allow faster transaction processing.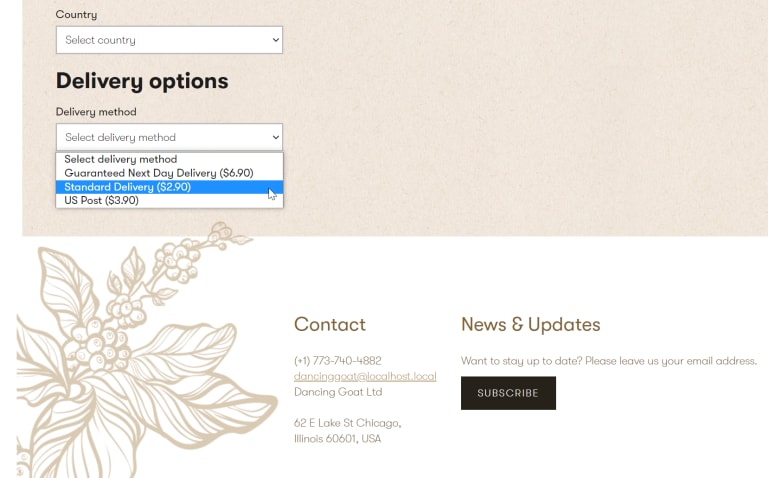 Configure shipping with automated calculations
Offer multiple shipping options by configuring carriers and their services, and benefit from offering better flexibility to your customers. Calculate shipping costs automatically based on the weight of a product, country, date, and other factors to let customers know the exact price at all times. Integrate easily with shipping companies to enable real-time shipping cost calculations and availability checks.
Sell in multiple currencies
It's not only promotions and discounts that encourage customers to shop in your online store. Letting them pay in their local currency through localized payments will make them feel at home shopping with you and drive more sales too. In Kentico Xperience, you can easily define exchange rates and automatically convert prices and shipping costs, set up when currency rates are valid or use a real-time exchange rate update.
Calculate prices and taxes automatically
Remove the headaches of manually calculating the prices of your goods and services before and after tax. Localize taxes based on shipping and billing addresses, and assign tax classes to particular products automatically based on their assigned product category.
Decide whether the price displayed online should include all applicable taxes and let the tax calculation take care of the rest. You can even connect your commerce platform to third-party tools and have your prices change dynamically based on data from comparison shopping engines.
Try Kentico
Beat the competition and start delivering results with the only digital experience platform that combines advanced capabilities, a short time to value, and ease of use.
Key digital commerce features
Shopping Cart and Checkout Process
Tailor the checkout process with an easy-to-use shopping cart for customers purchasing your products and services.
LEARN MORE
Product Information Management
Create a product catalog with flexible design and navigation catered to your needs and offer any product.
LEARN MORE
Payment and Shipping Options
Make payments an integral part of the checkout process and configure shipping with automated calculations.
LEARN MORE
Promotions and Discounts
Apply various types of discounts and promotions and configure special offers using predefined or custom rules.
LEARN MORE
Multi-store Management
Manage multiple stores in one place. Share your products, payment methods, order statuses, invoices, and more across your stores.
LEARN MORE
Commerce Integrations
Exchange product information, prices, orders, invoices, and delivery notes with other systems and apps.
Multilingual Shopping
Offer products in any language. Automatically show content in appropriate language, currency, and time zone.