I am sure you have been following our series of articles dedicated to automating communication around your events using Kentico Marketing Automation. If you have not had a chance to read through the first two blogposts, then you should definitely do it!
The first one speaks about the preparation phase before your event starts—what scenarios to create to send out event invitations, and how to handle registrations that come right after. The second one is dedicated to the email communication you should have with your event attendees during the event itself so they get all the information they need to stay focused and excited about what is happening and what is still about to come.
Today, we are closing this series about Marketing Automation for Event Management by talking about what happens once your event is over and how automated processes will help you keep in touch with your event attendees without unnecessary delays and achieve your subsequent goals.
Marketing Automation After the Event
Once your event is over, you will probably want to get in touch with your event attendees again. The type of your event—conference, workshop or lunch and learn—and its objective will help you create a follow-up process aligned with what you want to achieve next.
Your follow-up processes may have various goals—maybe you just want to say thanks for coming, educate the event attendees further on a specific topic, inform them about other events that you are organizing, or convince them to buy from you. In summary, you will typically want them to take some further action on your website or in your stores.
What to Do First
I would definitely recommend having your follow-up process in place even before your event is over. This will help you potentially focus on some minor changes in the process if you find it necessary and get in touch with people at a greater speed. This is important because the sooner they hear from you, the bigger impact the event and your follow-up message will have.
It is also immensely important for your follow-up process to have a goal based on which you can measure whether the communication towards your event attendees was successful—e.g., the number of filled-in satisfaction surveys, purchases, or registrations for your partnership program.
Follow-up Processes You May Want to Create
Here are some processes you can now take, adjust to your needs, and start using to follow up with your event attendees.
The Thank You for Coming Process
You might create a simple process thanking people for attending your event. If you wish, you may split the process into two branches depending on whether you are speaking to existing or potential clients, as it is expected that you will use different wording and a possible call-to-action when talking to the prospects.

Tip: You might want to add one more email step with your satisfaction survey so you get immediate feedback on how your event went in the eyes of your event attendees.
The Lead Nurturing Process
What I like about Kentico Marketing Automation is that it allows you to connect your existing process to a different one using one simple step. Have a look at the process below. Unlike the previous examples, it sends a 'Thank you for coming' message to everyone, no matter whether they are existing or prospective clients. The process then only continues for prospective clients. These will be moved to another automated process with the goal of educating the leads on a particular topic. In the best scenario, this lead nurturing process should finish with a conversion—e.g., a purchase, a registration, or a booking.

The Perform an Action Process
Your event objective was probably to get as many attendees to the event as possible and in the best-case scenario, convert them into leads. Using marketing automation, you can now continue talking to them and present them with the next step they can take on your website.
Have a look at the following example. The goal here is to make the event attendees perform an immediate action on our website. In our scenario, we want people to start a partnership with our company. In your scenario, it could be a purchase, an online registration, or a donation.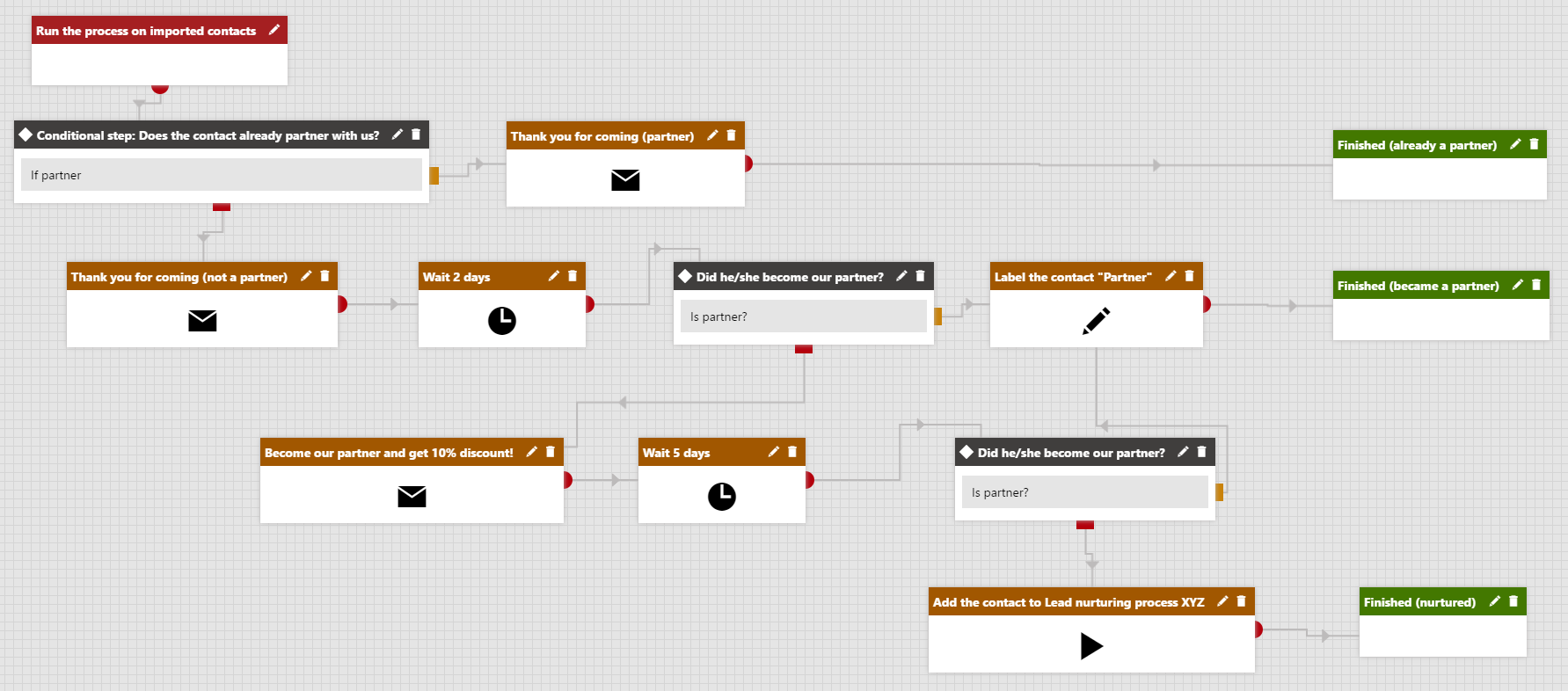 These were just various examples that can help you think about your own scenarios. As I have already said, it all depends on what the objective of your event was and what you want to achieve by talking to the people that attended it.
Step by Step with Kentico Marketing Automation

Let me now show you the steps you need to take in Kentico in order to run a follow-up process as soon as the event is over.
1. Think about your goal
The first thing I would recommend, even before the event starts, is to think not only about the whole event but your follow-up process too. It should probably have some goals based on which you can say if the email communication towards your leads was successful or not.
2. Design your workflow
Once you are clear on your process objectives, you can now jump into the Marketing Automation application and put together your follow-up workflow using the Kentico visual designer. Remember that not only can you use steps to send emails, but you can also make use of conditional steps that will allow you to split the process based on some conditions, steps for segmentation that will move your attendees into specific groups, and many more.
3. Import attendees
I would recommend preparing the previous two steps ahead of the event so you do not have to waste your precious time once the event is over. After all, you want to reach out to your event attendees as soon as possible, right?
Now, since not everyone that registered for the event really attended it, we want to make sure that our follow-up process starts only for those that really turned up at the conference, or whichever event it was. We probably have that list of people in an Excel, Google, or other spreadsheet document. So just take that document and convert it into a CSV file so you can import it easily into Kentico in the Contact Management application.

Don't worry, Kentico EMS will make sure that no duplicates are created, which means that if you import contacts that already existed in the system, their contact details will only be updated with the information you got about the person during the event (e.g., company name, telephone number, or job title).
I would also recommend that during the import, the option to Create a new contact group is selected. This way, you will create a contact group out of these imported contacts and it will be much easier for you to run your follow-up process on them all.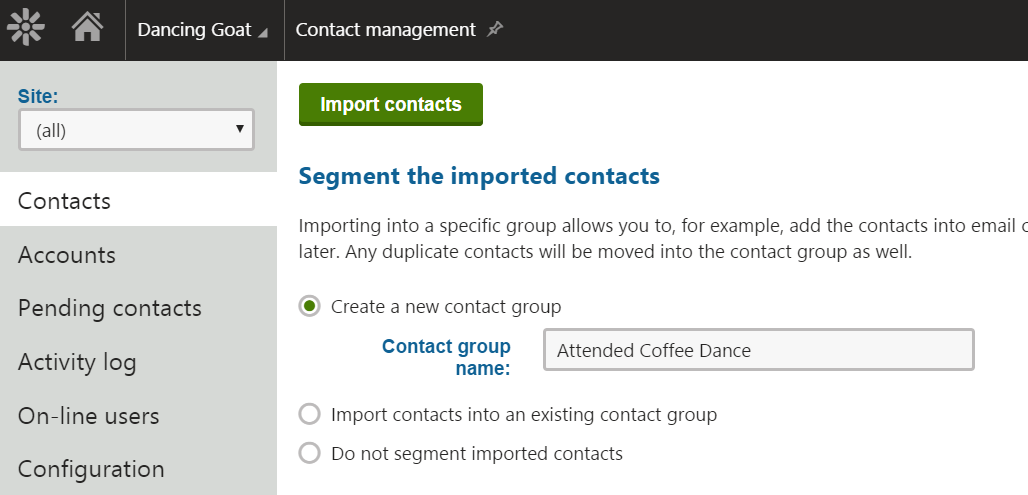 4. Run the process on the imported contacts
As you have already imported the information about the people that attended your event, the last thing you need to do is to start the follow-up process for them. As you have them all in one contact group, access the Contact Groups application, open the group you created, and start the process for the whole group as you can see in the screenshot below.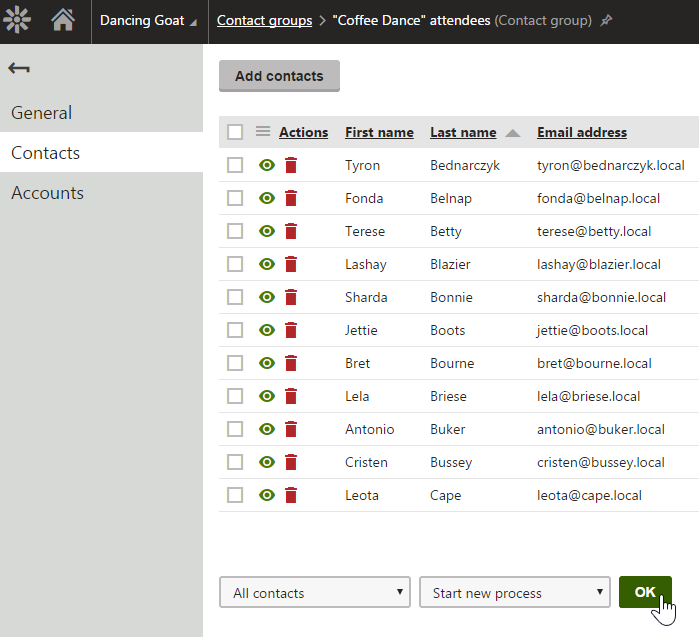 5. Check the reports
Once you have started your follow-up process manually for the whole contact group, you can check the advancement of individual contacts through the workflow process in the Marketing Automation application—or on the Contacts or Report tab.
Have a look at the results of the Perform an Action process I presented earlier in this article.
As you can see, it is very important to put very clear labels on each step. This will help you understand how successful your follow-up process was in terms of the goal you set at the beginning.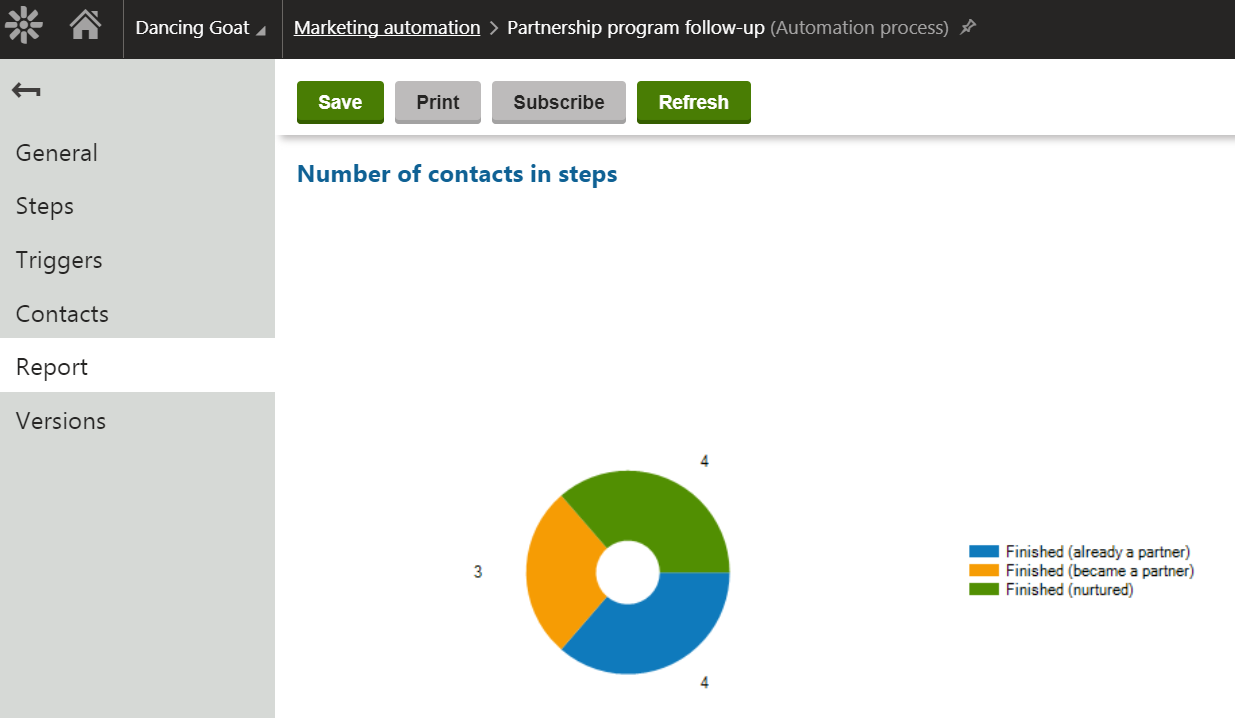 All right, so we have come to the end of our series of three articles about Marketing Automation for Event management.
Now, I would love to hear from you—have you ever used marketing automation for managing your events? Did you automate your communication towards event attendees throughout the whole event or just for a part of it? What was the most difficult part in all that process?