No matter how big your business is, as it grows, your business ambitions might outgrow the possibilities of the e-commerce (commerce) platform you have. But migrating to a new platform needn't be difficult. Read on to learn more.

Many businesses with online stores or e-shops are afraid to migrate their websites to a new platform as it can seem too risky. Instead of replatforming to a more robust and capability-rich commerce platform, they often build several layers of integrations and customizations to meet the increasing demands that the marketplace requires on their existing platform. With limited to no documentation, the impact on the business can be tremendous.

Online businesses often avoid migrations for as long as possible until they realize it's too late when functional limitations cause slowdowns, breakdowns, and lost revenue.
Free webinar: Oct 15 at 15:00 CEST
Join our webinar for practical examples of how to migrate websites using Kentico Xperience commerce capabilities.
When is the proper time to consider commerce migration to a new platform?
When businesses make the decision to migrate their platform for their online store to a new one, it is usually because of one of the following reasons:

Management of such companies usually considers factors such as how obsolete the design is, how advanced are their competitors, what technical debt the company has, and how the current platform's capabilities support the business goals for the following years.

As the most common trigger for migration is usually an obsolete design, we always see that migration projects are about two things; to provide improved customer experience and to change the technological platform approach so that it can provide the business with the agility and capability that can sustainably drive growth and return on investment.
How to choose a new platform
Choosing the right platform is a very important decision because a commerce website is the key to the sellers' business success and brand values. Sellers should consider multiple factors such as features, customers' reviews, compatibility, marketing tools, usability, performance, and more. Sellers should also ask themselves important questions such as will the capabilities of the platform be robust and agile enough to meet known business requirements but also adaptive to change and unknowns.

Commerce websites built with Kentico Xperience provide all of these things. Sellers get a strong content management platform to build their landing pages, high integration support to automatically load data from their ERP, excellent performance and scalability supporting their future growth, and a digital experience platform to boost their online marketing, personalization, or marketing automation.

The second most important thing is the selection of the best implementation partner. From the delivery perspective, this is even more important than the platform itself. In their search for a supplier, sellers should consider the following: industry recognition of the supplier, scale and complexity of implementations, how long the team has been together, and ongoing training of the core teams.
How to approach commerce migration
Before starting, the first thing sellers should do is make plans and build a backup of all current features and desired improvements.

Backup - current state

Creating a backup of current functionalities requires a very good knowledge of the current solution. Such knowledge might be distributed between multiple employees or suppliers.

Once you start putting a list of all functionalities and conditions together, you will most likely realize that the number of features and integrations exceed your expectations. This is to be expected as the current platform may have been built over several years and your company could have invested a lot of money into it in order to provide an extensive range of features to their clients. Unfortunately, as a car ages, so do platforms and no one wants their car to break down or get passed by a better one.

That being said, proper analysis of current features is essential for any migration to avoid any surprises later on.
Backlog - vision

The second step for sellers is to identify the gaps and shortcomings of their current platform. It's important to build a list of "must-have" features and "nice-to-have" features to prioritize backlog based on business value for end users.
"Quality and positive feedback from customers are the most essential
things for commerce migration."
It's essential to have correct expectations at the beginning of the project and not to push everything for the first go-live. Average enterprise level commerce migrations can take three to six months (Go-To-Market). When too many items are being pushed for the first go-live you most likely lose focus on quality as there are too many things to do.

Such migrations should be approached from an agile perspective. They should contain several planned release milestones in order to control delivery of quality and to provide all required features to the customers.

This approach also lowers the risk of overloaded capacities on the seller's side during the final acceptance, testing, and content population.
People availability - cooperation
The people that design and develop your platform are a critical success factor. In commerce, success is not just based on the platform. Commerce has to be in the company DNA, the makers of the solution have to have strong and proven cross-functional competencies and the ability to deliver every single time.
The platform itself enables all of the content, integration capabilities, and marketing scenarios to deliver a fantastic customer experience. The bottom line is that people make a difference every time. Commerce migration projects always bring a tremendous workload to the customer's organization and the supplier. Both teams are focused on resolving topics such as functional descriptions, integrations, designs, SEO, URL redirects, content workflow, content population, testing, and more. It is important that both teams have the capabilities to deliver a great project.
The eight most underestimated topics during the migration of any digital project
From experience, we know that the most underestimated topics are not related to the platform itself, but to the way of working.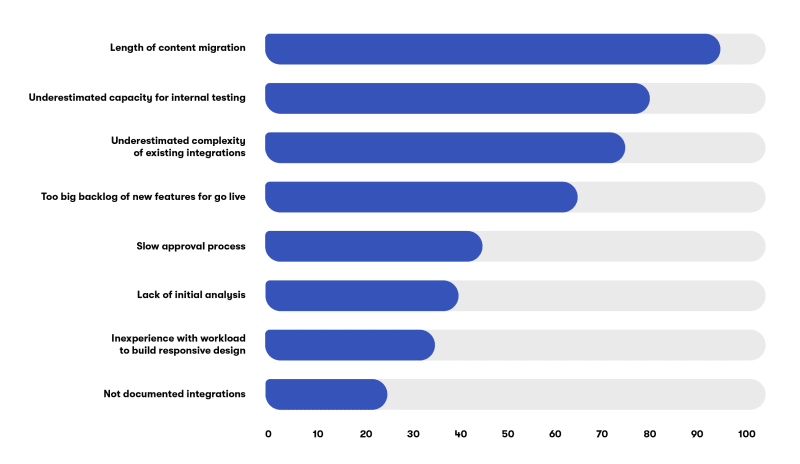 Value is created by people, so detailed planning, checklists, and collaboration between teams are essential assets for success.

Migrations can be a costly and challenging process with many hidden pitfalls. Technologies such as Kentico Xperience and the highly experienced teams such as ACTUM Digital (with global implementation experience) can provide the best guarantee for future-proof technology.
If you want to know more, join our webinar, where we will explore practical examples from a recent Kentico Xperience commerce migration project.

Hope to see you there!