In this world of one billion websites, content is everywhere. Add to it smartphones or social networks and the amount of content suddenly becomes overwhelming. On one hand, this is great—information sources are everywhere and accessible nonstop. On the other hand, it is not always easy to find quality website content among the billions of them.
Even worse? Your website visitors know it. They are very picky and quick in their judgement of your website and want to be spoiled. If they don't like your website, they will close it right away and search for another one, as they know there are plenty of them!
We all agree that one size doesn't fit all. What one person may find boring, another may find super exciting. So, how do you fight back? Through content personalization!
In Kentico 10, the content personalization options are endless. They can be based on many different rules (macro conditions) and it is very easy to set them up. Let me inspire you and show you what can be achieved with the content personalization variants in Kentico 10 through real world scenarios.
Campaign-and-Form-Submission Dependent Personalization
Imagine that as a part of your new marketing campaign, you have sent emails (UTM tagged) to your subscriber base and spread the word on your social networks about a new product. When someone clicks the link in the email or the social network page, they land on that very carefully created landing page. There is information about your new product and all they need to do is to fill in their details and submit the form on the page to receive 20% discount.
A certain percentage of people will do so, but what about those that landed on the page but didn't submit the form? Can you persuade them further? Yes, you can!
Solution:
You can create a personalization variant on the home page that would be shown only to those that visited that landing page with the specific UTM_Campaign parameter's value but haven't submitted the form yet.
It doesn't matter to which web part or widget you add the personalization variant. In most cases, it would be added to an image, text or HTML web part (widget). You would use these to display a reminder that they can still receive a 20% discount with a link leading to the form.
All you need are these two macro rules:
Contact has come to the landing page with the specified URL
Contact has submitted the specified form in the last X days (if you don't specify the number of days, the rule will not be limited by any time range)
And then set their properties to suit your needs. For example, if your landing page has the URL www.mysupercompanyrocks.com/new-product-launch, your campaign UTM parameter is newproductlaunch and your form is named Discounted orders, it could be set like this:
Contact has come to landing page with URL containing /new-product-launch?utm_campaign=newproductlaunch
Contact has not submitted form Discounted orders in last enter days day(s)
As you can see on the following screenshot: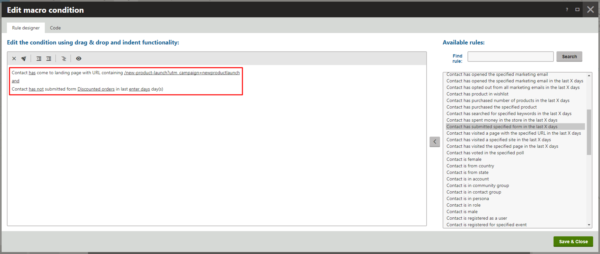 From now on, when a visitor comes to your landing page with the specified UTM_Campaign parameter and doesn't submit the form, they will see a personalized reminder on the home page when they return to your website! Isn't it great?
Newsletter-Subscription-Dependent Personalization
Let's say that you would like to increase your subscriber's base by offering a free eBook to each new subscriber. However, those that already subscribed in the past might get upset as they might want the eBook as well—at the end of the day, it is free stuff, right? So, you want to ensure that current newsletter subscribers do not see the promo and only new ones will be tempted by it. Easy to do? Of course!
Solution:
You create a personalization variant of the web part or widget that is used for subscriptions or just any other web part that displays text above the subscription web part (widget). Then you would set it to be displayed to only those that haven't subscribed to your newsletter yet and adjust the appearance of the web part accordingly. For example, adding a large title saying: "Subscribe now and get our eBook full of digital marketing tips for free!"
You would only need to use this macro rule:
Contact is subscribed to the specified newsletter
If your newsletter is called General newsletter, the macro would be set like this:
Contact is not subscribed to newsletter General newsletter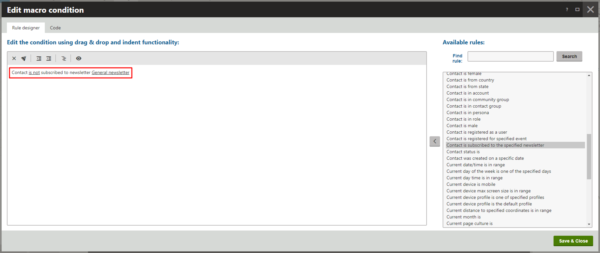 That one simple macro rule will ensure that only not subscribed visitors see the promo text and, therefore, current subscribers will not get upset as they won't even know about the free eBook!
Location-and-Date-Dependent Personalization
What if you had a restaurant and on its beautiful website you would like to encourage your visitors to secure a VIP meal experience on Valentine's Day? And furthermore, offer a discount to visitors from your country that came on that very special day? Would that be easy as well? Of course!
Solution:
You could create two content personalization variants of the web part that display a link to your booking system on the website. The first variant would be configured to be displayed only from the 1st to 14th February. The second variant would contain a link to a different page to secure the discount and displays only if the visitors are also from a specific country.
The first variant would use the following rule:
Current date/time is between 2/1/2017 1:00:00 AM and 2/14/2017 9:00:00 PM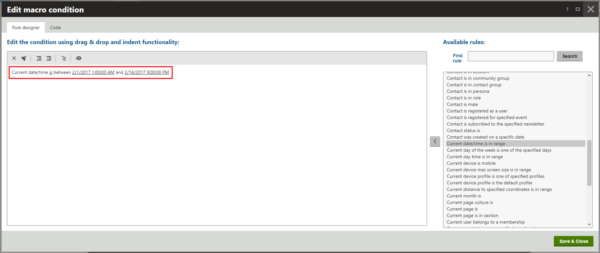 The second variant would use the previous rule plus an additional macro rule to check the visitor's country as well (e.g., if they are from the United Kingdom):
Current visitor's country is one of the following countries: United Kingdom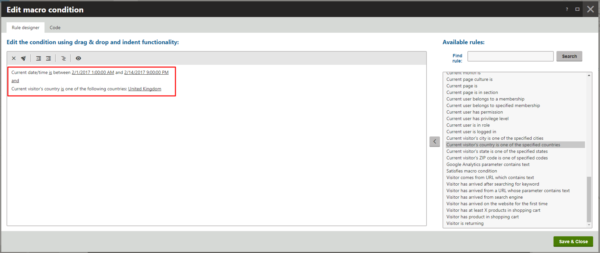 This way, you can easily remind your customers to visit your restaurant during Valentine's Day and offer an additional discount to locals!
Segment-Dependent Personalization
Let's assume, that you have spent a great time thinking about your ideal customer and battled with the definition of your personas. Finally, you identified two or three personas representing your ideal customers. And, with personas in mind, content personalization is a must. You know their needs and would like to inform them about your most suitable services or products. A list of products on your website may appeal to one persona but may not so much to the other two of them. Can you create content personalization variants dependent on personas? I am sure you know the answer… Of course, you can!
You would use this simple macro rule to define to which persona each personalization variant of the product list should be shown: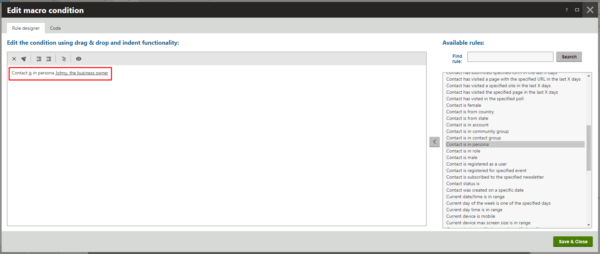 Alternatively, if you use contact groups on your website, you could do the same as you did with the personas and use the following macro to display the variant only for the specific contact group:
Contact is in contact group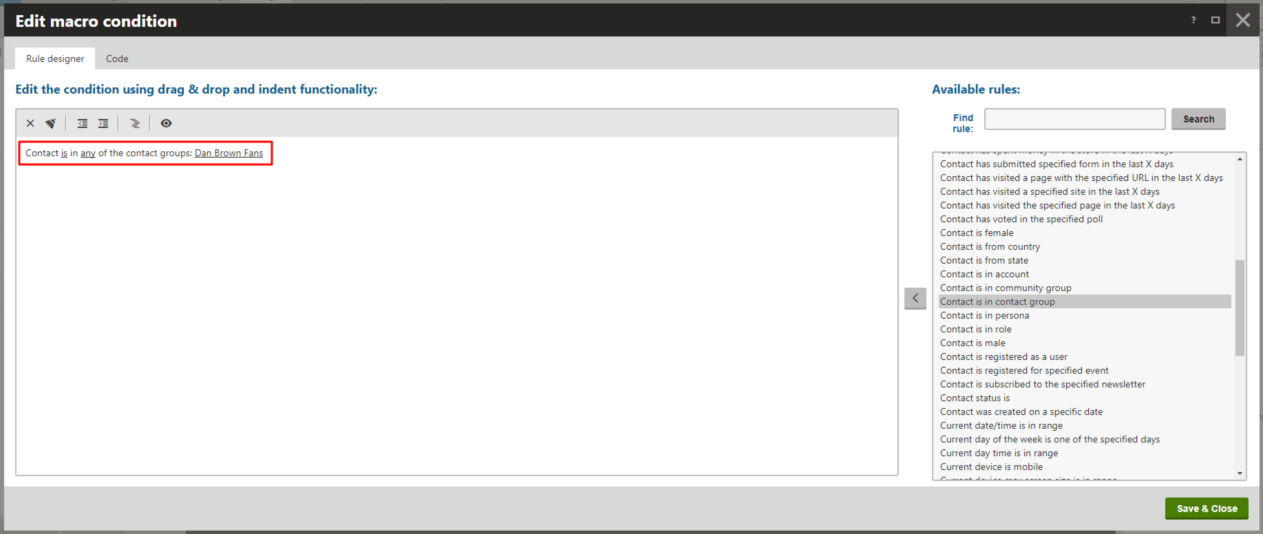 When a visitor of the website is in the specified contact group, the personalized version of the web part (or widget) is displayed to them.
Let's Personalize!
As you can see, content personalization in Kentico 10 is very powerful. It can cover plenty of scenarios and it is only up to you to use it to its fullest potential. Content personalization is a very important part of each website, so let's spoil the visitors!
Have you used content personalization in one of your projects? Let me know in the comments!