The 15th edition of the Emerce100 features the top vendors across business and marketing as assessed by decision-makers working in the industry. For the fifth year running, Kentico Software has been recognized as one of the best companies in e-business. We couldn't be happier!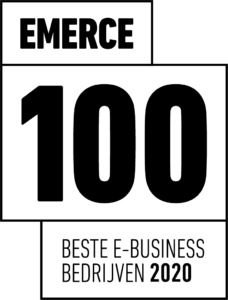 What is the Emerce100?
The Emerce100 is an annual publication by Emerce, the leading multimedia platform for decision-makers working across digital marketing, media, and e-business. Since 1998, Emerce has positioned itself as a leader in identifying emerging technologies and innovative business concepts.
Their extensive research, which covers the Dutch market, serves as a guide for digital agencies and clients looking for their next big investment in e-business.
Why is Kentico featured?
Since 2004, we have been helping customers find the best way to work with content. And our recent Emerce100 five-star win is a testament to this.
With Kentico, digital agencies and their clients can:
Increase productivity and efficiencies
Deliver value to customers
Build better relationships with customers
At a time where the world is facing a crisis, that may be exactly what some businesses need to future-proof their operations, especially when it comes to marketing.
Both Kentico EMS, the only digital experience platform that combines content management, digital marketing, and commerce capabilities, and Kentico Kontent, the innovative content-as-a-service platform, have the underlying technology, features, and people behind them to help digital solution partners and clients adapt to changing market conditions.
"We're here for all our digital solution partners and clients, as we have been since the beginning," said Petr Palas, CEO of Kentico Software. "It's an honor to receive an award at this time, and I'm proud of everyone in the company that continues to drive our products forward and put our customers first."
What's next for Kentico?
We are continuing to invest in our products and services, with some exciting updates coming soon. Stay tuned!
In the meantime, if you'd like to learn more about what Kentico is doing in the face of COVID-19, read our blog.