Have you heard the news yet? Kentico 11 is out! Hurray! Major improvements like the effective email building, greatly expanded e-commerce capabilities (even its customization is easier than ever before to meet your business needs), or data protection (GDPR) enhancements, are super easy to spot. But what about the ones quietly sitting away from plain sight?
You've guessed it, it's time to shed some light on them!
Details. They do matter. Sometimes more, sometimes less, but they can very often be just that last missing pinch of salt needed for the perfectly baked (and tasty!) pie. Would you enjoy driving a car knowing that you used only two bolts (instead of four) to fit the front left wheel into place? I bet you wouldn't. The two missing screws would really change the whole driving experience, wouldn't they? Anxiety, nervousness, questions like: "Will it last? Will it break?"
But it doesn't have to be that way! Heck, no! Combining both major and minor features can help you balance your digital activities, regain insights about the online marketing data you collected, and allow you to make better marketing decisions in general.
So, let's move beyond the major features in Kentico 11 and explore their little brothers and sisters quietly sitting in Kentico 11's interface waiting to be discovered by you and to make your life easier.
Personas History
Personas. The never-ending story. As a marketer, you deal with them on a daily basis. Where would you be without them otherwise? Analyzing a website visitor's behavior and activities, improving their browsing experience, staying in touch with them through the personalized email marketing, teasing them with offers at the right time and in the right place, so they get excited and engaged. Does it sound like a decent effort? It should do!
However, the work doesn't end here. It is great to serve persona-based content and know that your visitors are being segmented accordingly, but keeping an eye on the personas' performance is yet another important part of success. Being able to see how they have performed up until now, which persona has been gaining more momentum, and how many contacts are in no persona at all, is an important key to successful campaign planning and decisions.
Therefore, we added a reporting tab to the Personas app in Kentico 11 to help you evaluate how your personas have been doing. We created easy-to-use charts where you can select (or deselect) the personas that you want to see (or hide) and get a laser-focused overview of their performance:
Email Marketing Reports
What do you value more, your email address or your shipping address? Yes, you need somewhere where you can pick up a delivered package, but I bet your email address would be more important to you, wouldn't it? It's a part of your digital identity and no one would happily lose such a thing in today's zeros-and-ones-driven age.
Your personal email address is a precious thing!
The same can be said about email marketing. It needs to be done with care. Random sending of marketing emails would soon unleash a tsunami of unhappy, unsubscribing recipients, very likely causing a decrease of your sales, web traffic, and the trust of your audience.
It's easy to see reasons for doing the email marketing with care. You listen, evaluate, embrace the feedback, and perform informed decisions. The first place to start? The performance of your marketing emails! If the open rate is low, and the unsubscription rate is high at the same time, then there is something quite not right, isn't there?
With Kentico 11, you can see the high-level picture much clearer now. Navigate through your marketing emails' stats with ease, inspect them in the right-to-the-point charts, change the date range to see the bigger image, effortlessly switch between the numbers and percentages of the opened emails and their click-through and unsubscription rates. Email marketing evaluation just got easier: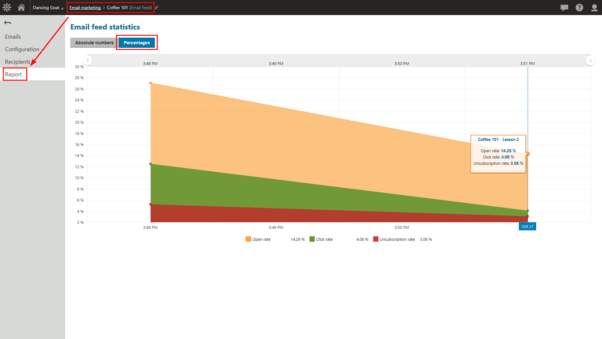 Campaigns and Email Marketing Insights
Typically, email marketing and campaigns coexist. Marketing emails are used as one of the campaign channels to get the information out there among the digital audience. Campaigns then keep an eye on marketing goals, their success rate (by evaluating the number of conversions), and collect details about the individual channels so the best performing ones can be used in the next campaign. So, where does it bring us again? You guessed it—to campaign reports!
We've expanded campaign reports in Kentico 11 by including the UTM_Content parameter in them so you can analyze the campaign stats in more detail, and pinpoint your best performing campaign's content.
But we didn't stop there, each conversion within a marketing campaign can now be easily tracked back to the original contact that performed it. Just click the clickable conversion number in the campaign's report and you will be presented with the list of all that contacts that came through that campaign's content to your website.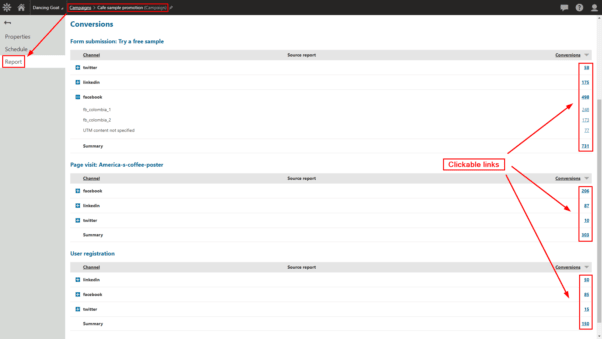 And that is not all! From the list of contacts, you can switch to their demographics, so you can see their country, gender, age group, and even into which persona they fall: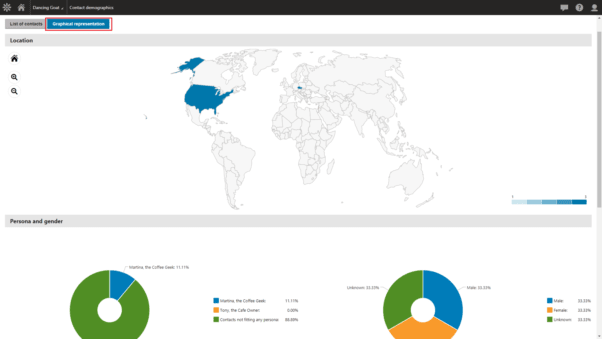 Neat, isn't it? And the same insights can be accessed in the email marketing reports as well! You just need to open the email report in the Email Marketing app, and click the clickable number representing the opens, clicks, or unsubscriptions to get the list of respective contacts: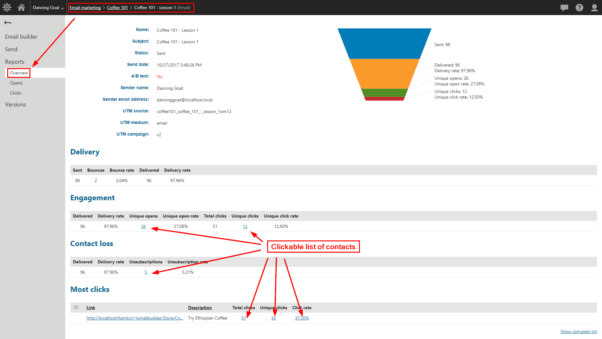 Colorized Activity Types
Every successful website has one thing in common—decent traffic. This involves a large number of website visitors (contacts) creating an even larger number of website activities. As a marketer, if you want to have a quick glance over the situation on your website, you can easily get lost in the all activities listed there.
However, that's not the case in Kentico 11! We let you colorize the activity types that really matter to you so you can just skim through the activity list and see the overall picture right away, without the need to filter the non-important ones out first. You could mark positive activities like form submission or newsletter subscriptions in green, and the negative activities like opting out of a newsletter in red. Of course, it is entirely up to you which colors you use. You simply have the option to do so now directly from the administration interface.
Whether you (and your team) decide to upgrade your current website, or build a new website from scratch, with Kentico 11 you can rest assured that you are in a possession of mighty EMS tools giving you the capability to deliver a powerful message to your digital audience.