The recession caused by the great lockdown is creeping into consumers' habits, and you might see its effects on your business everywhere. A sudden drop in purchases. Abysmal order numbers. Or your customers stopped using your service during the quarantine, and they just don't seem to pick up.
And you might start wondering: They purchased from us, which means they were happy with our services once. So, why did they stop buying? And why would they stop using the service they were so eager to start with just a few months ago?
There's a ton of reasons.
They might have lost interest in your services. They found an alternative solution because they didn't understand how to work with your service. They might not see the benefits of using your product. They might have found a different provider. Looking at the uncertain situation today, they might have decided just to save some money.
Or they simply forgot.
No matter the reason, you can still try talking to them and bring them back on board. What are the ways, are you wondering? And how to set them up in Xperience? Well, here they are.
Offer an exclusive deal
To get motivated, start with closing the low-hanging fruit.
Create an exclusive package tailored to reflect customer activities such as product purchase, adding a product in a shopping cart (without completing their order), or even just putting a product on a wishlist.
Say you have a group of customers who have spent about $50 recently and purchased different coffee brands. Why not spur them on a bit and offer a 50% discount to the first 100 purchasers of fresh coffee from a selected brewer?
Deal based on a recent purchase
First, let's create a 50% discount. Here's how you can do it:hj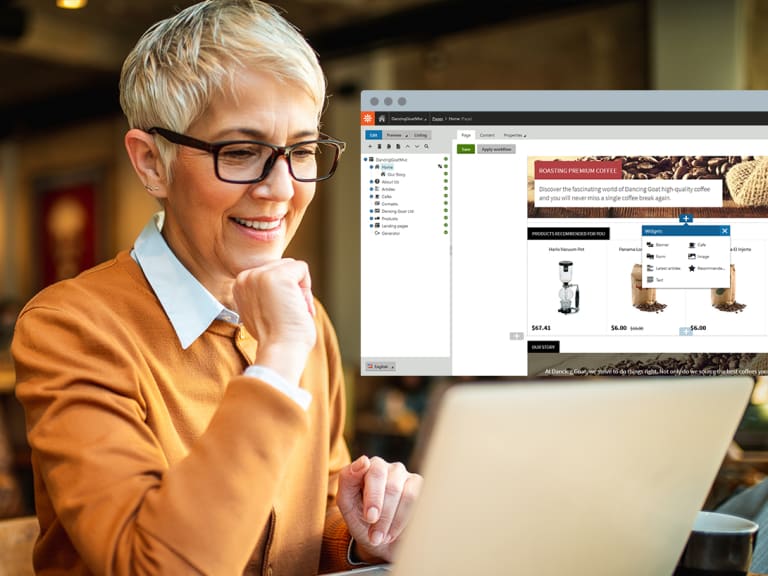 Creating an order discount
Kentico Xperience

You can build the lists of contacts who should hear about the exclusive offer using the following conditions.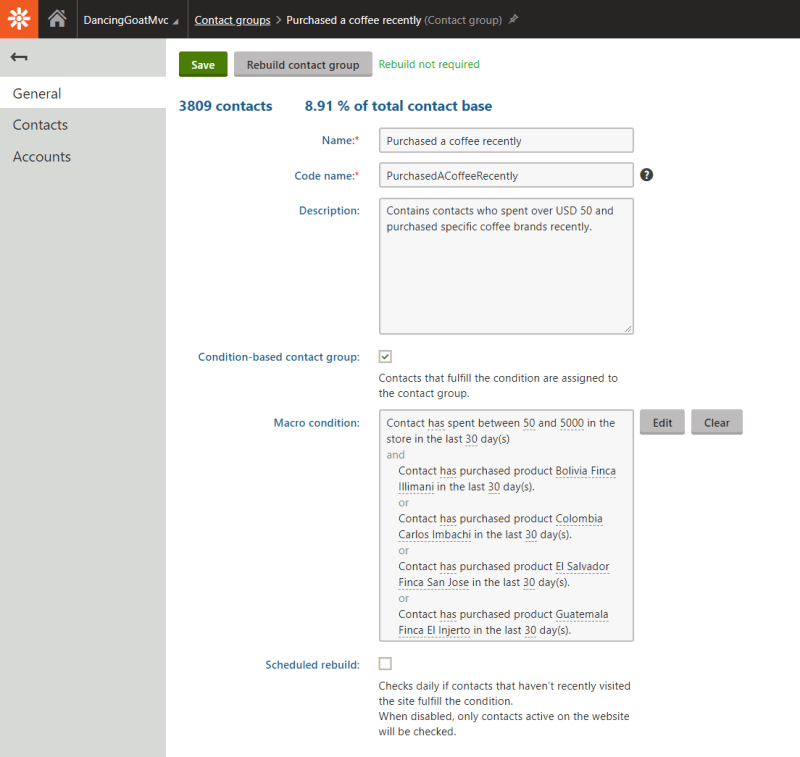 See how easy it is? You have the order discount, and Xperience helps you segment all the matching prospects into an email list. Cool, right?
Deal based on a shopping cart or a wishlist activity
Let's move on to those who are considering the purchase. Dancing Goat sells a very expensive Anfim Super Caimano grinder. Why not help customers with the decision and give them a little nudge by cutting the price a bit?
You can create a product coupon and send it to contacts who placed the product into the shopping cart but didn't complete their purchase. And while you're at it, why don't you set it up as a marketing automation process? Xperience will take care of sending the coupons for you, and you can focus on something better instead. Here's how you go about it.
First, this is how you create the product coupon: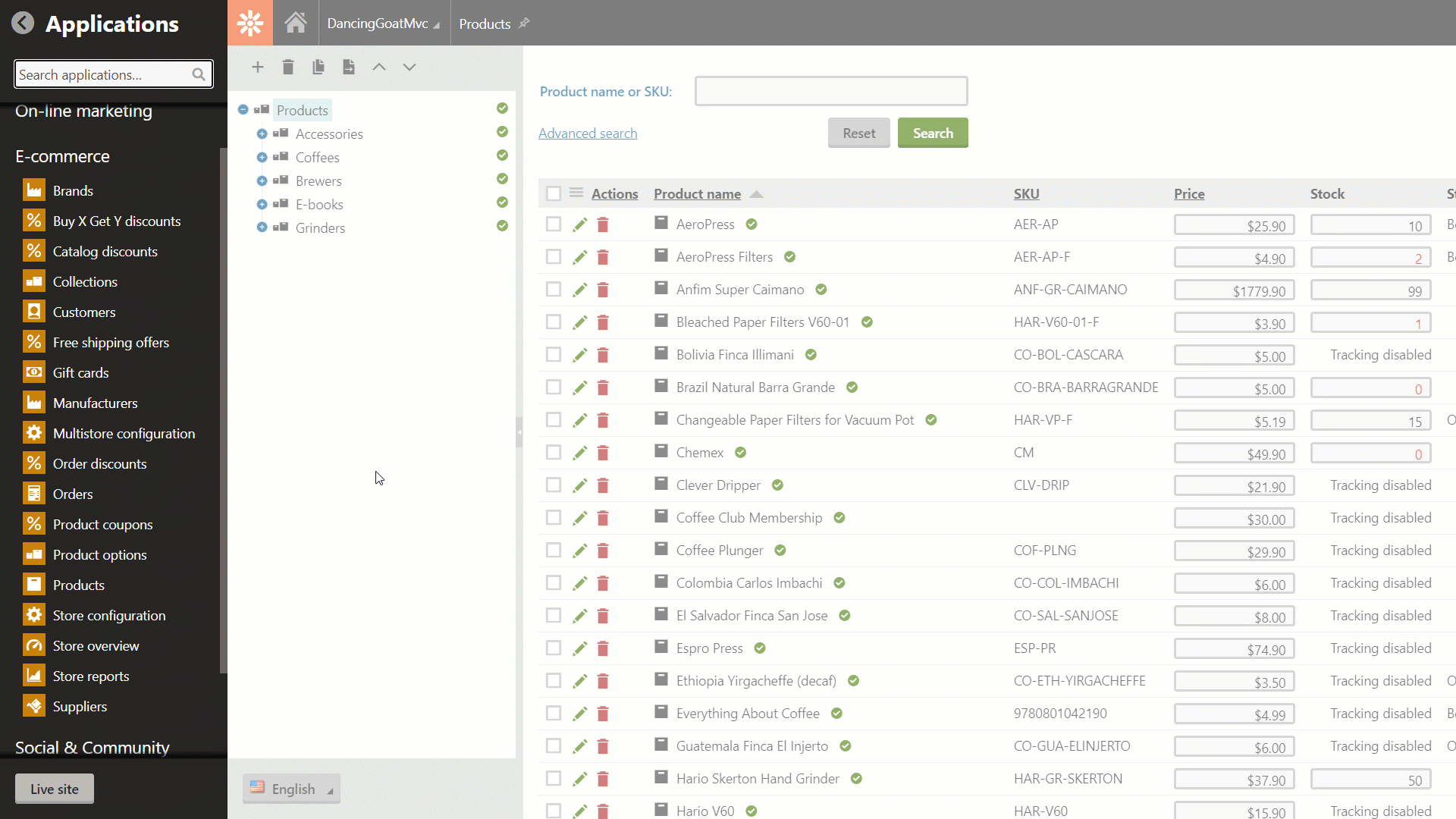 This is what the email could look like: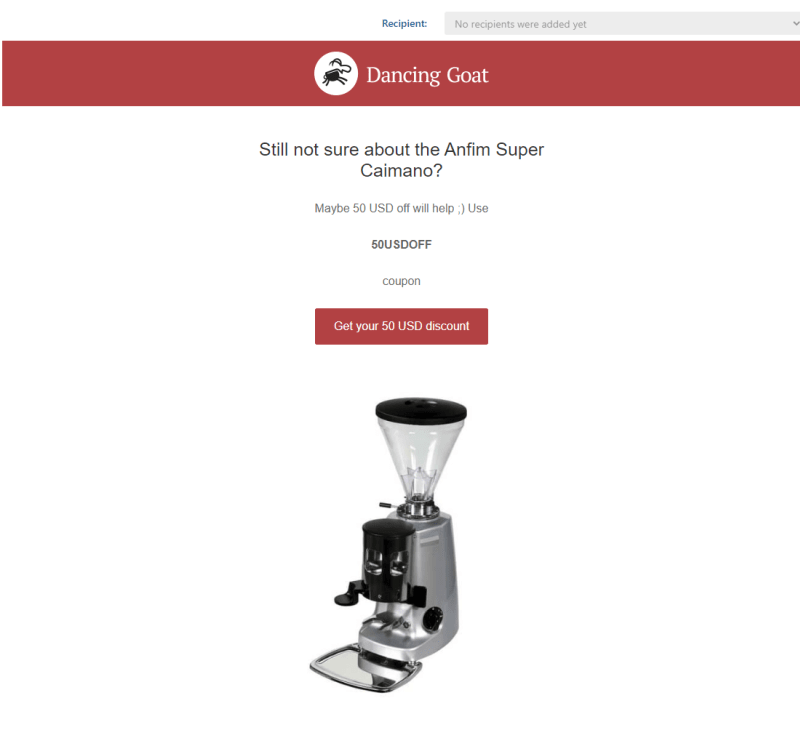 And finally, here's what creating the marketing automation process could look like: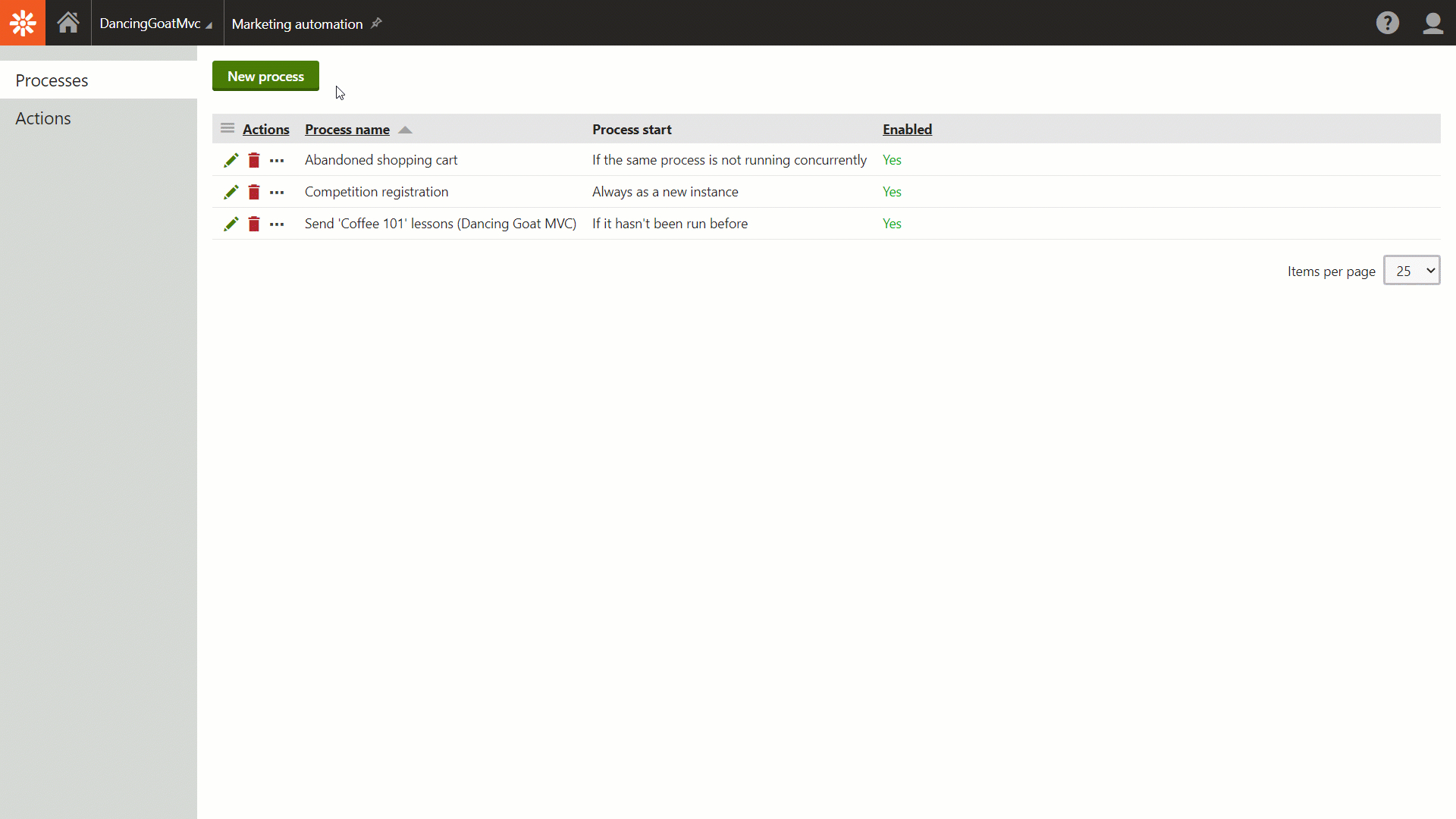 I know that setting the whole thing took many steps in the GIFs, so let's sum up the scenario:
When a customer puts the Anfim Super Caimano grinder in their shopping cart and then leaves without purchasing it, the system triggers a marketing automation process. The process waits for seven hours and then the system sends the customer a reminder email. You don't need to remember checking. The digital experience platform takes care of these little things with a significant impact potential for you—automatically.
Remind them of the loyalty program
The next group of customers you shouldn't forget to talk to are members of your loyalty programs. You need to show them that even though they are not buying from you every day, you value their relationship. And you want to help make the best use of it.
Take a look at the Dancing Goat's Coffee Club program. Anyone who purchases the loyalty program for a fee gets access to e-books, free workshops, or VIP access to coffee conferences.
During the self-quarantine time, they couldn't use their benefits. But now that the situation is opening, why not remind them of all the benefits in an email? Building the recipients' list of contacts might look like this: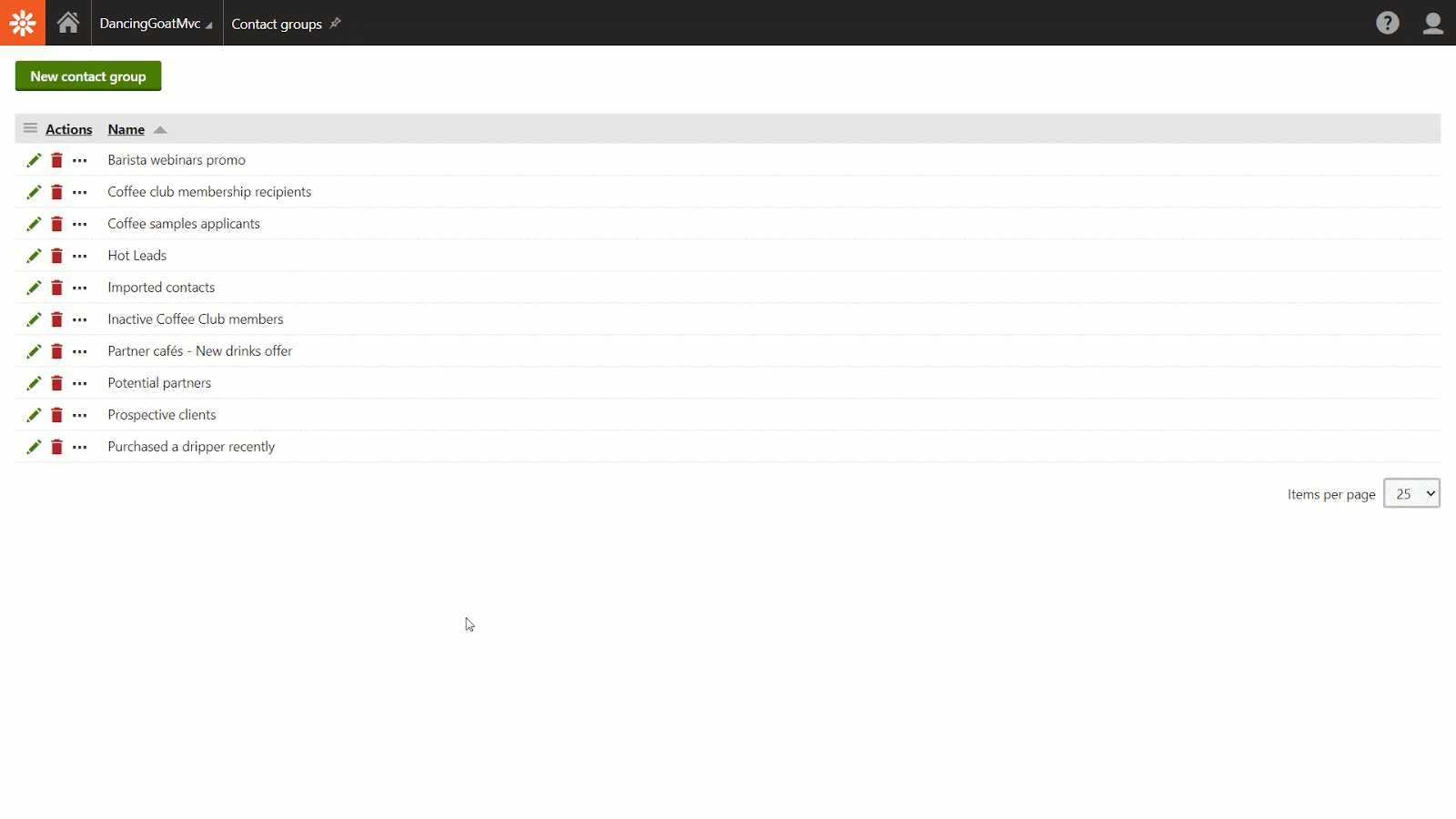 Looks good, right?
Show them what they are missing
I'm not sure what your inbox was like when the work-from-home frenzy peaked, but my inbox was flooded with updates, discounts, and promotions from services I haven't heard from for a long time. Everyone was trying to get my attention. And I bet it wouldn't have been any different with Dancing Goat customers: they'd simply miss the Colombian promotion.
Why don't you let your customers know about your new brand in the store? And this time, why not make sure your email stands out in their inboxes among the email-greyness with a little white space?


You don't want to send an email to people who've already seen your offer. How can you tackle that?
The system tracks email opens using the tracking pixel. Why not create a contact group? After all, contact groups help you segment your audience based on shared characteristics or similar behavior using conditions. And that some of the contacts haven't opened your promotional email is a stellar example. Here's what creating this contact group might look like: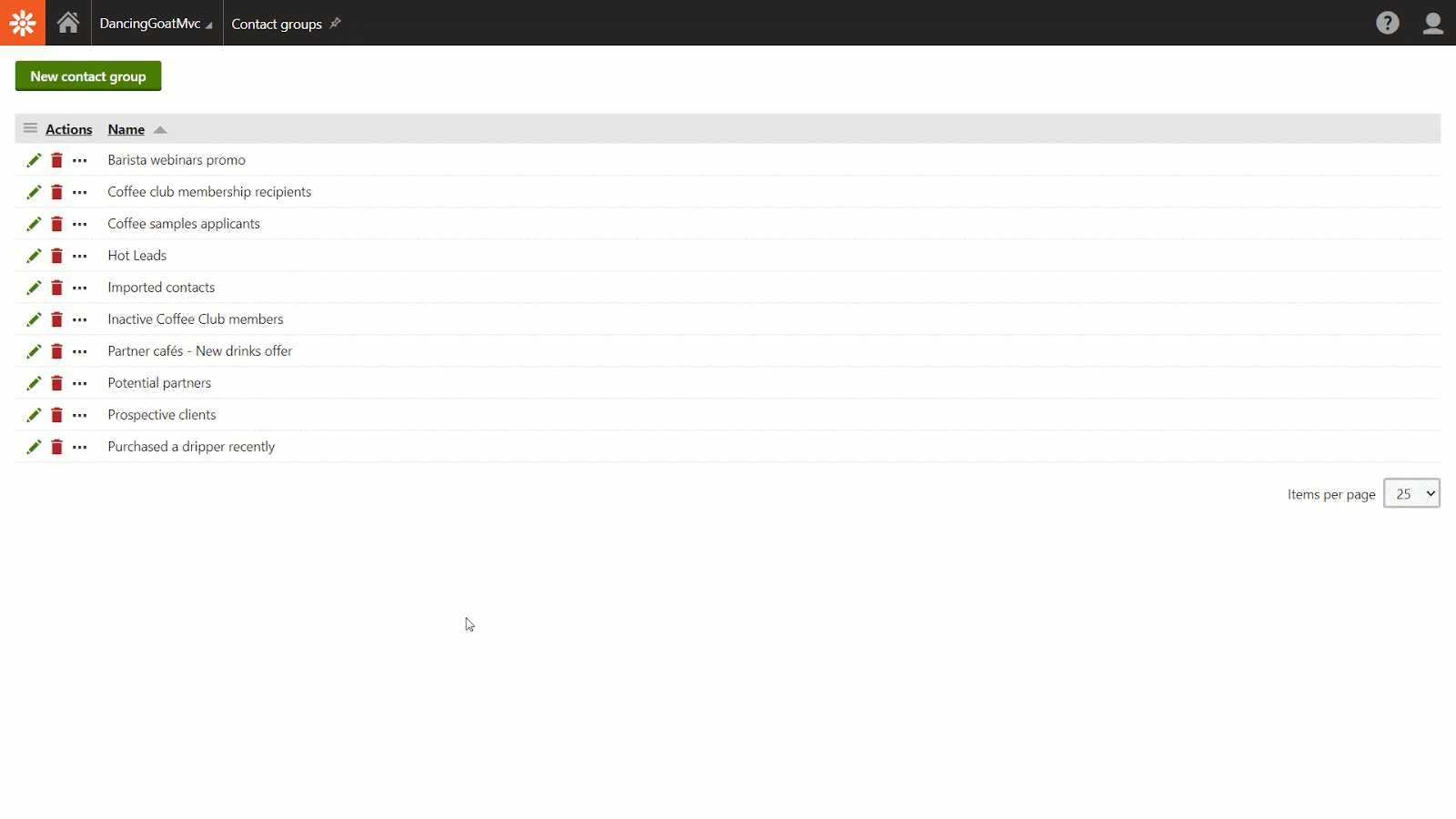 Throw in a freebie
Oldie, but a goodie. Yes, it doesn't require much creative thinking to offer free products or services. But it's relatively an easy trick that works. Listen: when, if not on the verge of a global recession, should you show a human face?
Kentico Xperience will help you stay in control and not offer something for nothing. Why not use the Buy X get Y feature so your customers "earn" their freebie? Say, someone buys an Aeropress brewer. Why not show a good face and give them a starter filter pack for free?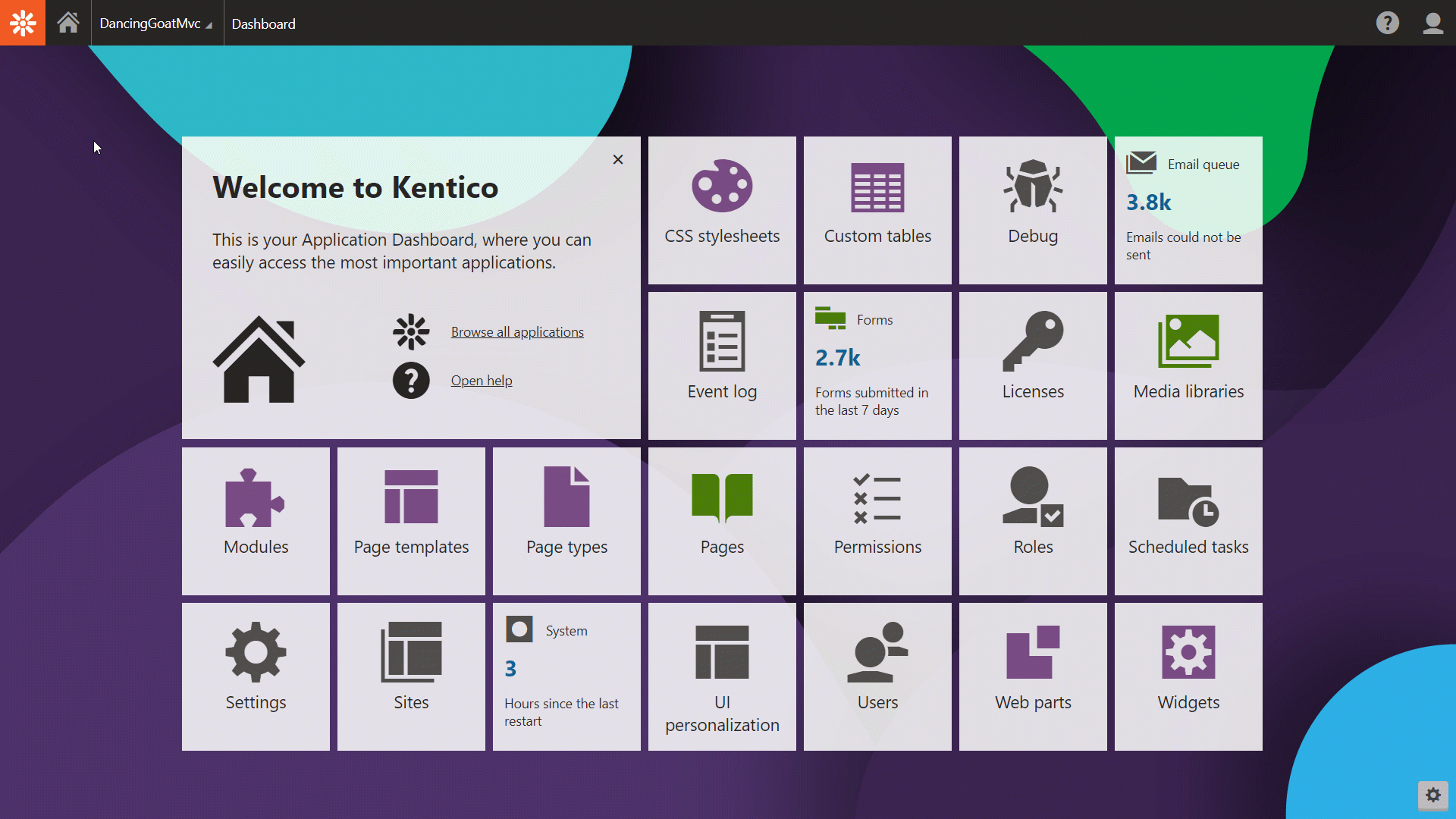 And while you're at it, why not let anyone who has purchased the same brewer in the last 30 days know that they can pick up their pack in their nearest café? You can create a coupon code for the discount, such as MYFREEFILTERS, and send it to your customers. Your email and the contact group rules might look like the following image.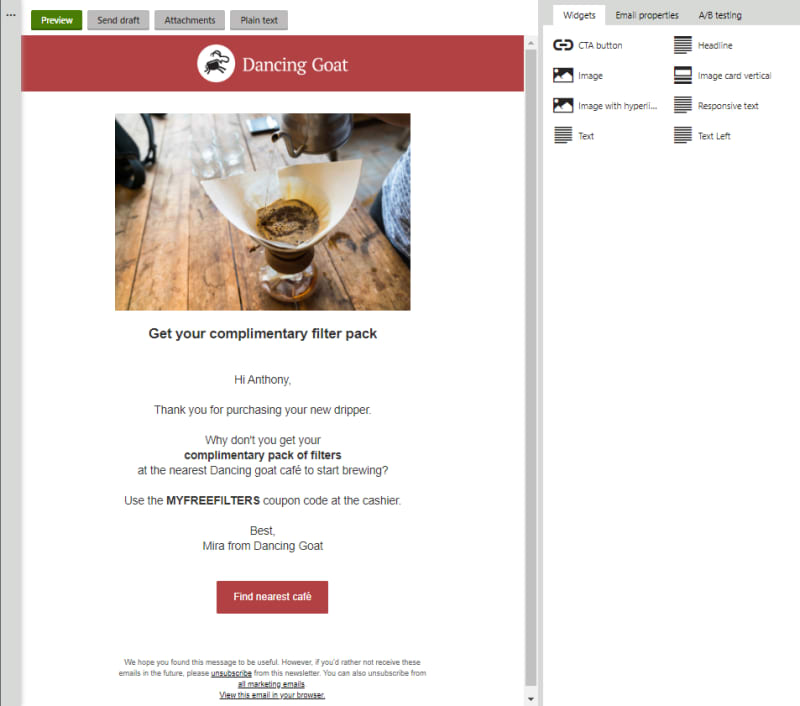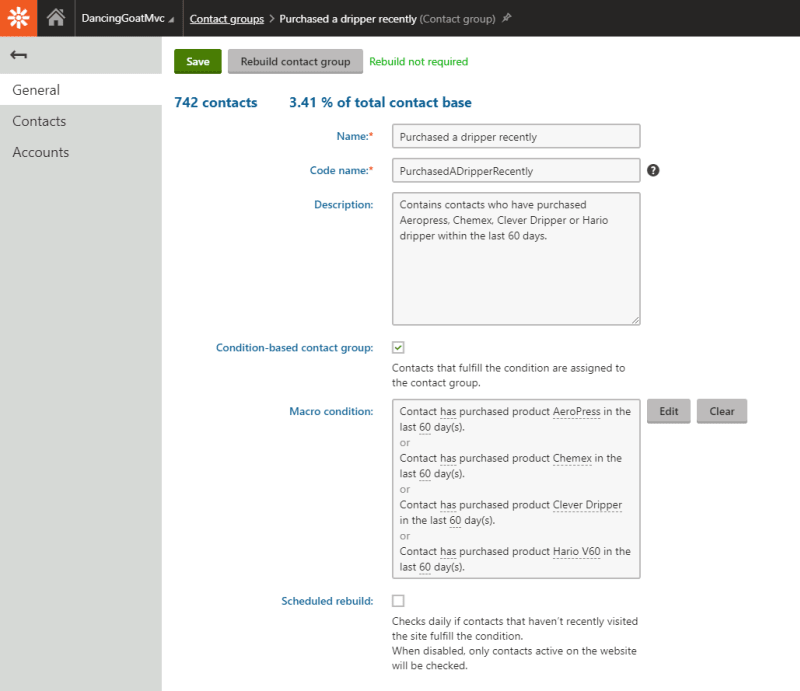 (You can grab the custom macro Contact has purchased the specified product in the last X days here).
Teach them something they didn't know about your product
No matter how simple the product or service you're offering, there's always something they didn't know about, some little gem they haven't yet discovered. Something that'll help them use it to the fullest.
Let them know about it in an email. Give them a call. Create a video. Run a webinar.
Or write a short blog post like this one.
Show them what's new and how they benefit from it
Last but not least.
Not everything you do to bring back customers to your brand needs to end up in a hard-sell. Especially in these times, it's good to show your customers that you haven't forgotten about them. That you're bringing in new products, features, and services to help them succeed. That you care.
Have you heard about the DXP shift in the CMS market? What about the new resource hub for marketers?
And have you heard about the new Xperience 13 beta?
If you haven't, as a marketer, you'll be thrilled!
Kentico Xperience 13 comes ready for the modern .NET MVC Core platform, which helps develop super-performant enterprise-level applications. It has a new router that automatically creates URLs for the pages in the content tree. And by the way, we have completely redesigned the marketing automation to make it even easier to use.
Intrigued and want to learn more? Download the beta installer to test it on your machine. Or send us an email, and we'll spin up a test environment for you.