The key to successful marketing today is sending the right messages to the right people.

But how do you know who the right people are? How do you know you are sending emails to existing contacts? And how can you be sure that your email list doesn't hide spoiled eggs that can hit your sender score?

Read on and find out how you can analyze and revamp your contact database in Kentico.
In an ideal world, your website speaks the language your visitors want to hear. Your emails tell stories that your readers signed up for. And your conversion rate is through the roof.

To turn this ideal scenario into real life, there's one big BUT: you need to know your actual audience. You need to be sure that every Joe, Jane, Alice, or Stacy gets the right message. And that requires running your marketing on a crisp and clean contact database.

I'm sure that the contact database you built over the years is both crisp and clean. But what if you've just onboarded a new client and got their old contact database?

Now what?

Keeping a healthy contact list is painful, but worthwhile. It takes just a few well-targeted steps, and you can clear up any mess.

But you already know that, right? The Internet is full of tips and tricks to clear your list. I can hear you cringing,

"No, not again, the same list of steps!"

Don't worry; I'm not going to repeat the most common tips you can find lying around. I'll give you actionable steps and some tools that will help you on the way. Sound good?

Let's roll up our sleeves and dive right in.

It's time to look at the common recommendations, do's, and don'ts to keeping a healthy contact list.
1. Never buy email lists. Period.
Adhering to data protection regulations is a must, and buying email lists won't help.
With today marking the two-year anniversary of the GDPR, and other regulations coming to the forefront such as the CCPA, it's never been more important to think about how you acquire your data.

As much as they are annoying, as much as they hit your email business, data protection regulations are a real threat to the marketer's well-being.

Come on; I KNOW you already know you shouldn't buy the list. I can hear you thinking: "If I got a penny every time I heard this, I wouldn't be reading this article self-quarantined in my home office. I'd be sipping margaritas on the beach."

I know it, you know it: Don't buy the lists. Just don't. And sorry, but no tool is going to help you with that.
2. Don't include contacts in your list without their consent
Same as above, right? You've heard it a thousand times. You know the law requires that you get permission if you want to personalize the experience of using your website or send emails to your contacts. Depending on your business, your location, and your customers, you'd be collecting different consents for different activities.

How does Kentico help?

Kentico comes with features for data collection and data erasure that help with managing personal data. Your developers used them and prepared your system, so it's compliant with any legislation. One of the out-of-the-box features is Consent Agreements.

Tip: Get permissions through consent agreements and double opt-in
Kentico Consent Agreements are records used to inform website visitors about the ways your website is collecting and manipulating their data.

The records don't have to rot in your database, waiting for a customer or some legal authority to check if you have them. They can help you with many of your marketing activities. How?

Once a visitor or reader gives you their consent, you can use the consents and filter your contacts into different Contact Groups.

There are two ways how you can define the conditions for the groups:

Use consent-based contact groups

We use this approach in Kentico. Each consent has its contact group. And when we're sending emails, either through Email Marketing or via Marketing Automation, we check if the user is a part of a contact group with the specific consent.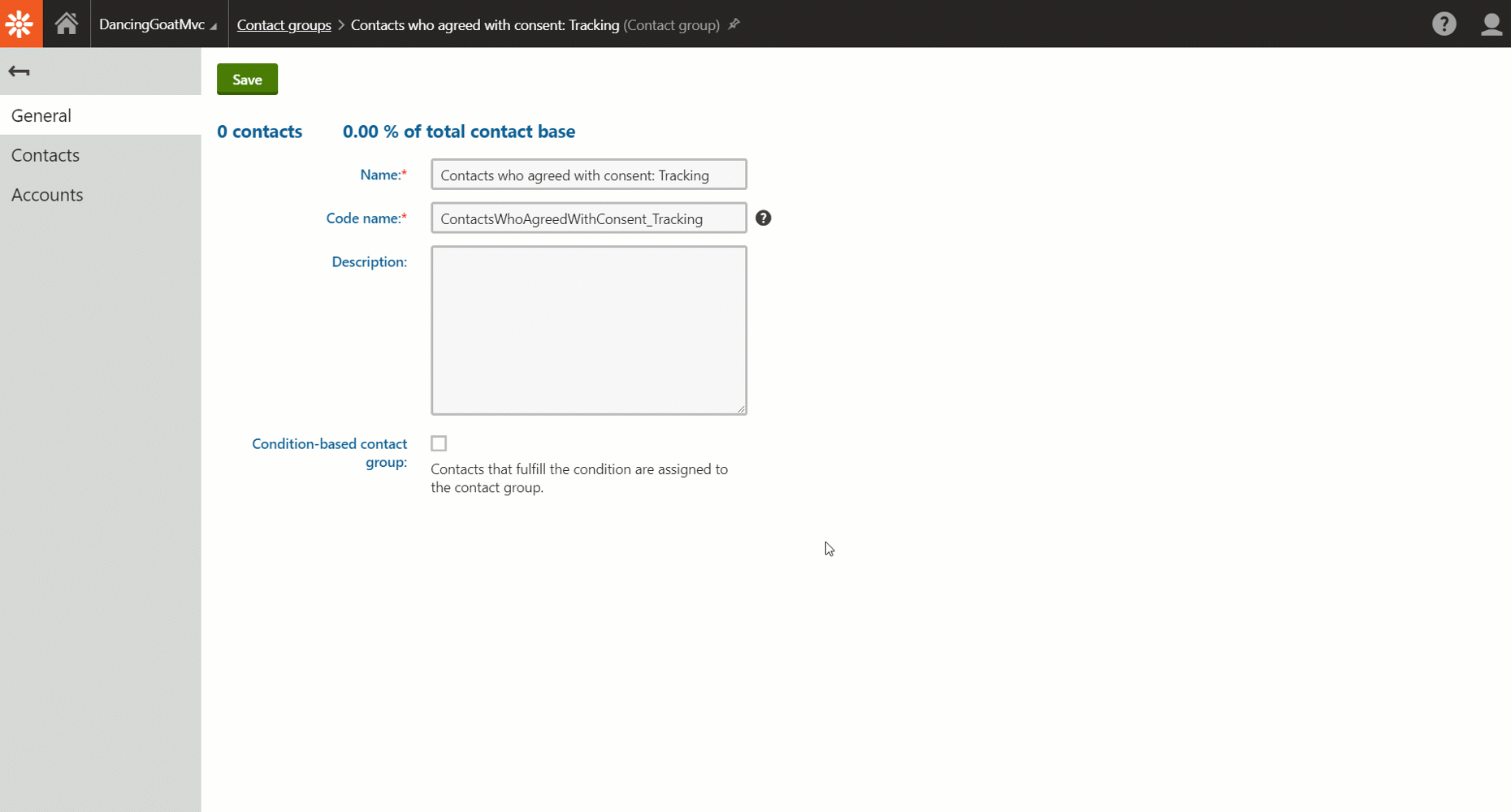 The second option is to check for consent in every contact group you create.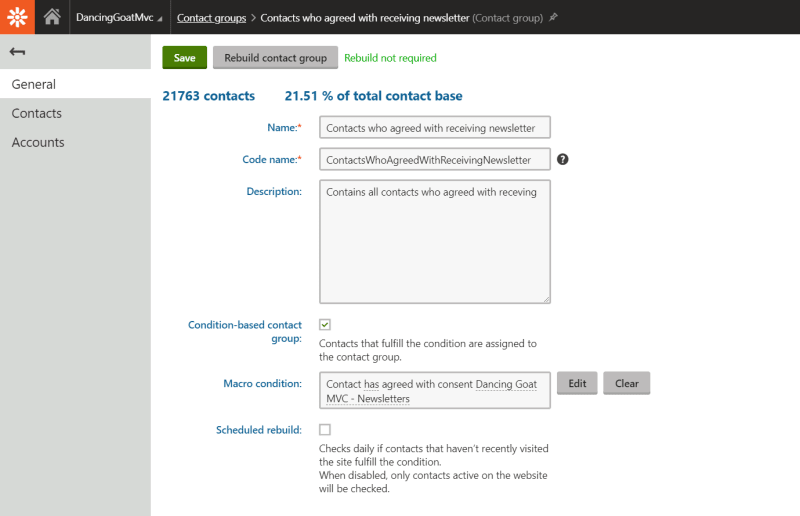 Both ways give the same results; it's just a matter of preference. Discuss the options in your team, define a workflow for creating a contact group, and stick to it. This will make sure you'll never email someone whom you shouldn't have.
Make use of the built-in double opt-in
The double opt-in mechanism comes with Kentico out of the box, and it can be used for individual email campaigns. When you create your email feed, you just need to select a single checkbox on the Configuration tab, which gives you additional settings. Cool, right? I especially appreciate the option to require double opt-in confirmation.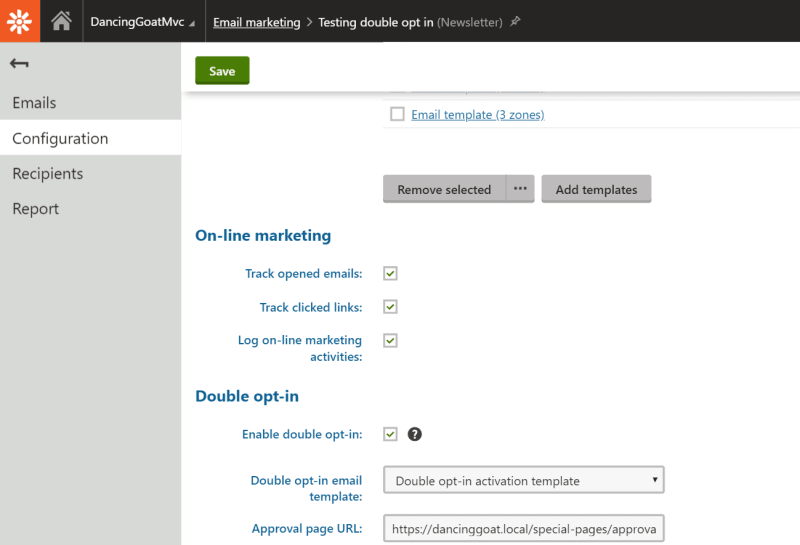 What happens when your customer subscribes to a newsletter? The system sends them an email to confirm their subscription. Once they confirm, you can send them an automated confirmation email and welcome them aboard. How does that help?
You can use it to deliver the promise, set expectations, and sweeten the deal with an additional bonus. Simply put, you can start helping (= nurturing) the subscriber right from the very beginning of your email relationship.
3. Audit your existing contacts
So that's two of the most common tips shared. But they all relate to collecting new contacts. How can you make sure your current database rocks?
Remove invalid email addresses
The safest way to collect only valid email addresses is to use a double opt-in because it makes sure you're sending emails to real users. And you're getting their permission. What a nice "two birds, one stone" situation!
Remove addresses with typos
Double opt-in is step two in collecting valid email addresses. People make mistakes, and the best practice is to simply check on user input that they're submitting a valid email.
Kentico offers means that come with the .NET framework, and your developers know it, so you should've been safe.
But wait. Remember the inherited contact database? What if you fear you're not safe? How can you check your contact database for valid emails?
Let's tackle it now.
Defining an automated works-with-every-email-address validation is extremely difficult. The email addresses have somewhat lax rules for their syntax. These rules evolve from time to time, and that's why there's no perfect automated way to fit them all.
But don't despair. Didn't I promise solutions?
Here it is! Download the 'Invalid emails in the database' custom report. The report uses Emailregex's SQL script, which I've adjusted to fit Kentico and checks for the most common errors in emails. It should discover about 99% of invalid emails, so, big help, no?

And what if you don't have access to the Reporting application?
Don't worry, here's another resource. Download the 'Contact has invalid or no email address' custom macro condition and upload it to your website. (Don't worry if Kentico yells at you that the macro isn't optimized. It will work. Macro optimization requires access to the back end and some C# coding, and I guess you don't feel like it today. And you can always ask your developers to adjust the back end for you.)
Use the macro and create a new dynamic contact group, e.g., Contact has an invalid email address. Once rebuilt, this contact group will collect all contacts with an invalid or no email address. If you want to filter the anonymous contacts, add a second macro condition: Contact field Last name contains Anonymous, and you are good. Cool, right?
Wait!
Before you hit the Rebuild contact group button on your live site, make sure your good deeds won't spoil anything.
Rebuilding the contact group requires server resources. If you have a large contact database, you might want to use a custom scheduled task and rebuild the new contact group when your website is not running under high traffic. I think this is the moment when you should check with your website administrators. They'll know this stuff—and they'll take care of scheduling the task.
Remove generic addresses
Many developers and advanced Internet users test different services and check out offers using freemail services, such as mailinator.com or 10minutemail.
These services provide valid email addresses and pass the double opt-in check. But that doesn't mean these emails will be of any use for your marketing.
There were times when double opt-in wasn't common. There were times when the website would redirect you to a downloadable, rather than send you a link to the resource. And many users took advantage of the lax situation and registered for freebies using domains such as test.com, localhost.com, 12345690.com, or even used email addresses such as 123456@test.local and 123456@localhost.local (Wondering how I know this? Guilty as charged!).
You should clean your database of emails that come from domains such as test.com, mailinator.com, and other obscure emails. Grab this contact group and upload it into, e.g., DancingGoatMVC trial website to create an empty "Contact has a generic email address" contact group. Your new contact group will have all the macro rules preset. You'll just need to rebuild the group and voila, Kentico will add all contacts that match the conditions to your contact group.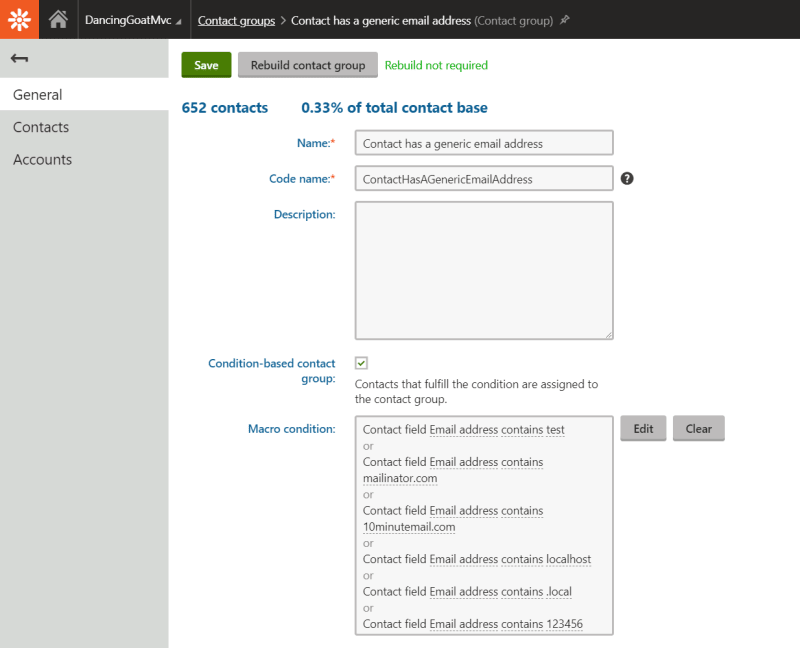 And then, create a similar contact group on your live website with similar rules to filter your contact database from these generic email addresses. You'll see how many contacts you get!
Remove emails that bounce
Not sending emails to email addresses that bounce is very important to maintain a good sender reputation.
How does bouncing work in Kentico?
The bounce email limit is set for the Kentico website in the Settings application. When a recipient's email reaches the limit, their email address is blocked, and Kentico doesn't send any emails their way. Cool, right?
To keep your data clean, you might want to identify email addresses that were bouncing. Just use the custom Bounced emails report and run it.

How does the magic work? The script checks the website's bounce limit. Then it displays all email addresses whose bounces are the same or higher (in case you experimented with its value).
And if you want to see which email addresses are bouncing, why not use the Bouncing emails custom report? It will show you all addresses that have bounced at least once.
Remove duplicate email addresses
Removing duplicates is another popular topic in the "clear your contact list" recommendations.
First of all, your database won't contain any duplicate email addresses if you follow Kentico's best practices, such as using subscription, importing via contact management application, or via API).
Kentico uses the email address as a unique identifier and checks and merges contacts when it finds there is already another contact with the same email in the database. That's why you are safe!
But wait, remember that we are cleaning an old database? Why not use this Duplicate emails custom report and just check, to be really sure?
Segment your contacts based on activities
Before going on, step back and glance over your contact list. It looks much better now, doesn't it?
Let's bring your database up a notch.
One thousand active contacts are far better than 10k inactive, right? But how can you tell the active contacts from the non-active ones?
Kentico built-in features help you segment the contacts into Contact groups based on their activities.
You've already spent a lot of time (= $$$) on your database. Why not start with some low hanging fruit? The most active contacts will likely help you quickly replenish the pot.
Say, you are promoting a new brand of coffee that you'll start selling. Why not cherry-pick contacts that have recently purchased a coffee maker and let them know they can try a free sample? And why not go even deeper and talk only to people who haven't seen your campaign landing page? (P.S. Remember the consents? Well, don't forget to check if your customers also agreed to receive messages from you.)
Kentico comes with other out-of-the-box activities you can work with. You can check if your contacts wish-listed a product, downloaded a guide or your latest case study, logged into the system, clicked a link in an email, and many others.
Trash an outdated list
If you've followed down to here and neither of the tips worked for you (or worse, worked, and you have already deleted tens of thousands of contacts), maybe your contact database is doomed.
It's old, it's outdated, and it contains invalid data.
The best way to get out of this mess is to start fresh and gain your contacts with new campaigns.
Treat yourself to something nice
Finally, you can rest in peace. You've done a significant chore. Your new contact database is now crystal clean – full of convertible, legally obtained, engaged, and active contacts that can be neatly structured into contact groups.
Well, unless you've had to trash the whole list. Then I feel for you. But it's time to start collecting new contacts and you now have an opportunity to do it right. Just follow the general ideas in the article, and you will be good.
No matter the case: it's time for a treat!