In this article, I will take you on a marketer-focused tour through Kentico 12 EMS. This tour, however, will be a bit special—it will explore whether the latest MVC development enhancements in Kentico 12 are capable of providing marketers with everything they need for delivering great marketing results or not. So, fasten your seatbelts, we are departing!
Kentico 12 EMS is a great Web Content Management solution that offers a full package of Online Marketing features. However, when using the MVC development model for the implementation of another successful project bringing satisfied smiles to developers' faces, is there anything left in it for marketers as well?
To answer that, we need to first uncover a typical marketer's way of work within Kentico 12.
It starts with content, as content is king, right? But that isn't enough as every marketer has this burning desire to analyze data. This then progresses into the necessity to be able to gather leads on the website in the most efficient way.
Is that it? No!
Once having a valid email address and GDPR-valid consent from a lead, the email marketing, combined with a marketing automation, kicks in. And then, the marketing efforts have to be sprinkled with a content personalization across the website so that a returning lead feels at home and converts (!) into a happy customer.
So, let's find out if MVC in Kentico 12 can empower marketers on their way to conversions.
Content Creation
This is where it usually starts. There is content that needs to be written, updated, adjusted, or completely removed from the website.
Flexibility and autonomy is key here, as there is nothing worse for a marketer than the need to contact a developer every single time the website content needs an update.
Funnily enough, the same applies to developers as well, just the other way around. Their mind is wondering around their latest implementation task, and when they need to stop to just update the website for marketers, it gives them a headache.
So finding the sweet spot between the marketers, developers, and content creation is incredibly important.
That's where Kentico 12's MVC Page Builder comes in.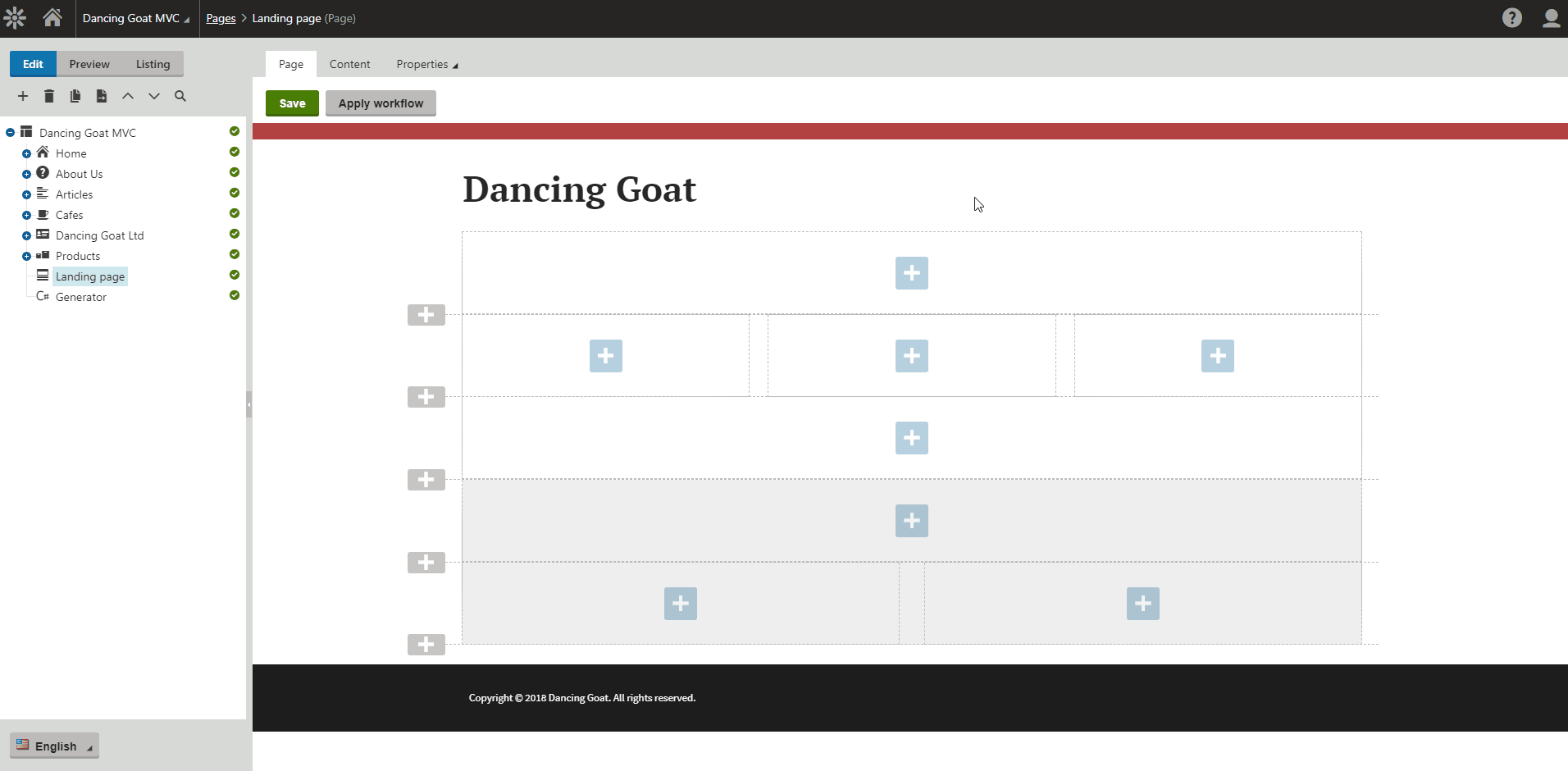 With its intuitive drag-and-drop interface, marketers can effortlessly create content in almost no time at all. The MVC Page Builder is incredibly flexible as it uses MVC Widgets that can be of any type, and can be dropped into any zone, specifically designed for them.
For example, if a marketer needs to place a new testimonial on a page, they just have to select the right MVC Widget, designed by developers to do exactly that, and have it done in a few seconds.
The MVC Widget possibilities are limitless, and it is entirely up to marketers to come up with their unique content management requirements so that developers could take them and transform into perfectly tailored set of MVC Widgets, allowing marketers to achieve their everyday content management tasks with ease.
Furthermore, every MVC Widget zone can be limited to allow only certain types of MVC Widgets so that only relevant MVC Widgets are offered to a marketer, making their work even more efficient.
Because of this, everyone in the team can be at ease, as marketers don't have to be afraid to adjust the content of the website, and developers can sleep well, knowing the MVC website cannot be broken as only valid MVC Widgets can be dropped into MVC Widget zones.
Contact Activities and GDPR Consents
With the content in place and an easy way to manage it, marketers need to know what is happening on their website.
That's where Kentico 12's Contact Management application comes into play as it is a central place for marketers to manage website contacts and their activities. As long as Online Marketing is enabled in the Settings application, and implemented on the live site, a new contact is created for every website visitor, and their website activities (page visits, form submissions, etc.) are tracked.
Of course, it is important to get a GDPR-valid consent from EU-based website visitors before the personal data collected through various forms and registrations can be stored.
This is exactly what the Data Protection application in Kentico 12 is for. Developers can set it up to provide marketers with a straightforward way to stay on top of GDPR consents, manage GDPR rights to access, deletion, and data portability, and use the consent information in other parts of the system for automatic decision making.
Contact Segmentation
Thanks to all the features above, marketers have enough data and information to proceed with contact segmentation to target visitors with perfectly tailored content. Kentico 12 ensures that there are multiple ways to go about this, and marketers are free to unleash their creativity.
They can segment contacts into multiple Contact groups, well-researched Personas, or evaluate leads with Lead Scoring.
Kentico 12 provides an application per each of the segmentation types so that everything has its place in the administration interface, and can be easily accessed whenever needed.
Contacts in the Contact groups, Personas, or evaluated by Lead Scoring can be easily targeted with bespoke content.
Content Personalization
So how easy is it to personalize the content on an MVC-powered Kentico 12 website? Well, incredibly easily!
The content personalization is done directly in the MVC Page Builder.
Every MVC Widget in the MVC Page Builder can have an unlimited number of personalization variants, and developers can create an unlimited number of display condition types to give marketers a powerful set of display options to create perfectly tailored content for the website visitors.
Smart Forms
Personalized content served to website visitors usually has a very specific goal: Make them submit a form.
The good news is that the creation of online forms on an MVC website running on Kentico 12 is a piece of cake with the MVC Form Builder. It uses drag-and-drop functionality so that form components can be quickly dropped into the right place, and the online form can be created easily.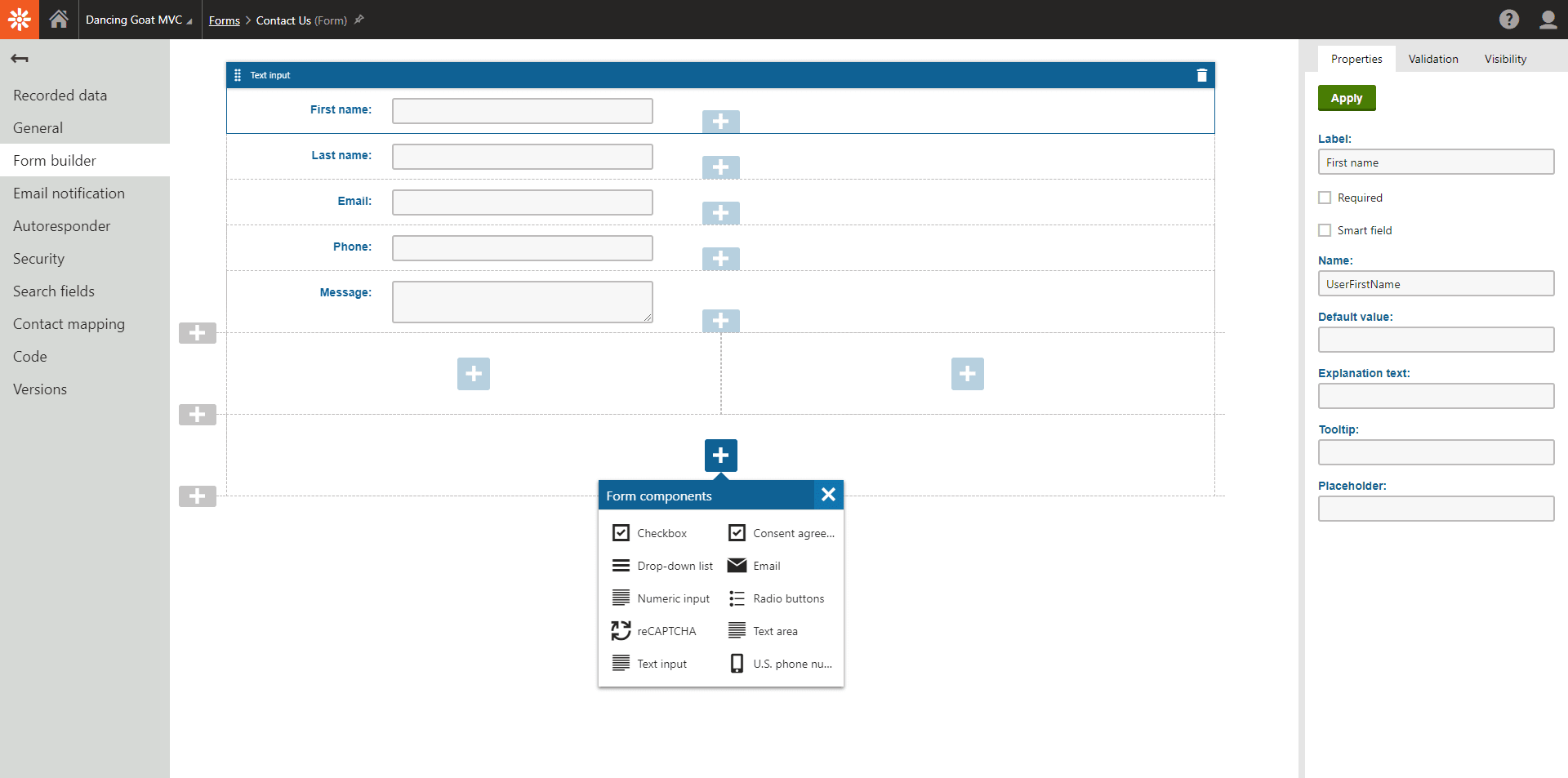 However, there is an even more advanced feature that the MVC Form Builder provides: Smart Forms. These types of progressive online forms are perfect for creating long online forms that are displayed to visitors in a compact way, and, therefore, are more likely to be submitted. How does it work?
Each online form defined in the MVC Form Builder can contain smart fields. These fields are displayed to a visitor only if the preceding fields of the form have been filled in by a contact. If not, then the respective smart fields remain hidden. This way, the long forms can stay compact, and lead to more form submissions as everyone likes shorter forms more than long ones.
Marketing Automation and Email Marketing
Marketers love online forms, but they adore marketing automation and email marketing even more! It is a perfect follow-up on any form submission, whether it is for lead nurturing or just sending them a personalized automated email once a year on their birthday.
Regardless of the purpose, Kentico 12 enables marketers with a powerful way to automate the online marketing processes. They can be easily designed in the Marketing Automation application where various triggers can also be configured.
The automation process can be triggered by any contact activity that happens on an MVC-powered website. It is seamlessly integrated with the Email Marketing application so that personalized emails can be automatically sent at specific intervals to contacts.
Nevertheless, the Email Marketing functionality can be used entirely on its own, so it is entirely up to marketers how they decide to approach it.
Summary
So, is there anything left for marketers on Kentico 12 websites powered by MVC development model?
As you surely concluded on your own, yes, there is!
Actually, with all the MVC flexibility, freedom, and autonomy for marketers to be creative on their own terms, there is massive potential waiting to be unleashed.
And if you cannot wait to see the latest Kentico 12 in action, watch the recording of our Kentico 12 webinar where our product guys take you through the all smart features! And check out our MVC Transition Guide.