The way your brand markets itself visually will do a lot to build your reputation and keep people returning to your business. Visual content builds trust, encourages customer engagement, and should be at the heart of your 2018 content strategy.
In order to reap the rewards of your visual efforts, you need to ensure that it effortlessly cascades across all platforms, hits the right brand note, and is ultimately centered on your audience's needs, not your creative team's ego.
This post will look in detail at some of the ways brands can improve their visual content marketing in 2018.
Moving Into Video
Video marketing is already massive. And throughout 2018, the medium is only going to become more ubiquitous. Video does so much for your visual branding efforts because it makes your company memorable.
Many people consider themselves visual learners who remember names and faces, better than facts and figures — and that's why video is such a powerful, emotive brand medium.
A video is one of the cheapest and most direct ways to explain concepts and show your authenticity as a brand.
There are four central video marketing themes to consider for your brand over the next year:
Go Live
Live video, through Facebook Live or Periscope, is ultra-low-cost (you just need a smartphone). Every time your brand goes live, your followers will be sent a notification. Use this to your advantage when planning your broadcasting schedule.
The content you create does not need to be entirely scripted. Part of the excitement of live video is the chance to get a 'behind the scenes' glimpse of what goes on in your company.
Jump on a live feed at an industry event and interview a guest speaker. You can also promote any of your thought leadership content via a live feed and invite viewers to submit their questions.
This example taken from IMPACT shows how a live video doesn't need to be anything exciting or out of the ordinary:
Major publishers like Bloomberg are simply using Facebook Live to serve their audience with data and insights that they already share in other formats. The trick to making your content more widely available is to open up your content delivery network.
Perishable Mediums
Snapchat and Instagram Stories allow brands to successfully draw views with 10-second bursts of video. Plus, with the addition of swipe up links to your store or website, it has never been easier to turn these story views into sales and conversions.
Use Stories to promote discounts on products and unique, exclusively-tailored offers. Time-sensitive offers, like 20% off, do a lot to draw in first-time customers. Through persona research, you can identify a target audience and pick out particular products and imagery to pique their curiosity.
Remember: The human brain is naturally designed to memorize patterns. Storyboard content can act as a great way to promote products in a way that's visual, not seedy.
Animation
Animated homepage videos have been around for a few years, and to some, they can seem like a tired trend. However, for a 2018 revamp, rethink how you can use animation within your site's content.
Many people consider themselves kinesthetic learners, where comprehension is increased through a set of actions. If you have a high-tech product, or even a time-saving gadget, animation can help you put its benefits across through on-screen movement.
You can also use in-content animations to help break up large blocks of text, explain complex concepts, or generally engage the user with what you are doing.
Powtoon is an easy and free way to create animated videos and presentations.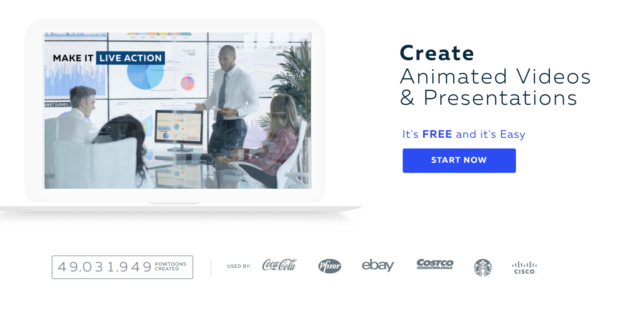 360-Degree Video
If you have not experimented with Facebook's 360-degree videos, give it a go. It can be an excellent way for brands to draw attention and increase click-through rates to their pages and websites.
Say, for instance, you have opened a new office location — a tour of your new digs can be a great way to introduce yourself to potential local clients. You can even boost your 360 post using Facebook advertising.
You can also use 360-views to highlight a product's features in an original way. Luxury brands like Jean Paul Gaultier are already using the medium creatively with their #bethebottle campaign.
VR, AR (augmented reality) and 360-views take viewers away from their everyday surroundings. These technologies can be thought of as the next stage in visual advertising in the years to come.
Shoppable Social Media
Social selling is an exciting medium for visual marketers to explore, and Instagram and Pinterest are probably the two channels where visually minded brands and marketers can make a real difference.
You can now create Shoppable Pins and Instagram Galleries that allow users to click and buy without even leaving the app. This could potentially skyrocket your brand awareness on these visual platforms, but you need to make sure that you are getting your photography right.
Ensure you are conducting audience and competitor analysis, concentrating specifically on the aesthetics of your niche industry. For example, if you are a retro clothing reseller, low contrast, old-timey photography can be popular with fans. You can use stock photos, but it's best to edit them to make them feel more on-brand.
Further, you should look at your top influencer accounts and note their daily activities to give you a better idea of how your products can be styled for lifestyle imagery.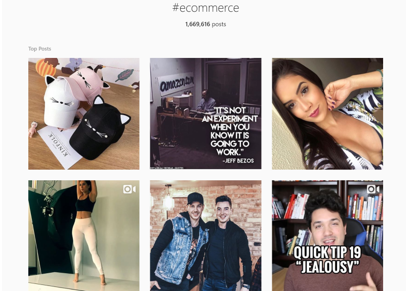 Interactive Visual Content and Social Proof
If you're a brand on Snapchat, you will already be aware that you can create your own filters and promote them via the platform. These are a great way to get people sharing your marketing messages with their friends, helping you spread the word far and wide. Geofilters have already been utilized very successfully by the likes of Lily Pulitzer.
User-generated content can, and should, also be a feature of your product pages and website design. For clothing labels in particular, massive social proof points can be added to a product if you include some Instagram photos of followers wearing the same item (ASOS pictured below).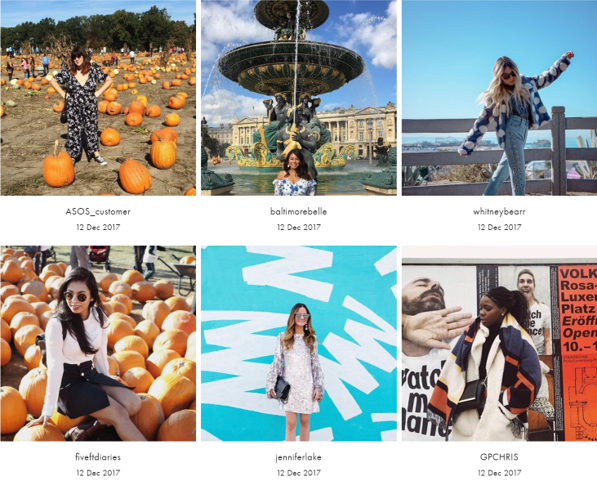 In many instances, brands are doing their best to gain traction through all of their marketing channels, by marrying their content with that of their users. It's a clever way of getting closer to your customers without needing to resort to pushy or invasive ads.
There you have a small selection of ways you can improve your visual content marketing in 2018. The central theme is building a funnel that does its best to place visitors into an immersive online experience. Whether you choose to pique emotions in a video, or make your products easier to understand through animation, take your audience on a journey with your visual branding.
Do you have any experience with any of the ideas raised in this article? How has this blog post inspired you to rethink your visual marketing strategy for the upcoming 12 months? Let us know in the comments section below. Don't forget to check out our Online Marketing solution to see how you can leverage it to form a consistent and creative omnichannel approach to your marketing.