As some parts of the world start opening up following a major global health and economic emergency, now is the time to think about how you want to communicate with customers and how you might pivot messaging to reflect the current situation and be more relevant to the changes in their lives.

Our world has been turned upside down. People, politicians, communities, organizations, and businesses of all sizes have had to rapidly change the way they live and work. Unless you're in the toilet paper or online streaming business, you've likely had to drastically change how you operate to keep your customers happy.

"Normal" is being redefined in a process completely out of our control. Businesses around the world are having to adjust working processes, ensure the safety of their workforce, manage disjointed supply chains, and communicate with customers in novel ways that will not only see them through the calamity, but well into the future.

Against this backdrop, customer relationships take on new meaning as customer needs shift radically towards essential concerns, like safety, security, and everyday convenience. In the report by Ipsos on COVID-19: 37% of US consumers expect reassurance and security form advertising during crisis and 10% want the ads to be helpful caring and trusting.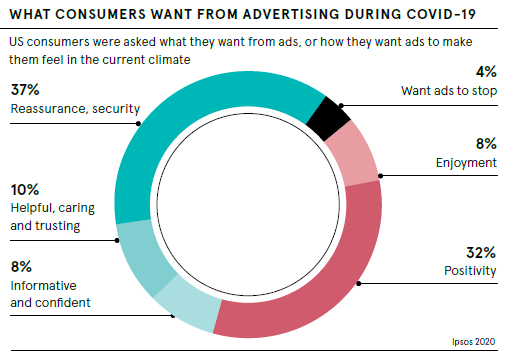 Based on global survey of consumers conducted mid-March 2020 by Edelman, customers expect brands to protect employees, use social media channels to offer social support, and express empathy and support to those affected by pandemic.



Navigating the extraordinary circumstances that we find ourselves in is starting to become second nature for many, but what impact is it having on your customers and the relationship they have with your brand?

Here are some tips for how to communicate during difficult times:
1. Take their safety seriously
If you're taking your customers' health seriously and communicating well, you're creating trust. So update your website to keep customers informed about your latest safety precautions and guidelines.

German food retailer ALDI has clear COVID-19 updates on their website. They launched their first ever online shopping service to help the vulnerable and sell food parcels containing 22 items including toilet rolls and antibacterial hand wash.

Remember to communicate the efforts you are making to protect your customers and they will feel valued.

2. Understand and respond to immediate concerns
Customers are facing a distressing and uncertain financial future, with serious income and liquidity issues. It's not the time to be penalizing customers who are defaulting on payments. Find ways to alleviate some of their stress by offering flexible solutions.

If you can, consider offering discounts on your online store, like video recording and sharing service Loom. It offered its Pro version for half the usual price to all businesses, and offered it free to teachers, students at K-12 schools, universities, and educational institutions. It also removed the recording limit it has on free plans.

Or else, you could extend or amend your offering to respond directly to customers' current needs, like New Zealand supermarket brand Countdown. The brand set up a Priority Assistance service on Kentico Xperience to help vulnerable people get grocery deliveries, but as this was in such high demand, they developed an additional service to ensure even those who couldn't get delivery slots wouldn't go without. Their Countdown Basics Box is a pre-set selection of essential groceries (suitable for two people for one week) and it costs $99 including delivery.

By providing practical solutions to real problems, you're showing that you understand and care about your customer's welfare during this time and are reaching out in their time of need.
3. Be proactive
Proactive communication is key.

Ensure you're clearly sharing with customers and employees any changes to your business, explaining any impact. Not only will customers thank you for not making them search for information, but you'll alleviate pressure on staff fielding queries.
Make your crisis response information clear and easy to find
Explain any changes to your services or prices
Tell customers how best to get in touch with you
Train employees to deal with the different types of questions customers have
Retailer Walmart's website has a "here for you" page sharing important store info, how they're keeping their customers safe and protecting staff, crisis-specific FAQs, as well as news and updates.
4. Actively shift customers to online channels
While social distancing is encouraged, more and more customers are turning to other channels with questions, requests, and orders.
Encourage the use of online channels and ensure channel-appropriate communication
Find ways to get at least some of your product portfolio online, then establish and scale those offerings.
How can you make the online experience as personal and as on-brand as a visit to a physical store?
US family farm, Chef's Garden, has been delivering artisanal produce and fine culinary ingredients to restaurants for over 30 years. When the pandemic closed restaurants around the country, they lost the majority of their business. But, thanks to their website (which is built on Kentico Xperience by Gold partner thunder:tech) they have a flexible commerce solution and digital marketing capabilities that enabled them to pivot their business model overnight to selling direct to consumers.

They started with introductory high-end produce boxes, so customers could get to know them, but as the family had vast knowledge of vegetables that support the immune system, they decided to offer boxes just for juicing too. They're also partnering with chefs to create curated boxes with ingredients for particular meals that the chef then prepares in a video on Instagram. Now, their direct-to-consumer online offering has introduced them to a wider audience and has made them very busy during this time.

Learn more in the upcoming webinar Shifting from traditional B2B to DTC in response to crisis on June 17, 2020.
5. Adjust marketing messages
We're not talking small adjustments here, but a company-wide effort that filters through to every touchpoint.
Do a full audit of your current content queue; blogs, social posts, drip emails, push notifications, home and landing pages, and adjust according to the situation, pausing anything that may be perceived as insensitive or may inadvertently cause offense
Create marketing templates and brand messaging especially for communication during this time
Pivot messaging to show you care. Be authentic and show your humanity as a brand. Be inspiring and positive.
Be careful not to appear to be capitalizing on the crisis
When drinks company Guinness's tentpole celebrations, St Patrick's Day, was called off, they responded with a video about sticking together and encouraged people to lift one another up. They also committed $1 million to the Guinness Gives Back Fund which supports their extended community.
Car manufacturer Ford pivoted their message to demonstrate their commitment to fighting the virus by manufacturing much-needed medical equipment – just as they had built military equipment during World War II.
Done right and with care, this time can be invaluable to your company in building trust and reinforcing brand values.
6. Think about future-proofing through digital transformation
With huge numbers of employees working from home, companies that had resisted the digital revolution have been frantically scurrying to catch up. And while we pray this is the last of its kind, it's prudent to learn from our experience and use it to be ready for anything in the future.
Things to consider:
A digital experience platform that combines content management, digital marketing, and commerce, lets you connect with customers like never before
Flexible commerce settings enable crisis-specific discounts and offers to be applied easily
Scalable infrastructure enables your website to cope with sudden increases in traffic
Collaboration and versioning tools help marketing teams continue to act as an effective team even when working from home
Integrated digital marketing tools enable quick pivoting of messaging and the ability to push to all channels (website, mobile site, all social channels, chatbots) ensuring consistent and timely message across all touchpoints
Segmentation and personalization capabilities will allow you to share different messaging to different audiences
A scalable, flexible, easy-to-use yet sophisticated tool where everything is in and managed from one place makes sense. By empowering your marketing team to get content to customers in real time, you're can ensure ongoing consistent customer conversation and connection even in the most difficult of times.
Be there for your customer
While this is no time to be profiteering, it is the perfect time to assess your website and how you're utilizing online channels to connect with your customers.
By proactively adjusting your business to include the use of commerce and digital marketing tools, you'll be able to effectively communicate positive encouragement, helpful information, and offer solutions to their problems. This will inevitably result in forging lasting relationships that will long outlive the impacts of a crisis.
To learn more about how what consumers want from marketing and advertising during and following COVID-19, download The Future CMO report.